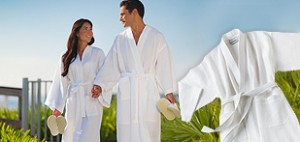 Recognizing the tremendous importance of promoting your brand through giveaways, we have several favorite products that seem to go a long way with our clients as well. No matter what the situation, certain types of merchandise really speak to people, especially if they have to do with comfort, practicality, and luxury.
The Power of a Beautiful Bathrobe
We're sure you are all well aware of the power of a beautiful bathrobe. No one can turn away from being wrapped up in something that is made well, that looks great, and that feels like a dream. A robe reminds us that we deserve and need to relax. It reminds us that we can walk away from stress simply by pampering ourselves a little bit with something that envelops and embraces us.
As a promotional product, a bathrobe does many things. First and foremost, it shows that you are generous. It shows that you are interested in providing people with something special, especially something that they may not buy for themselves. Because our Boca Terry robes are so exceptionally made, with every seam and stitch attended to with the greatest of quality control, they speak of your attention to quality and detail.
A Potent Way to Market Your Brand
Providing bathrobes in your promotion is a tremendously potent way to market your brand. With your logo embroidered on the front, no one can forget you. When your unique design is displayed on a gorgeous unisex robe that has been made with every effort to provide the ultimate in style, you are automatically creating an association between luxury and your establishment. And of course, this is the perfect way to set you on the path towards becoming a household name.
Creating Your Embroidered Logo
One of the great advantages of ordering your promotional bathrobe from us is our ability to recreate your logo with maximum attention to detail. If your promotion requires a monogram or other type of emblem, we will work with you to make something that fits perfectly with what you have in mind. Producing a design that is particular to the event is something your clients will notice and appreciate, again commending you for your sensitivity to the moment and your awareness of the importance of detail.
Our Signature Terrycloth Robes
With a wide array of selections, you can choose from a myriad of robe styles according to what matches the feeling of your event. Our signature terrycloth bathrobes are quintessential in the classicism. Here you have a hooded model that keeps the body warm from top to toe, a shawl collar style that mirrors the glamour of movie stars from time immemorial, or a svelte Kimono robe that makes everyone look slender and stunning. With deep pockets, double belting for waist height adjustment, and a loop on the back for easy hanging, our robes are ideal for everyone, no matter their age, weight, or background.
The Luxury of a Waffle Weave
Another popular robe is our Waffle Weave, which consists of tiny washcloth-like panels that wick away moisture quickly, leaving the body dry and soft. This is a particularly popular giveaway item with spas, as it also is a great choice for wearing in between treatments as it holds in the effect of emollients, keeping the skin lubricated and comfortable.
Microtecs and Microterrys for Warm Weather Settings
Our Microtec and Microterry robes are excellent picks for warm weather locations where a light robe does the trick all the way around. Here again, with your logo shining out in the front, the robe will be a constant reminder of your excellent service and care.
The Spa Wrap
The Boca Terry spa wrap is another great giveaway. Made of microfiber with French terry lining, 100 % combed cotton velour, basic waffle, or knit waffle, this one-size-fits-all garment is designed to wrap around the body where it is fastened with a Velcro strip or snaps. The women's version comes in a 32" length for attaching at the armpit and falling to the knee, and the men's version, which wraps around the waist, is 24" long. With your logo added, this gift is ideal if you want to give something that is a little less bulky than a bathrobe, but just as potent in its message.
Boca Terry Slippers
Other products that we love to see in promotional settings are our Boca Terry slippers. Closed or open toe, these babies are the perfect way to cushion the feet when stepping out of the shower or pool. Designed to fit over the arch perfectly, they can be slipped into or fastened with a Velcro strip. With your logo on the top, you are doing total justice to the promotion of your brand.
The Headband
A small promotional gift might be appropriate in certain settings. Here we offer our Boca Terry headband, made of Velour, waffle, or microfiber fabrics. In a size that fits everyone, your emblem at the front is a great way to advertise your establishment while providing the wearer with a way to keep the face perspiration-free and the hair back and away.
Spending Time and Money on Your Public
No matter what product you find most appropriate for your promotional event, giving something that is well-made, that speaks of luxury, and that is easy to wear says everything about your willingness to spend time and money on your public. And speaking of money, don't let the high quality of our products fool you! Because we have no middleman involved in production or delivery, we are able to keep our prices very low and affordable. What may look extremely expensive will surprise you when you see how competitive our costs can be.
Contact Us Today
Please feel free to contact us at any time to learn more about our favorite promotional products and how to customize them with your brand logo.
Share this item with friends