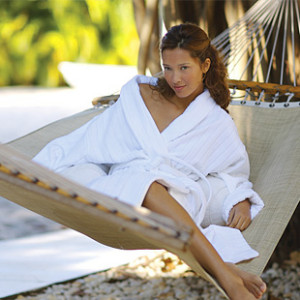 Boca Terry's Favorite Spa Robes
Spas host a special environment: a peaceful, calming atmosphere. In promoting successful relaxation, spas need access to the best amenities. From stone walkways to soothing slippers, spas must always put their best foot forward. Want to know what else spas need to ensure guests have a great experience? Then, check out our favorite spa robes!
Get Ready for a little R&R
The quest for rest and relaxation is one of the main reasons guests visit a spa. Imagine you are about to head to the spa for a wonderful massage, an awakening facial, or a soothing foot scrub. The moment you pull up to, you should notice a number aesthetically pleasing attributes. One of the most important aspects of a spa is the atmosphere.
Inside, the spa is lit faintly with a warm glow; peaceful, Zen-inspired music plays lightly in the background; the tables are covered in soft-looking waffle blankets. Rather than waiting for your appointment in a rickety, wooden chair, you are seated on a plush, cozy couch and offered a warm, steaming towel to begin your relaxation. If this sounds like something worth experiencing, it gets even better.
Why Guests Go
When choosing the proper spa robe for your establishment, is important to consider the reasons why spas are so popular. There are two main reasons to head to the spa:
Spas offer several ways for guests to unwind from a long week, and enable guests to focus on relaxation rather than impending tasks. There is no better cure for stress than to relax. Anxiety lowers, leaving your head clear enough to take on the projects, assignments, and commitments that will be addressed later.
A visit to the spa is no good without a little bit of pampering! Loosen up those tight shoulders. Still sore from leg day at the gym? Relax those calves! A hot stone massage, a facial, and any other spa specialties are a great way to renew your body when it feels a bit dull.
Spas do an outstanding job of helping guests rest, but there are several important components that enhance this relaxation.
Have you ever been to a spa where they only offered you a ragged, paper-thin towel that was on the brink of ripping? Of course not! Spa staff members are not alone when it comes to working out ways to perfect your experience; robes, slippers, spa wraps, and more features make a big difference for these companies. Here are Boca Terry's favorite picks for spa robes to don during your next pampering session!
Classic Shawl Collar
This robe is exactly what the name signifies—a classic. Every spa can benefit from this traditional robe that boasts elegant features including a cozy roll up collar and sleeves. Available in absorbent terry cloth, or super soft velour, the Classic Shawl Collar has options to suit any spa owner's needs.
Velour Stripe Bathrobe
This item is impressive in many ways. The velvety texture of this 100% combed cotton robe lends itself well to the ways of relaxation. Better yet, this robe is available in one size fits all as well as XXL, so your guests will never have to feel awkward or uncomfortable, wearing the wrong size robe.
Satin Stripe
There is nothing better than a well-crafted, high quality robe to enhance a visit to the spa. The silky, smooth feeling of the Satin Stripe Bathrobe is enough to bring your customers to utter relaxation, alone! The perfect addition to any spa day, this regal robe is a must-have. Available in kimono-style or shawl collar-style, this option has several desirable features.
Microfiber Bathrobe
This is an extraordinarily elegant choice that all spa owners and managers should consider; it offers all the casualness of a robe, yet all of the sophistication and quality that represents Boca Terry's great products. The silky shell covers a soft, French terry knit lining. Best of all, this popular robe is now the trend for high-end spas and resorts, worldwide! It comes available in a full palette of color options; muted or bold shades are available to enhance your spa's atmosphere while cultivating a feeling of relaxation, professionalism, and quality.
Spa Wrap
When determining the best spa robe, it is impossible to neglect mentioning the spa wrap! The best alternative to a robe, spa wraps allow staff easy and appropriate access to areas they will be massaging, while keeping guests comfortably covered. Our spa wraps come available in two pattern options, and two fabric options; you can choose based on your common clientele, your atmosphere, and your own personal taste!
Boca Terry Goes Green
We understand there are several spas that take great pride in their environmentally friendly, natural alternatives. If you own or manage one of these establishments, we created the following products with you in mind:
Organic Basic Kimono Bathrobe
This robe, made from 100% certified organic cotton terry or velour, is exactly what your spa is looking for. This robe avoids feeling too big and bulky, and is the perfect length. The unisex design is perfect for each of your customers. This uniquely crafted product is a simple option that fits any atmosphere.
However, if you want something more elaborate to enhance your spa's level of sophistication, opt for a similar design: the Organic Classic Shawl Collar! This robe is an excellent choice for a number of climates.
Organic Lightweight Waffles
Our robes made from 100% certified organic cotton are completely free of chemicals, pesticides, dyes, and other allergen-promoting components. The perfect option for an outdoor spa, this robe will keep your guests covered without making them uncomfortably warm! Lightweight fabric and stylish design make this robe a highly sought after choice among Boca Terry buyers.
Don't forget to invest in other helpful spa accessories to enhance your clients' visit!
Boca Terry Products: Bettering Today's Pampering
Why choose Boca Terry? When you order Boca Terry products, you know you are ordering a quality, uniquely designed, well-manufactured product. We look forward to hearing from you! If you have any questions regarding wholesale pricing, or if you are ready to order our spa robes, contact us, now!
Share this item with friends