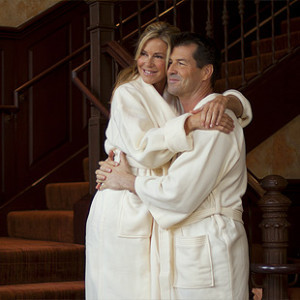 Choosing a gift for newlyweds is easily solved if you stop to consider the one thing that epitomizes luxury and ease; surprisingly, this is an item that most people don't buy for themselves. If you came up with the idea of a "dressing gown," you'd be right! This popular household clothing item is one of the most prized products by men and women (even if they seem content with that old, comfy, dilapidated bathrobe they have been wearing throughout the years).
Forty Years of Experience
At Boca Terry we've had over 40 years of experience with people ordering our exquisite robes as wedding gifts, or gifts for any occasion, for that matter. A beautiful robe is one of those things that everyone appreciates, and is an especially good option for those loved ones who seem to have everything!
A Metaphor for the Good Life
We all deserve things that remind us how to relax and to enjoy the feeling of being pampered. For a newlywed couple, receiving the gift of matching robes is one of the best metaphors for having a good life together, as well as an absolute emblem of their overall well-being.
Made to Last
Our Boca Terry robes are designed with elegance and style in mind. They are constructed with the finest materials and sewn with attention to every stitch. Because our products are suitable for the hospitality industry, they are able to be laundered over and over again without showing wear and tear. Offering our robes to the public via our online store has enabled a broader market enjoy the durability and beauty that our products are known for, even if they have never experienced one at the many hotels, spas, and resorts we serve. Knowing that our robes are made to last, like a good marriage, adds to their reputation as the perfect gift.
Many Gorgeous Styles
Choosing a unisex bathrobe is easy. We have a number of gorgeous styles that look great on every body type, all of which you can see on our online store. Here are some of our favorites when it comes to making newlyweds even happier than they already are:
The Classic Terry Bathrobe
The terrycloth robe is one of the most popular and functional robes, and has been from time immemorial. Choose a hooded model for complete containment from head to toe, or a stylish shawl collar design that spells glamour. Our Kimono style creates an extremely sleek silhouette, guaranteeing that the wearer feels as elegant as can be in a long line that compliments everyone. With deep pockets, double belting for waist height adjustment, and a strong loop on the back for easy hanging, our terry items are just the thing for a bride and groom who want to walk forward into life, wrapped up in a cozy feeling.
The Waffle Weave Robe
Tiny washcloth-like panels are signature to this sumptuous robe. The pattern wicks water away instantly, leaving the body dry and soft. Perfect for spa experiences where emollients are used, the Waffle line helps to keep skin soft and smooth. Wearing a Waffle Weave by the pool or beside the ocean is a wonderful way to show off the good taste of a perfectly appointed robe that is modern and tasteful.
Going Green
Both the Terry and Waffle Weave models offer products made with eco-friendly 100% certified organic cotton. Completely hypoallergenic, this natural fiber is toxin-free, making it ideal for those who may suffer from allergies or other skin sensitivities. Giving the gift of an eco-friendly robe shows your care in making conscious choices for the planet as well as the health of the recipients.
The Satin Stripe Dressing Gown
A sensuous French terry knit forms the lining of this absolutely impeccable robe that shines with an external patina created by the marriage of cotton and polyester. For movie-star pizzazz, this robe is a winner among couples who want to raise the bar with a look that spells total elegance.
The Micro Line
Whether it's a Microtec or a Microterry, these robes are ideal for warm weather situations, as they are lightweight and perfect for balmy climes. A perfect honeymoon robe, you can't go wrong with this selection. The newlyweds will remember you each time they to head to the tropics throughout the years.
Customized Designs
Now, for the icing on the cake: any one of our Boca Terry robes can be enhanced by customized embroidery, such as his and her names, emblems that are particular to the couple, or any other personal design that has meaning. You can also order colored piping to reflect the couple's favorite color. Match these custom robes with a pair of cushioned Boca Terry slippers with a closed or open toe and you'll be remembered forever for your thoughtfulness while you bask in the knowledge that you've added to the new couple's happiness.
Contact Us Today
For more information on Boca Terry's gift ideas for newlyweds, please check out our website. For questions regarding wholesale pricing, or to order our high quality robes in bulk, contact us!
Share this item with friends