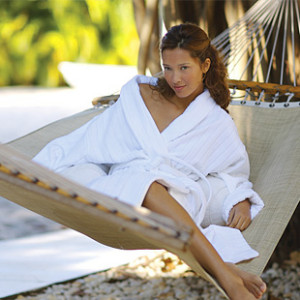 The Boca Terry name is a promise of quality; and because of this promise, we have developed a number of outstanding products that are used by thousands. One of our most popular products is our collection of luxury bathrobes. Whether lightweight, or heavy and plush, we have a number of robes manufactured to suit each of your needs and specifications. Let's learn more about our most durable robes:
What Makes Clothing Durable?
There are a number of factors that determine the length of a garment's life. When products are made from strong materials, such as cotton and polyester, they are already well on their way to becoming a durable clothing item! That is why Boca Terry uses these materials in nearly each product: we truly care about quality.
Material choice is a large factor in durability. According to the University of Missouri, "Cotton is popular for a variety of reasons, but its durability is one of its most desirable properties. Fabric has become very important to consumers in the last few years" (University of Missouri). Therefore, items made from cotton (and especially 100% combed cotton) are a top choice when it comes to durability! Weight also plays a large factor in this. The heavier an item is, the stronger it is!
What else does Boca Terry do to ensure durability? Double stitching means that your clothing will be less likely to unravel or to have short strings hanging from it! If an item is double stitched, you will know that it is made with care; of course, double stitching is standard for most of our products!
Why Durability Matters to You
As a consumer, business owner, or purchasing manager, durability is an important factor when it comes to clothing. When you are shopping for clothing items and accessories, do you ever try on something that is cheaply made while looking in the mirror, and then proceed to commend yourself for buying something that looks cheap? We didn't think so.
It's important to think of each clothing item you buy as an investment; also, consider the robes you buy for your company as an investment to keep your guests happy and to bring more customers in! Amenities are a great way to drive business, and comfortable robes can have a large hand in that!
Why Durability Matters to our Planet
Durability means so much more than you might realize—it also means sustainability. Clothing, robes, towels, and accessories that are not made with quality in mind simply will not last; items will begin to fall apart, will become damaged, and will need to be replaced more quickly than non-sustainable items.
That means that clothing manufacturers need to produce more and more in order to supply the clothing demand. Why? Because they made a low-quality product that was not sustainable—it did not last 3 years or more.
According to the Huffington Post, "the average American throws away over 68 pounds of textiles per year. We're not talking about clothing being donated to charity shops or sold to consignment stores, that 68 pounds of clothing is going directly into landfills. Because most of our clothing today is made with synthetic, petroleum-based fibers, it will take decades for these garments to decompose" (Whitehead). This alarming number should cause consumers, retailers, and purchasing managers alike to reconsider the effects of the fast fashion industry. The truth is, consumers and buyers need to consider opting for a more durable, sustainable option!
Want to know more about sustainability? Check out our article from October's Robe Report Newsletter, depicting Neil Young's opinion on the impact that the organic cotton industry and sustainability have on our planet!
Boca Terry: Quality Meets Durability
As stated, we are dedicated to distributing high quality, articulately crafted, well-manufactured items; this means that each of our products are long-lasting. While all of our products are luxury quality, some robes happen to be more durable than others.
Our Durability Champions
We take great pride in being manufacturers of high quality, affordable, luxury clothing. We have a large offering of durable, sustainable robe options from with you can choose. Find the style that best suits your establishment and practice good laundering techniques; you are sure to be set for quite a while with these choices!
Basic Kimono: You cannot go wrong with our basic kimono! Terrycloth is known for its strength and durability. Made from soft, strong terrycloth or plush velour, you get to choose the fabric weight and material — meaning you essentially have a hand in determining the level of durability!
Shawl Waffles: This robe is perfect for summer. Although it is lightweight, quality is not compromised; this well-crafted robe is definitely durable! Crafted from a strong cotton and polyester blend, you can't go wrong with this long-lasting robe! All you need to do is pick your waffle pattern and enjoy!

Velour Stripe Bathrobe

: Perfect for any time, any season; any rhyme, or any reason! Made from strong, soft 100% combed cotton velour, this beautiful robe will last for years to come!
We know that you are bound to be happy with these long-lasting options. Our commitment to quality and durability equates to your commitment to affordability and sustainability — you can't go wrong!
Boca Terry: Quality & Durability
It's no secret that we are obsessed with quality at Boca Terry. Wondering how great our robes truly feel, and how long they last? See it for yourself! For wholesale pricing, or to order online, contact us, today!
Share this item with friends