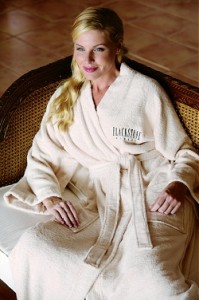 You have to be living under a rock if you don't recognize the importance of branding in today's market. No matter what your business does, getting the public to recognize your product through the power of intelligent merchandising is tantamount to success.
Achieving a Firm Hold in the Marketplace
Being involved in the hospitality industry since 1996, we have been able to provide luxury robes, towels, and spa accessories to establishments around the world. Our experience and track record has given us an enormous perspective on the components of success and longevity, and we are always happy to pass along our knowledge to those who are seeking a firmer hold in the marketplace.
Identification With Your Brand
Getting the public to identify with your brand is the most essential element in placing your establishment in the firmament of success. When people are able to look at your logo and understand immediately what your company represents, you are on your way to a future as solid as Starbucks, Apple, and Nike. When your reputation is as indelible as your intentions and the public understands that what you represent is consistent and reliable, you are already arriving at a status that is achieved through reputation.
A Clear Vision
Our Boca Terry styling and design experts will tell you that all of our top tier clients are very clear about how they represent their brand. Through a clear vision of their logo, emblem, and unique patterns and prints, they separate themselves from the crowd. With the combined energies of their focus and our ability to advise and perfectly create products that do justice to their brand, these highly successful hotels, spas, resorts, and casinos are recognized instantly because of their unique choices.
Finding the Right Logo and Print
Finding the right custom logo and print is an art. It has to do with selecting colors, fonts, and prints that combine all of the elements that you wish to represent in your brand. If your hotel is in a warm climate, you may decide upon cool colors that soothe and invite a sense of peace and tranquility. If your resort is in ski country, you will want to summon a feeling of coziness, with colors and patterns that envelop your clients with a sense of warmth and delight. Patterns that speak of the oasis you provide will instantly evoke the feeling you wish each client to absorb.
Exceptional Advice and Execution
Boca Terry has established a very strong reputation over the years for giving exceptional advice and perfect execution when it comes to helping our clients customize their brand. Whether you are a hotel, spa, promotional product company, celebrity, sports team, or event planner, we will work with you to find the perfect marriage of color, texture, print, and model. Our exceptional designers will create a stunning custom print logo or emblem that is as unique as your business. Designed to your specifications, every robe, towel, and spa accessory you order from us will be customized down to the last thread, setting your establishment apart from the rest.
A Robe for Different Environments
A Boca Terry bathrobe is a thing to behold, and they form the backbone of our business, with clients ordering and reordering varying styles to fit varying occasions. Choosing a custom print robe to carry out specific roles at your establishment is a powerful way to show your customers your sensitivity and sensibility when it comes to fitting into different environments. A robe for the bedroom should be quite different from the robe worn at your spa or poolside. Summer requires a different weight fabric than winter, so if you are a four-season hotel or resort, being able to rotate your styles is essential.
Made to Last
Because our company believes that there is no detail too small to be overlooked, our custom luxury products are made to last. Our thorough inspections on every item ensure that your order is impeccably manufactured, matching your own attention to quality control. Our finely honed testing processes have been constructed to guarantee that every one of our products will endure through the many launderings required, maintaining a fresh look while helping to protect your bottom line.
The Power of Your Boutique
Today, most hospitality establishments are providing their own in-house or online boutiques where they can offer their merchandise to their customers. We can proudly say that our Boca Terry products are in constant demand, and what better way to advertise your brand than to have your guests take home a customized print robe or towel? This daily reminder of the wonderful time spent in your hotel, resort, or spa will pave the way for their return. And when a friend or family member receives one of your customized robes or spa accessories, he or she is already on the way to becoming a loyal follower.
Strategies for Success
There are many strategies for success in our industry. The first is providing the highest level of service and attention. Treating your guests like royalty, supplying the finest luxury products, and remaining consistent in your vision are essential ingredients to rising above the competition. Boca Terry will help fortify your position by providing you with beautifully constructed customized products that create pride in your customers for choosing your brand.
Contact Us Today
For more information on Boca Terry custom prints and designs, please contact us today.
Share this item with friends