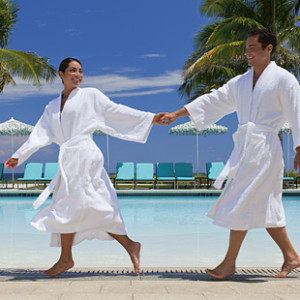 The weather report reveals record breaking high temperatures for the entire week. You packed for fun in the sand and sun. You did not, however, expect above average heat, exhaustion due to humidity, and burning bare feet as they touch the scorching pavement. You change into your cool, airy bathing suit and get ready to head outside. You cannot, however, walk around in just a bathing suit! This is a high class resort! When the hot, sunny, summer days begin to take over, the perfect bathrobe is what you need.
Summer Nights
Once night hits, you pull out your summer sleepwear. Because of the heat, it is almost minuscule; it's just more comfortable to sleep in less clothing when the humidity rises. To avoid terrifying your children, house guests, and fellow hotel vacationers, it's time to invest in a perfect summer bathrobe. The days of accidental indecency are over; get on board with summer robes!
Rest and Relaxation in a Robe
Owners of spas, cruises, hotels, and resorts, take note: No one wants to relax outdoors by the pool on a hot summer day in a heavy robe. Think light—it's just right. Your guests will avoid becoming overheated and suffering the dangerous consequences that develop because of this. That's right, you can have happier, healthier guests by simply considering which robes are appropriate for hot and humid weather.
Show off Your Beach Body
You guessed it! Your guests want a thin bathrobe. Just as all of the magazines say, thin is in! Let guests show off their summer shape in a thin robe that hugs their frame; they worked hard for it.
Cotton: The Wonder Thread
Cotton is described as "an excellent material for a tropical climate because it permits movement of air from the skin through the fabric, allowing heat to dissipate and reducing humidity. It also absorbs moisture well, keeping the skin dry and increasing evaporation" (WiseGeek). The top material for many of our summer robes, cotton is the perfect choice for warm climates.
Carefully Crafted Cover Ups
We like to think we know a thing or two about quality bathrobes. Now that you understand all of the reasons an excellent summertime bathrobe is needed, check out our top picks for the perfect robes to don during June, July, August, and September!
Long Robes Versus Short Robes
Even though a robe is long, that does not affect its cooling power; just think of men and women living in the desert! Yahoo writes, "The traditional thawb and keffiyeh worn by men in Saudi Arabia. . . deflect heat and promote air circulation. . . in the baking Arabian sun" (Carriero). We are not kidding; our long robes will keep your guests cool, calm, and collected. Shorter robes are also an excellent choice, as they provide great breathability.
Checkered Bathrobe
What makes our Checkered Bathrobe a top choice for summer? It is made from 100% combed cotton, and it is a thick, heavier robe. Many of the world's most exclusive spas choose checkered velour robes for their combination of rich texture and plush comfort. The shawl collar style comes with white or navy color piping available. Displaying equal parts regality and coziness, this robe is the go-to for any company.
Shawl Waffle Bathrobe
The Shawl Waffle Bathrobe, similar in ways to the Checkered Bathrobe, is another amazing choice for companies in the service industry. The cotton and polyester shell promotes absorbency and breathability, while the cotton and poly soft French terry lining promotes absolute relaxation. Light, airy, and fun, this is a bathrobe you must feel to believe!
Knit Waffle Bathrobe
Made from an exquisite blend of absorbent cotton, breathable polyester, and modal, this robe will ensure guests are fully satisfied. Modal fibers are three times softer than cotton, providing a level of sensuous pampering that is unmatched by other brands. Not only that, modal fibers wear better than cotton, ensuring that your comfort is long-lasting. Able to be worn summer after summer, this robe is an excellent deal; we bet your guests will be back for more.
Pink Kimono Satin Robe
First of all, polyester is cooling. This breathable material wicks moisture away from the body, keeping you dry and comfortable. That is why our Pink Kimono Satin Robe is great for summertime fun! Plus, it is very pretty; the women in your life will be happy to wear it! Our Pink Kimono Satin Robe is incredibly light, because satin is a very thin, flattering, feminine material. She will feel prettier than ever before while soaking up the sun in this beautiful robe.
Satin Stripe Bathrobe
Again, satin is a very thin and light fabric, which makes it perfect for summer wardrobe items. What sets this robe apart, however, is the poly soft French terry knit lining. Just when you thought our robes couldn't get any more comfortable, you discover this material. Soft, luxurious, and plush inside, this robe is still incredibly light. It is excellent for warm weather! Available with or without the shawl collar, this gown is able to meet everyone's needs.
When Wedding Bells Ring
Don't forget: spring, summer, and early autumn are wedding season. That makes it perfect timing to buy a beautiful summer robe! As you know, brides and bridesmaids love getting ready in matching satin robes. Customized robes make an excellent bridesmaid gift, or a wonderful gift for the bride to use during her tropical beach honeymoon!
The Boca Terry Difference
Just ask any of our satisfied customers: we know quality. Because of our time, effort, and dedication, we only produce outstanding products. Our commitment to quality means that our clients will always have amazing robes, towels, slippers, and more. We know that your brand wants to exude quality, comfort, and perfection, just as we do. That is why we are so transparent about our products, materials, design, and the manufacturing process.
We are trusting in you to trust us with your reputation. If you are interested in our perfect summertime robes, contact us today for pricing!
References
Carriero, Richard. "Ancient Air Conditioning Methods." Yahoo Contributor Network. Yahoo, 22 May 2008. Web. 21 May 2014.
"What Are the Best Fabrics to Wear in Tropical Climates?" WiseGEEK. WiseGEEK, n.d. Web. 21 May 2014.
Share this item with friends