Founded in 1933, Boston Textile Company is a family-owned business and a leading provider of hospitality and healthcare supplies, including bed and bath linens, table linens, bathrobes and slippers. 
This year, Boston Textile Company celebrates 85 years of delivering high-quality products to hotels and hospitals around the globe. To commemorate those 85 years of exceptional service, we sat down with David H. Leahy III, grandson of Boston Textile's founder. Read on about the latest industry trends, the importance of par levels, and his own personal contributions to this longstanding company.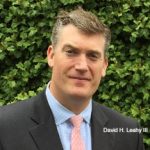 Hi David – This past December marks your 14th year at Boston Textile. In those 14 years, you've worked with countless hotels, care facilities, and health clubs. What is the common thread in all of these industries?
From a supplier standpoint, I feel that the common thread in these industries is no different than any other market. It is the customer's need for service and value. Outstanding customer service, prudent and competitive pricing, consistent quality, and timely deliveries are key factors that extend across all industries. From a product standpoint, we've seen a growing overlap in certain healthcare and hospitality items over the last several years. Traditional "economy quality" hospitality items are now the standard for many long-term care and assisted living properties. Healthcare facilities are beginning to recognize the benefits of upgrading their linens—in terms of product quality, durability, and notable improvement in the patient experience. Thankfully, we don't focus exclusively on one market… so we have the capabilities and inventory to support this trend.
Boston Textile is a longtime family business. and you happen to be the third David H. Leahy to join the management team. What significance does that hold for you?
Being the third generation to work for Boston Textile is truly an honor. Every morning I go to work knowing that I'm continuing to fulfill a dream that my grandfather (David H. Leahy, Sr.) and his brother John envisioned more than 84 years ago. I've had the privilege of working alongside my father for the last 14 years. I've gained insight and know-how that I never would have found elsewhere. I recognize the contributions and values established by my father and grandfather while also working to adapt to an ever-changing business.
Like Boca Terry, our customers appreciate the fact that we are a family-owned business. However, they choose to work with us because of our unparalleled service and quality products.
How has the hospitality industry shifted in the last decade? Or in the last four decades, since your father first joined the company?
The industry has changed in myriad ways since my father joined the company in 1976, but the biggest changes would be (1) e-commerce, (2) buying groups and (3) corporate mergers. At Boston Textile, we have the advantage of being able to make investments in new business channels while also being nimble and adaptable to the changes in our industry.
How important is it for hotels to maintain a "par level" (or a minimum quantity in stock) for their linens?
Establishing and maintaining a par level is important for a few reasons. If a hotel maintains a higher par level, the linen isn't laundered as often. This helps to maintain the quality of the linen for a longer period of time. If a hotel maintains a lower par level, the hotel staff is laundering the linen more regularly, which deteriorates the product. It's being exposed to harsh chemicals and high heat on a more frequent basis. This breaks down the linen faster, and as a result, the property will need to replenish more linen to offset the loss.
Please tell us a bit about the custom online ordering system you developed for Boston Textile.
After years of maintaining a "brochure" type website, we launched a new e-commerce site in 2014. The e-commerce platform empowers our customers; it provides them with access to information regarding their account and also offers improved communication on their order status and tracking information. We developed a customized "Quick Order Form" that allows us to create a tailor-made list of regularly purchased items as a means to streamline the order management process. Now our customers can easily log in to their account, place an order for their regular replenishment goods, and browse the new items available on BostonTextile.com.
How do Boca Terry's products align with the Boston Textile Company mission?
Boston Textile Company and Boca Terry have had a strong working relationship for over 20 years. In those 20 years, we have never had an issue with any of the products, and all of our healthcare and hospitality customers wear Boca Terry. The Microfiber Shawl Collar Bathrobe is clearly our top seller; it offers our customers a high-quality robe that is incredibly soft, launders well, and comes in a variety of colors. We sell Boca Terry robes with 100% confidence that we are selling a luxury bathrobe at a competitive price.
Share this item with friends