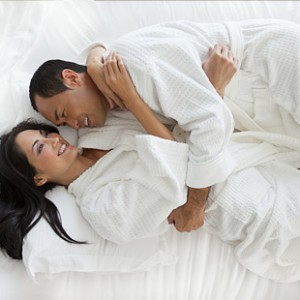 One of the exceptional services a fine hotel can offer its guests is specialized robes for bridal parties. At Boca Terry we understand the value of providing robes for wedding guests and honeymooners in order to commemorate the date in style.
When ordering bridal robes in large quantities for hotel suites you are representing your brand through your sensitivity to a special occasion. This means a particular view towards fabrics, styles, and most importantly, to your guests' comfort.
Boca Terry is known for creating elegantly styled robes for every occasion. Whether it is a classic or modern look, every robe comes with our stamp of excellence.
We make robes to last. Each robe in our inventory is made with tender, loving care, and this shows in how they stand up to many wash cycles while consistently providing warmth, comfort, and a beautiful silhouette.
By providing customized robes for a bridal couple and their guests you are saying, "this is for you and only you". The perfect way to do this is through embroidered initials or a special design.
Boca Terry's expert embroiders will create a design based on your guests' wishes, or we can design something special for the day. By offering personalized robes, you provide a memory that will last forever.
Our years of experience managing special projects has put us in the forefront of the hospitality industry. We can easily supply any style in large quantities, with prompt delivery.
Some of our recommendations for bridal robes include the following styles:
The Luxury Hooded bathrobe, available as one-size-fits-all for men and women. Guests love to plunge their hands into the deep pockets as they luxuriate in the all-around coziness of these robes. Great for lounging by the pool, for drying off after an evening in the hot tub with champagne, or for in between spa treatments. Made of 100% combed terry or velour, this robe features multi-needle stitching around the front, cuffs, and pockets. Once your guests wrap themselves in its splendor, they will be hard pressed to put their clothing back on, which may just be the point.
Our Satin Strip bathrobe, lined with french terry knit is chic and sensual. Made of 100% polyester on the outside with an 80% cotton and 20% polyester lining, this gorgeous robe comes with double belt loops, deep pockets, a hanger loop, and rollup collar and cuffs. When you customize this style with embroidered initials and you will have ordered robes as exclusive as the wedding day or honeymoon itself.
Boca Terry's Pink Kimono Satin robe is both comfortable and sexy, and a perfect robe for women in the bridal party. Made with 100% delicious polyester it is 36" long with a 17" sleeve. Emblazoned with a logo representing the important day, this robe is an exceptional piece that brings a special glow to the wearer.
For more information on ordering bridal robes in large quantities, please contact us at http://50.97.39.122/~bocaterry/contact-us, or by calling 877.421.6001.
Share this item with friends