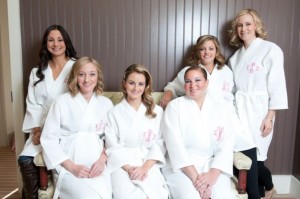 As we go through all of the important stages in life, we are not only living the moment, but also making memories. Every action seems to come with a stamp… an image that lasts for eternity.
Making Powerful Memories
At Boca Terry, our goal is to help you make these memories more powerful. Our beautifully made robes are created with love and dedication, and we know that everyone who wears them feels this in each fiber and stitch. And on top of this feeling, when we collaborate with you on a personalized embroidered design, we make an even more powerful statement: that this robe is one-of-a-kind just for you.
Adding Luxury to Your Event
Commemorating a special event like a bridal shower requires a kind of sensitivity, especially if you are the one responsible for putting together the party. One of the most popular ways to celebrate is by providing each one of the attendees with a special robe to add a touch of luxury to the celebration. With the initials of the bride and groom-to-be, or a design that is emblematic of the day, everyone will go home remembering the wonderful time where your close friend was congratulated on her new life in marriage by those who love her.
Collaborating With You to Find the Right Image
Products that are made with love make the most powerful statements. Our design experts are always excited to work with clients in order to make the perfect logo for your event. We will collaborate with you to find just the right colors, the right image, and the right lettering in order to produce an exquisite embroidered design that fits right in with the mood.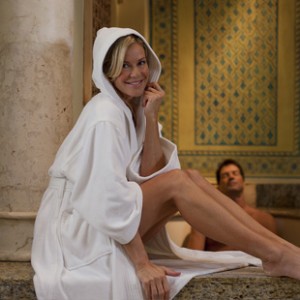 Providing You With Inspiration
Perhaps the bride-to-be has a particular flower that means something to her. Or it could be a special phrase that gives the day its flavor and depth. Maybe you will weave together her initials with her future husband's, or find a combination of elements that perfectly define the event and what it means. If you need inspiration, our innovators have the experience to guide you by asking questions that will help you discover just the right tone and feeling.
Easy To Order
When you go to our site, you will see the many choices we have for making your bridal shower as special as it deserves to be. From classic staples like the Terrycloth bathrobe to our Satin Stripe or Microterry; from a shawl collar to a kimono style, you can find just the right model. Because our robes are one-size-fits-all, with draping that flatters every body type, ordering is exceptionally easy. And if you need any plus sizes, we can provide them for you as well.
An Eloquent Way to Express Love
Of course you can say we are biased, but we do believe that the gift of a bathrobe is one of the most eloquent ways to express love, intimacy, and the desire for your friends and loved ones to take care of themselves through ease and comfort. A robe is a symbol of comfort, of feeling relaxed enough to be yourself, of taking time away from the cares of the world to put on something that lets your body breathe.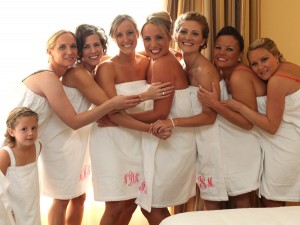 Making an Indelible Impression
Our luxury robes are designed to give you the greatest feeling of pleasure. Every thread is woven to perfection and each stitch is made with longevity in mind. Our quality control is of the highest caliber, guaranteeing that any one of our robes will make an indelible impression on everyone in your bridal shower party.
A Special Robe for the Bride-to-Be
And if this isn't enough, we can recommend a special robe for the bride-to-be, such as the Pink Satin Kimono, which is the perfect answer to a forthcoming honeymoon as it combines beauty with sensuality… the perfect combination for romance. Embroidered with a sensitive combination of initials or a beautifully written phrase of love, this robe makes a thoughtful gift that tells your friend that she is loved and that everyone wishes her the best as she goes forward into marriage.
Making Your Event Fun
You can make your bridal shower a lot of fun by ordering robes for each invitee and then making a theme around them, such as an old-fashioned sleepover, or a beauty treatment day where you each receive a massage, manicure, and styling from an invited professional. Use your imagination, with everyone changing into their robes to get into the spirit. An all female party calls for something upbeat and there is no better way to celebrate than by slipping into something comfortable and letting your hair down.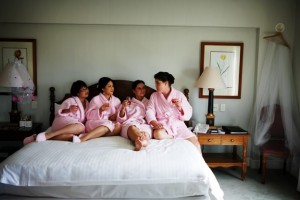 What You Will Find on Our Site
Here are some examples of the kinds of robes you will find in our online catalogue. Pick a few styles or just one and then consult with our designers for the right embroidered touch.
Keeping Prices Low on Perfectly Made Products
All of our robes are produced and manufactured through our company, without a middleman. This allows us to not only keep our prices low, but also to ensure that every piece that leaves our factories is perfectly made, as we inspect every product before we ship it to our warehouses.
Lasting Through Time
Because our luxury robes are made with the finest fabrics, we can assure that they will last through the many washings they will endure through time. As eternal as love, we hope our robes will help usher that sentiment along throughout the years that it is worn, reminding the wearer of a beautiful celebration by devoted friends.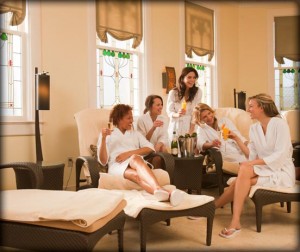 Contact Us Today
For more information on ordering embroidered robes for the bridal shower you are planning, please contact us today using our online form or call (877) 421-6001.
Share this item with friends