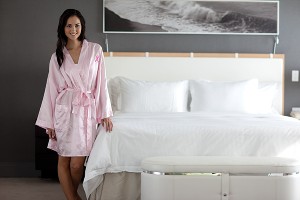 If you take a look at any of the popular wedding websites, you will immediately notice that no couple's wedding day photos are complete without pictures of the couple getting ready with their bridesmaids and groomsmen. However, there are too many photos that showcase bridesmaids getting ready and helping the bride in sweatpants and gym shorts paired with a raggedy sports t-shirt or hooded sweatshirt. Photos and memories last a lifetime, so a bride must make sure that these images are just as beautiful as the meaning behind her big day! Luckily, there is a more tasteful option arising that today's brides cannot get enough of! Bridesmaid robes are the perfect resolution to this fiasco.
Growing Trend
In many new wedding albums, you will see photos of bridesmaids getting their hair styled and their makeup applied while sporting cute, matching robes. If you are going to capture you and your beautiful bridesmaids getting ready before you don your gowns, make sure to do it in style!
Make it Special
True to each bride's personality, there are ample unique styles of bridesmaid robes. Brides love to see their best girlfriends getting ready in a glamorous satin robe. Quick tip: be sure to pick a different color or style for the bride so that she stands out in photos!
Style Options
We offer two beautiful satin robes. Both options come in "one size fits all" so there is no need to worry about picking the correct sizing for each bridesmaid (and no accidentally offending anyone).
Satin Stripe Bathrobe
Our satin stripe bathrobe features subtle stripes, which catch the eye's interest without commanding too much attention. The polyester outer layer provides a soft shine, while the 80% cotton, 20% soft French knit terry lining ensures that this robe is fabulous, yet functional. It is available in the simply sweet kimono style, or the luxurious shawl collar style. Comfortable and versatile, this robe is an outstanding gift that everyone will be excited to receive.
Pink Kimono Satin Robe
Our pink kimono satin robe is another perfect selection for bridesmaid robes! The pale pink tint is an excellent color to enhance the girly atmosphere of a bridal room. Great for photos, this robe will help the bride remember her wedding day at its best. Let's be honest, this 100% polyester gown is the epitome of what brides are looking for. The soft feel of polyester will have each bridesmaid impressed by the comfort of this robe, and the light, slim-fitting polyester fabric will flow softly over each friend's frame to make for a beautiful picture!
Prints
Anyone that stays up to date with wedding trends knows that floral robes are having a big moment in today's nuptials. Just take a look at these examples found on the popular wedding planning website, Style Me Pretty. Where can brides find these robes? Check out our example of a custom-print floral robe. It is equally as eye-catching as robes ordered elsewhere at much higher prices! Nowhere else can brides find exactly what they are looking for in a satin robe.
Personalization
Bridesmaid gifts are not complete without a little personalization! Embroidered robes help each bridesmaid feel special. Do you have a wedding monogram? Stitch this emblem onto your own personal robe, along with your wedding date! Embroider just the bridesmaids' first names on their robes so they can wear this gift for any occasion after the big day!
Surprise Her
Your ladies put in a lot of work to ensure that your day runs smoothly. From planning the bachelorette party and bridal shower to diverting disasters on your wedding day, bridesmaids are there to stand beside you and guide you. Brides, commemorate their efforts by surprising your bridesmaids with robes as a thank-you for helping to plan the biggest day of your life!
Thoughtful and Useful Gift
Even Glamour magazine lists robes as one of the top "5 Bridesmaid Gifts That Don't Suck." This segment reveals that you should buy your maids "matching clothing they can wear after your wedding. It's cute to have your bridesmaids coordinate in your pre-ceremony [pictures] on your wedding day. It's not cute for them to wear 'BRIDESMAID' T-shirts the other 364 days of the year. Opt for clothing that's NOT single-use" (Fusaro). While the excitement of wedding planning and the bachelorette party can lead some brides to splurge on bejeweled tank tops that proudly proclaim each girl's part in her wedding, Glamour suggests against this. Brides should consider how useful their gift will be once the vows have been spoken, the wedding bells have been rung, and the sparklers have been lit. Remember, your bridesmaids are there to help you, but they are not going to eternally allow their lives to revolve around your nuptials. Thank them for their patience and presence with something useful. Your bridesmaids will use their personalized satin robes for years to come!
You Know What to Do
OK, brides, you know what this means! It is time to order your bridesmaids a beautiful robe! Let Boca Terry make your wedding day the best it can be! Choose, customize, and embroider to your heart's content! Do not forget about mom, your new mother-in-law, grandma, your aunt, your sisters, your step-mother, and yourself while you are at it! Bless all of the ladies in your life for their generous effort surrounding your wedding day. If you have any questions about our wholesale items and pricing, contact us!
Share this item with friends