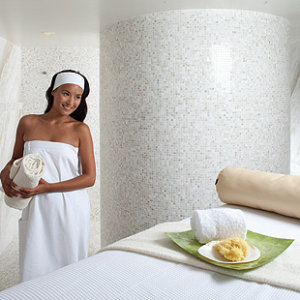 It is important for you, as a retirement home owner or manager, to understand that retirement is something well earned. Those who are retired have spent a lifetime working, dedicated to one or many careers. Therefore, retirement homes should be a place of rest, refuge, and quality care. After working for 40+ years, your clients deserve it! Give your residents what they want; here are some of the best ways you can offer those living in your retirement home a special treat:

Regal Robes
Let's be honest: everyone loves a well-made, comfortable robe! Gifting residents with the use of a robe is a wonderful way to show that you care—anyone who has spent a lifetime working deserves a bit of praise.
Commend your residents for their hard work, dedication, and support to our economy for such a long period of time; provide guests with high quality, luxurious bathrobes. This will ensure their warmth and comfort, during all times of the year.
If you live in a climate that experiences all four seasons of the year, invest in a versatile robe. We suggest the Classic Shawl Collar. A step up from our Basic Kimono robe, the Classic Shawl Collar is a beautiful robe. It is warm in the winter, absorbent in the summer, and great for wearing by the fireplace or beside the pool!
Though, regardless of where you live, we have a robe for you. Retirement homes located in colder climates might appreciate the Fleece Kimono Robe. Warm and fuzzy, as fleece should be, this robe is an excellent option for a snowy evening in.
Florida is known for being a retirement state. The low taxes, pretty views, and mild-to-warm weather make it one of the best places to settle down after a career. If you own or manage a retirement home in the sunshine state, or any other hot climate, your residents will love the Shawl Waffles Robe! A regal, yet lightweight robe, this is a perfect option for the sunny days of summer.
Organic Bathrobes
According to the National Institute of Health, "Skin disorders are so common among older people that it is often difficult to tell normal changes from those related to a disorder. More than 90% of all older people have some type of skin disorder" (NIH). Organic bathrobes are an excellent choice to help alleviate some of the skin sensitivities that many people experience. Because organic cotton is free from pesticides and dyes, can help eliminate sensitivities due to allergies, rashes, among other disorders.

Plush Slippers
The elderly are at higher risk for pneumonia, hypothermia, and other effects related to being too cold. And, while this might seem like a stereotype, it's often true that many who have reached retirement age find it hard to circulate heat properly.
Not to mention, as the rate of Diabetes rises in our country, the level of those suffering with this disease at an older age is at an all-time high. Unfortunately, Diabetics tend to have difficulty with blood circulation to their extremities. Slippers can not only help to keep your residents' toes warm, but the open nature of slippers (rather than socks) will help to avoid some of the circulation difficulties associated with Diabetes.

Spa Accessories
Be the coolest retirement home on the block! If you offer your residents access to spa services, even just a few times each month, you will have happier, more relaxed residents—and you might just find your retirement home with a waiting list of excited future retirees!
Spa Wraps
Even if an in-house spa isn't on your agenda, offering your residents spa robes is a great way to keep them happy and comfortable. Excellent for your residents to use in the fitness center, at the pool, or in the locker rooms, spa wraps are an excellent investment to bring your retirement home to the next level. Doing so will ensure your residents have a hands-free, trustworthy cover-up option, without having to deal with towels that tend to fall off!
Luxury Towels
There is nothing worse than emerging from the shower, the pool, or the ocean and reaching for a towel, only to find that it is cheaply made, thin, not absorbent, and full of lint! Our war workforce veterans deserve quality materials for use in the their everyday lives, along with for their special occasions. That is why Boca Terry's Sunny Lane and Resort Collections are an excellent choice.
Towels are needed for so many aspects of life—whether in the bathroom, the kitchen, the health and fitness center, the steam room, or the pool, your residents will go through a lot of towels. Providing your reliable residents with high quality, well crafted, uniquely designed towels will make their stay at your facility much more enjoyable!
Lounge Chair Covers
Whether you've taken the time to set up a spa, or you have a few seats around the swimming pool area, lounge chair covers will give your residents the peace of mind that their chair is sanitary, while you can rest assured that your chairs are protected from weathering!
Boca Terry: Bettering Retirement
Boca Terry's high quality products are trusted to withstand the test of time; they are durable, well-crafted, and timelessly designed.
If you are ready to revamp your retirement home and really show your residents what they mean to you, then it's time to consider Boca Terry! If you have questions about wholesale pricing, or if you would like to place an order with us, contact us, today!
Share this item with friends