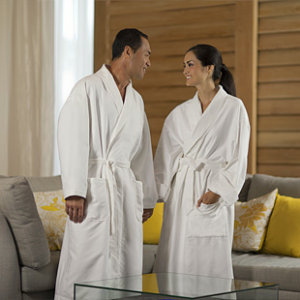 When you are renting out your home, there are a lot of things to consider: how do you find guests? How do you ensure their comfort? What are your guests expecting out of your Airbnb? Boca Terry offers tips to create the best atmosphere in your Airbnb.
First Things First
For those of you who have never heard the term "Airbnb," it's time for a quick 101. Airbnb is a company that was founded in 2008. It was originally started as a means for the founder to pay rent. However, this company has come a long way from the days of extra air mattresses and unpaid rent — it is now available all across the United States, and even out of the country.
Do you host guests at your home through Airbnb, or are you considering opening up shop in your home? Airbnb is growing in services and popularity each day. You will need to stand out from the crowd to draw guests. Here are some tips to bring your Airbnb to the next level:
1. Give Guests the Information They Need
Begin your host-to-guest relationship on the right foot by giving your visitors all of the information they are going to need: be sure to provide them with things you might easily forget, such as the Wi-Fi password, keys to the community fitness center, a simple spa wrap to use while changing in the locker room, and their own personal garage code (and be sure to change it once they leave).
You can also leave them a note, highlighting major attractions in the area. Be sure to provide easy-to-follow directions to get there! Offer maps of the city, maps of surrounding public transit services, and even consider providing nearby Lyft contacts. Your guests will be out on the town in no time, enjoying your city.
2. Offer a Welcome Basket
Consider offering guests a welcome basket with snacks and small items. Lend a few healthy options, such as apples and oranges, along with some local favorites and trinkets to bring home — Buffalo jerky in Denver, a bottle of Cajun seasoning in New Orleans, or a can of Old Bay Seasoning in Baltimore. Guests will feel comfortable, welcome, and just like a local! Be sure to include practical items, such as a mini bottle of shampoo, or a fresh pair of plush, Boca Terry original, resort-quality slippers. You are going to have a lot of visitors during your Airbnb run, so be sure to stock up on slippers! Even these small gestures will help visitors get the most out of their experience.
3. Think Like a Hotel
No one expects your home to be a hotel. However, thinking and acting like a high-class hotel is an excellent way to achieve great reviews and ensure guests are comfortable. You will need to rely on location, reviews, and amenities for future business, so it's pertinent to keep everything in order while guests are in town.
Go the extra mile to ensure their room meets their expectations. Make the bed before they arrive, and provide hotel-quality bedding, such as Boca Terry's Waffle Blanket. This blanket is light, yet soft and cozy enough to ensure they are comfortable at all times. Your guests will love their room.
4. Master Guest Comfort
If you are going to think like a hotel, then you need to provide some of the outstanding amenities that set hotels apart. You can't always control whether or not your guests have access to a fitness center or pool, but you can offer other great amenities and specialties. For example, what is one of the most exciting things a hotel guest will find in their room? A plush, freshly washed Microtec bathrobe, of course! Overall, value your visitors.
5. Remember Breakfast
Breakfast is not a requirement of Airbnb hosts, but it is a good (and easy) way to jump ahead of the competition. Remember, Airbnb stands for "air bed and breakfast." How can you have a bed and breakfast without the breakfast? That accounts for 50% of a bed and breakfast's identity and customer guarantees. While you don't have to cook up a 5-star award winning meal, at least providing guests with simple options such as fruit, cereal, bagels, and eggs, is a wonderful way to keep them comfortable and happy.
6. Wi-Fi is a Necessity
In today's day and age, offering Wi-Fi is, without question, one of the most important features of an Airbnb. Remember, you might host international guests who don't have an international phone plan! They will be reliant on your Wi-Fi connection to find their way around a new, unknown town.
7. Cleanliness is Crucial
There is nothing worse than walking into a friend or family member's house that is an absolute pig-sty. It is even worse when you don't know the person! You Airbnb is not a college dorm room. Keep all awkward and uncomfortable encounters at a minimum by keeping your home sanitary and clean without excess clutter. If you think your place is clean, clean it once more. Your guests will be grateful and comfortable.
Always offer your guests freshly cleaned linen and towels. In fact, these come at the top of guests' personal requirement lists for Airbnbs! If your towels are shredding, or stiff from years of washing, consider investing in a new set. Your guests will be much more comfortable knowing (and feeling) that their towels are fresh. Our Sunny Lane Collection is a classic set, while our Resort Collection rivals any hotel in town (which is your goal, too).
Be the Best Airbnb with Boca Terry
Don't take your Airbnb host responsibilities lightly! Your visitors are ready for the time of their lives. Show them that you are willing to contribute to their great experience with more than just a room. Airbnb connects people everyday. Make sure your guests enjoy their stay. If you have questions about Boca Terry products to improve your Airbnb, or if you'd like to order wholesale, contact us today!
Share this item with friends