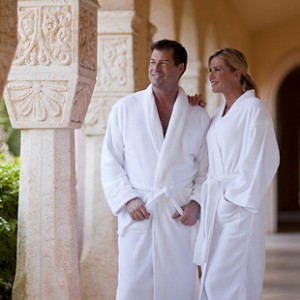 When we went into business, many years ago, it was with a vision to supply the hospitality industry with robes that would command attention, provide guests with the ultimate in comfort and style, and build a reputation for our impeccable quality and service.
Today we can brag that we have done all of these things, and more. But rather than rest on our laurels, Boca Terry is constantly looking for better production protocols, state-of-the-art practices, and up-to-date styling in order to make our clients look good.
A Dedication to Providing the Finer Things in Life
It goes without saying that when your guests are happy and comfortable they will look upon your establishment with an eye to return. Bathrobes are one of the most important elements when it comes to demonstrating your attention to detail and your dedication to providing the finer things in life.
Providing a Sustained Memory
A high quality terry cloth robe is one of the most classic models you can choose when it comes to defining your sense of luxury. By selecting thick, lush terry, you are telling your guests that nothing is too good for them. A terry robe is the sine qua non of pampering, and will go a long way when it comes to providing a sustained memory of every moment spent at your hotel, bed and breakfast, or spa.
Standing the Test of Time
Warm, soft, and absorbent, a terry cloth robe needs no introduction as one that has stood the test of time. Terry cloth was actually created way back in 1848 by Samuel Holt. He patented the material in England and the United States and began mass-producing it in 1864 from New Jersey.
Made of Two Layers
Terry is made with two layers, one made on a loom to create what is known as "ground warp," acting as a base, and the other, the "pile" or raised warp, which gives the cloth its absorbency. The fibers in the pile warp are looped, with the highest quality terry composed of loosely twisted uncut loops. Because the fibers strengthen when they are wet, terry cloth is a highly durable fabric that is ideal for wicking away moisture, providing a quick dry for anyone using it as a towel or a bathrobe.
Boasting Tremendous Absorbency
From Esther Willams, the famous swimmer and actress whose films of the 1940's won the heart of the public for their spectacular pool scenes, to a myriad of today's sports celebrities and movies stars, the terry cloth robe has always been a stand out. Because of its tremendous absorbency, it is the perfect accompaniment after a competition or workout when it is essential to get dry fast.
Perfect For Any Setting
At Boca Terry, we know that the terry cloth robe shines like a star in its own right, and is perfect for any setting, whether its poolside, in the spa, by the Jacuzzi, or lounging in one's room after a shower or bath. By using the best fibers to create our terry robes, we ensure that when you buy from us, you have an inventory that lasts.
The Ultimate in Durability
We believe that it is up to us to make sure that every robe that leaves our factories is up to the standard that we have prided ourselves on through the years. For this reason, we never leave quality control to strangers. We make sure that our fabrics are tested for the ultimate in durability, as we know they will be subject to countless washings and dryings at your facility. We want to make sure that every robe measures up to this rigorous routine without suffering unnecessary wear and tear.
Enveloping You Like a Cloud
Made of 100% pure cotton terry, a combination of cotton and polyester, or eco-friendly organically grown cotton, the quality of our materials is shown in the long fibers that create a thick and warm fabric that envelops you like a welcome cloud.
Adding Our Luxurious Touch
Our exceptional designers have taken the classic terry cloth robe and added their own luxurious touch, with deep and ample pockets for sinking your hands into or storing your keys and other sundries without worrying that they'll fall out. They've provided a double belt loop system that allows you to adjust for waist height according to your physical dimensions, and added a loop in the back for easy hanging when its time to disrobe.
Classic, Yet in Sync with Current Trends
Our meticulous craftspeople have double-stitched each robe with long-lasting thread in the front of the robe, as well as around the cuffs and pockets to add to its classic appeal. Our one-size-fits-all unisex terry robes are stunning examples of how this staple throughout the years remains completely contemporary and in sync with current trends.
Adding Your Logo or Design
Adding your custom logo or design is a recommended way to help your guests identify with your brand. Embroidered with the finest touch, our Boca Terry design specialists can help you fashion just the right look for your terry cloth bathrobe. If you have a boutique, this is a great way to spread the word about your establishment. Using your bathrobe as a promotional item is another excellent manner in which to extend your brand to a greater public.
Keeping Costs Down
As any one of our many luxury clients will tell you, we know how to provide the ultimate in quality and style without it costing you an arm and a leg. Boca Terry's 50 years of combined staff experience and history in manufacture and production has given us the wherewithal to source the best fabrics available today and oversee every facet of creation through to the moment when our products arrive at your door. Because we have our own factories and are our own distributer, there is no middleman to add to cost, which is a great savings to you, and ensures that we have full control throughout all of our processes.
Contact Us Today
For more information on buying high quality terry cloth robes, please contact us today through our online form or by calling (877) 421-6001.
Share this item with friends