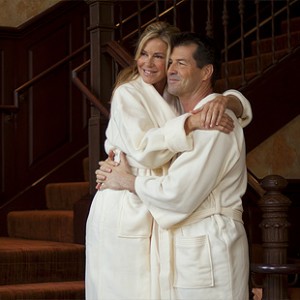 It is customary to give a wedding present to the bride and groom when you are an invited guest at the wedding. If you are attending an upcoming wedding, it is time to consider buying a bathrobe as a wedding present so that you can make the process of shopping for the gift all the easier. Deciding what you are going to buy the bride and groom can be one of the toughest decisions you will have to make. Choose a gift that will surprise them and also be appreciated, add customizable, luxury bathrobes to the list of possibilities.
Why Do Bathrobes Make Excellent Wedding Gifts?
From toasters and coffee makers to frames and wall pictures, there are so many different gifts you can choose from when you are buying a wedding gift. While brides and grooms do register with their favorite store in hopes of showing their guests what they want, most people want at least one or two gifts that will surprise them. Why not surprise the ones you love with gifts that are unexpected and still very practical for a married couple?
Imagine how much your friends will love the bathrobes they received from you while they are on their honeymoon. When couples are first married, it is all about getting comfortable and being affectionate. Bathrobes are the perfect gift because the couple can sit back and relax after their morning shower for as long as they want in the delicious comfort of terry cloth or velour robes. When you give bathrobes as a gift, you can encourage the bride and groom to be affectionate on their honeymoon without really embarrassing them in front of their friends and family.
Buy Matching Bathrobes for Him and Her
New couples love his and hers gifts. While his and hers towels are a great gift, they are a bit outdated. After all, the towels are more of a decoration and they are not very useful in other capacities. You can find matching bathrobes that are suitable for men and women through www.bocaterry.com and give a functional gift that is still cute in its own way. From the basic kimono style to the classic shawl collar style, there are several different bathrobes to choose from. Each of these styles are made for men and women so you know the fit will flatter her figure and keep him looking masculine.
Stop visiting retail stores that offer the same boring old wedding presents and choose a present that is unique and original. If you want to give your friend the best quality bathrobe, order a customizable bathrobe for the bride and the groom from www.bocaterry.com. You can choose from more than 16 different styles also add initials or names to the robe as you desire. These high-quality robes can be ordered directly off of the site or by calling 954.312.4410 or 877.421.6001 x210. You can also fax your orders toll-free 866.530.9743 and receive your order with plenty of time to spare before the wedding. If you prefer you can contact Boca Terry by mail too.
Share this item with friends