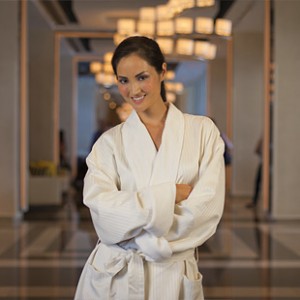 When it comes to customizing a bathrobe, nothing makes it more elegant than embroidery. Providing robes to your clients or guests with your logo or emblem creates a presence, a sensation of exclusivity, and an elegance that cannot be matched by a plain robe.
Custom Embroidery Techniques
At Boca Terry, we know that you are buying the highest quality bathrobe when you order from us. Our materials are hand picked, our designs are unique, and our stitching is made to last. Add to this our custom embroidery techniques, and you will enhance an already divine garment.
Providing The Best There Is
We supply bathrobes and other items for the luxury hospitality industry worldwide. At our competitive prices, it is hard to imagine that our designs can be so superior. Our mission throughout our long history has been to provide the best there is in the marketplace, without charging our clients an arm and a leg to satisfy a high standard.
Maintaining Perfect Quality Throughout Time
Our robes are made of materials that are sensuous and durable. Because we know that in the hotel and spa business you need to wash these items many times, we have devised impeccable techniques for maintaining their perfect quality throughout time. This is also true of our embroidery.
Making Your Brand Indelible
When you order your custom design, our embroidery experts go to work creating and refining it in order to perfectly harmonize with the robes it will be placed on. With delicate stitching we match your desire to make your brand indelible in the minds of your guests.
The Memory of a Beautiful Visit
If you have a boutique in your hotel or spa, buying embroidered robes at our wholesale prices is a wonderful way to send your guests home with something that will enhance the memory of their beautiful stay. Having a robe with your logo or emblem is a statement that the person wearing it had the fortune of visiting your establishment, which serves as a constant reminder for the next time they book a holiday or spa retreat.
Thoughtful Gifts
Embroidered robes make thoughtful gifts when guests want to bring something back from their vacation. By purchasing something that made them comfortable, they are furthering the word-of-mouth of your brand, while providing the recipient with a sense of exclusivity, even if they've never visited your establishment.
Our Research and Development
At Boca Terry, we have steeped ourselves in the research and development of our products as we learn more and more about the psychology of guests staying at luxury spas and hotels worldwide. We have found that the when they purchase merchandise with a logo or emblem, the more likely they are to return.
Distinguishing Your From the Crowd
There is always the cache of having something that distinguishes you from the crowd. By providing guests with an embroidered robe, you fulfill this sense of exclusivity.
For more information on ordering our embroidered robes at great wholesale prices, please contact us via our online form, which can be found at http://50.97.39.122/~bocaterry/contact-us, or by calling us toll free at 877.421.6001.
Share this item with friends