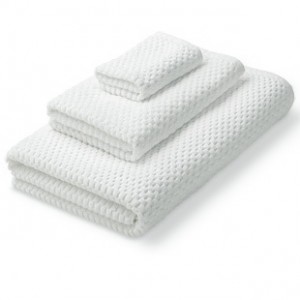 Quality towels in your bathroom can make a world of difference and provide a touch of luxury living in your daily routine. When you're shopping for hotel quality towels, you want to focus on the material as well as the different sizes available. Our mission at Boca Terry is providing you options to ensure you find something that will make you feel as if you've stepped into a luxury hotel each and every day.
Choosing a material like cotton terry for your towels is of the utmost importance. This material provides the incredible softness that your body craves after a relaxing shower or bath. It also has the absorbent factors that you expect to ensure you can dry off properly after a shower or bath. While other materials are available, none offer the same comfort as cotton terry.
You also need to focus on size when choosing hotel quality towels. Since you want them all to match, it's best to buy a set at the same time. At Boca Terry, we feature wash cloths, hand towels and bath towels. These allow you to wash your body, dry off your hands and dry off your whole body in luxury at all times. We also carry a terry bath mat that will match your towel set, providing you the perfect addition to your bathroom. When you step out of the tub or shower, you want to step onto something comfortable. Instead of placing your feet on a rough bathroom rug, the mat will help to absorb the water more effectively without sacrificing the décor in your bathroom.
Buying hotel quality towels is important because you want a quality towel that is going to last wash after wash. Terry cotton is considerably stronger than some of the cotton blends you will find elsewhere. You want the same thickness and absorbency on day one as you get on day one hundred. That's why all of our towels are only made from the most durable materials, to outlast anything you'll find elsewhere.
We offer several different design options for towels. These designs will allow you to choose a style that coordinates best with your bathroom. You may wish to get one design for the master bath and a different design for the guest bath. The choice is always yours to make.
Having towels in your bathroom is not something you can ignore. You always have choices as to where you can buy them. You can buy discount towels that are going to scratch against your body and take longer to dry you off, or you can buy our hotel quality towels from Boca Terry and feel the difference in quality from the moment you wrap one around you.
Just because you aren't at a hotel, doesn't mean you can't feel like you're in one. One of the main reasons to stay at a luxury hotel when you travel is the upgraded linen. Everyone loves the feel of terry cotton, and when you shop at Boca Terry, you can enjoy the life of luxury every single day.
For your questions and information requests, please do not hesitate to contact us.
Share this item with friends