It's not unusual for Boca Terry to receive compliments on our luxury products. Our robes and towels have been gracing top flight hotels, inns, bed & breakfasts, and cruise lines for many years, with guests taking note and often asking for more information on how they can purchase a product of their own.
A Stand Out at the Caledonian
One of our latest accolades has come from a highly placed Caledonian Hotel guest in Edinburgh, Scotland. Sir David Samworth, a knighted member of England's business society stayed at the Caledonian and was lucky enough to enjoy our luxury bathrobes there. He was so impressed by the quality of our fabric and the beauty of our design that once he arrived back in the UK, he promptly called the hotel's concierge, inquiring where he could purchase a robe for his wife.
Adding Your Special Signature
This has become an ongoing story, especially in cases where the establishment does not have an in-house or online boutique where they can display their specialty items. As happy as we are to supply happy customers with our signature robes, the one thing they lack when they are ordered directly from us, is your special signature, which is so important for keeping your brand front and center in their minds.
Your Vision of Hospitality
When you order a customized Boca Terry robe, complete with your customized logo beautifully embroidered on the front, you are bringing your brand to another level. With a luxury robe, you not only are providing a highly prized item, you are also imprinting your vision of hospitality on your guests who will remember you for the next time and recommend you to their friends and associates.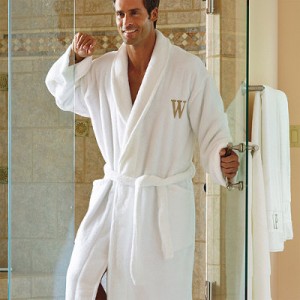 Ordering Our Memorable Robes
As suppliers to the Caledonian Hotel, a landmark that has been around for over 100 years, we pride ourselves on the memorable robes they order. As a Waldorf Astoria Hotel & Resorts hotel, the Caledonian represents the utmost in taste and service, with a buyer who knows the difference between something that is serviceable and something that is truly excellent. Many hotels are following in the Caledonian's footsteps, bringing the same level of luxury to their establishments as they recognize that a great bathrobe is emblematic of what is key in the definition of "the best."
The Definition of Luxury
According to Merriam Webster dictionary, luxury is a "condition of great ease and comfort; something adding to pleasure or comfort, but not absolutely necessary." At Boca Terry, we believe that luxurious items are absolutely necessary, especially when you consider the level of competition within the hospitality industry. Some say luxury is astate of mind, and the truth is that the concept has been around since the beginning of civilization, just as important in ancient times as it is now.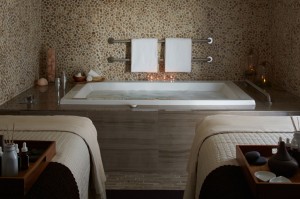 Defining a Standard
Long ago, luxury was a way of showing what the elite could have, versus the less privileged. Today everyone can experience luxury. It is accessible, defining a standard of living and a lifestyle. These days we look at luxury as something relative to what you can afford. If you make a modest income, your idea of luxury would be very different than someone who can afford a lot. But no matter how relative the concept, luxury items are those that provide that always appreciated extra pleasure.
It's all in the Details
At Boca Terry, luxury is in the details. We believe that all of your amenities represent your attitude towards service, attention, and care. Our own dedication to providing your guests with the best possible experience is what has helped our reputation grow over the many years we have been in business.
The Allure of a Well-Made Robe
There is nothing more alluring than a well-made, durable, aesthetically pleasing bathrobe, especially one that carries the logo of your hotel. By offering your personalized, custom robes to your guests, you create an unforgettable impression that will last way into the future. And we all know that creating the right impression has everything to do with how your brand is perceived, as well as determining its longevity in the minds of your guests and future clients.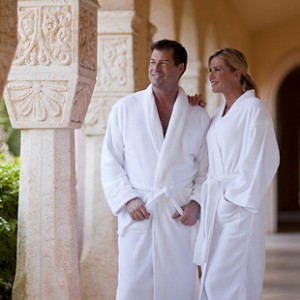 The Meaning of Your Brand
The top hotels that are succeeding right now know that their brand has to be a buzzword for the highest quality service. With ratings making the difference when it comes to attracting a new clientele and retaining your loyal followers, it is more essential today than ever to create a luxury environment where, regardless of price, guests feel that they are being given the very best. And you don't have to spend a lot of money on merchandise to make everyone feel like they are in the lap of luxury.
Impeccable Fabrics that Feel Like a Million Dollars
Boca Terry products are designed with the utmost of care. We weave all of our fabrics at our own factories so that we can maintain full control over manufacture and production at all times. All of our yarns and other materials are purchased by our highly educated buyers, and our craftspeople are trained to create impeccable fabrics that feel like a million dollars.
Low Costs to Keep You Satisfied
We don't believe that luxury has to be expensive. Without a middleman we can keep our costs low so that you can order as many styles as you like to satisfy the needs of your hotel and your clients. From the deep comfort of our terrycloth to the exceptional wicking abilities of our Waffle Weave styles, our robes are made in a one-size-fits-all model that is designed to drape impeccably over any body type. Plus sizes and special orders are also available, and almost all of our bathrobes are created for both men and women.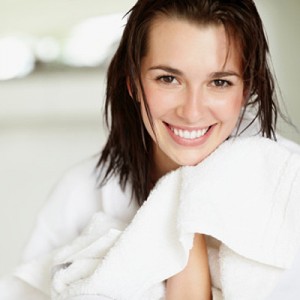 Opening Up a World of Possibility
Custom embroidery with the logo or emblem of your establishment is the best way to go, allowing people to feel like they are a part of something special, like Sir Samworth at the Caledonian Hotel. Add Boca Terry robes to your in-house or online boutique, and people will remember you as they wear their robe day after day and buy them as gifts for their friends. Through the beauty, quality, and availability of our products at your hotel, you will be opening up world of possibility for your brand, one robe at a time.
Contact Us
You too can provide your guests with luxurious comfort. For more information on how, contact us using our online form or by calling (877) 421-6001.
Share this item with friends