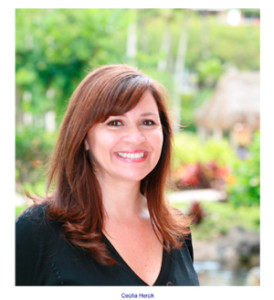 As a seasoned specialist in resort and day spa openings, Cecilia Herčík's prowess is centered on spa management and hospitality operations. With roots in the restaurant industry and retail buying, Cecilia's most notable positions include the Ritz-Carlton Hotel Company, Aveda-Estee Lauder-Neill Corporation, Waldorf Astoria Resorts and WTS International Spa Consulting Company. Throughout her 25+ years of experience, Cecilia's passion for optimizing the spa and hospitality industry has led to the creation of her very own management and consulting firm, C-SPA Consulting.
Fluent in both English and Spanish, Cecilia graduated from the Instituo Metropolitano of Lima, Peru and FCCJ Jacksonville, Florida. She has also received certification as a Nutritional Consultant from the Global College of Natural Medicine.
Being one of Boca Terry's cherished business partners, we sat down with Cecilia to catch up and take a closer look on how her experiences have cultivated her professional development.
What is your best piece of advice for start-ups in the spa industry?
You're going to devote a lot of time and energy to starting a spa business and building it into a successful enterprise, so it's really important that you deeply enjoy what you do.
What luxury and economy Spa concepts yield the biggest return on investment?
There's no doubt that customer loyalty is one of the most important factors of your spa's success. To actualize the biggest return on investment, spa concepts must focus on nurturing the total profit from an individual customer over the 'life time' of their use of your product.
What have your leadership roles taught you?
The strength of your spa business lies in the ability to stay one step ahead of consumers and their needs. The goal is creating an experience where clients leave the spa more enlightened than when they arrived. I think the spa industry is such an incredible industry because our job is more than just making money. In a subtle way, spas are there to educate guests. If you learn one tip, recipe, or yoga pose, then that means we did our job.
What are your predicted trends for the spa and wellness industry in 2014?
We live in a busy, noisy and exciting world; everyone is pressing us to do more in less time! Even though cell phones, emails and text messaging routinely interrupt us, the same technology also offers us the chance to restore our energies as we download yoga sessions for free or keep track of our fitness progress at home. We can quickly learn healthy recipes or experience color therapy and rainstorm showers with realistic sounds of birds and thunderstorms, accompanied by whiffs of aromatherapy while the water rains on your body. So for 2014 we will see spa technology influence spa services more than ever before!
What is one thing that spa owners overlook, no matter how long they have owned a business?
They underestimate the power of a brand! You must deliver the message clearly, connect and motivate your customers with your brand, and most importantly, focus on creating loyalty. The owner and management team must be the guardians of their brand. I have seen so many spas relax their brand due to turnover. Making frugal decisions to minimize collateral pieces where the story of your brand is not there anymore hurts the brand's standards.
What do you enjoy most about this industry and the various roles that have cultivated your experienced?
What I like about the spa Industry is that it is a lifestyle choice. We make a conscious decision to nurture ourselves, making health and wellbeing a priority (at work and at home). I have become more aware of our world's limited natural resources, and, as a result, I have brought my spa experiences into my everyday life through a variety of ways. I have noticed that the spa work force is uniquely caring, thoughtful and nurturing. Having said that, managing or owning a spa is a real business, where I have a financial responsibility to achieve excellence with a healthy bottom line.
What is the most valuable lesson you have learned as a consultant?
I've had the pleasure to lead Luxury Spas for the past 25 years. As a consultant, the most valuable lesson I have learned is the power of having a cohesive team that is very well informed and excited to be part of the operation. Being synchronized in the everyday processes of offering a flawless client flow will allow you to drive your financials! The big lesson is investing in your team every day.
The spa industry has grown rapidly over the past few decades, leaving a gap in the development of leadership roles. My business, C-SPA Consulting, has recently formed a new branch to meet this growing need and has added C-SPA Leadership Development and C-SPA Retail Coaching to our program.  These on-site trainings will help enhance your spa leadership skills by allowing us to share our industry knowledge.  In each of these programs, we work with spa leaders who want to grow their spa business as well as themselves in their leadership role.  Because of the diverse experience C-SPA Consulting provides, we are uniquely qualified to partner with all types of spas, salons, wellness or multi-unit operations.
Why do you like working with Boca Terry?
Since I've managed so many different spas over the years, I've developed a long-term relationship with Boca Terry. They have assisted me with promotions in at least four of the spas that I have worked at in the past. Their promotions are designed to give you a preview of the spa experience, while offering quality products. In my opinion, robe promotions have the best return on investment.
Share this item with friends