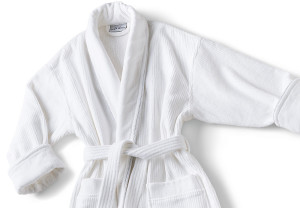 We've stepped into the beginning of a new year, which means it's time to get a fresh start in living healthier and going forward with the resolutions. If you're in the hospitality business, you're probably looking into enhancing your spa or hotel—or perhaps, even pampering yourself.
It's time to get a new bathrobe, or several, at that. The following bathrobe lines from Boca Terry are sure to amp up the comfort in any space. Each collection features unique attributes that make the case for luxury living.
Ambience Fitting
Bathrobes are often chosen based on one's personal style and preferences, just like any other garment in a closet. When choosing one for your hotel or spa, you should look at details like matching the theme of the room the bathrobe will be placed in, and correlating the fabric to its use.
If the bathrobe is to cover damp skin and massage oils, for the most part, you should resort to choosing a more absorbent fabric. On the other hand, for special events or for offering a practical addition to loungewear, the bathrobe selected can take on another convenient form that doesn't have to be as permeable.
Classic and Sophisticated
Take poise to new heights with Boca Terry's large assortment of traditional and functional bathrobe designs. It's all about looking for the fine details and right patterns that put together an elegant design.
Boca Terry's Mini Stripe bathrobe is an excellent example of how you can blend a classic with a contemporary weave.  This 100% combed cotton bathrobe features a striped design that's finished off with cord edge piping, which offers an extra luxe effect. It's available in shawl collar and kimono variations.
Light and Ethereal
If you prefer to focus on a more lightweight option that can be fitting for warmer climates, opting for a bathrobe with a simpler makeup is the best alternative. However, that's not to say it can't have a textured façade.
For instance, the Kimono Waffle bathrobe from Boca Terry places style on the forefront all while keeping a basic waffle scheme. This bathrobe can be folded and stored with ease, without having to worry about having to overly steam or iron it. It comes in varying styles and material compositions, with some classes available in larger sizes.
Plush and Snug
Are you enduring colder winters, or will your guests be residing in a location with a colder climate? If so, then you'll need a bathrobe that can offer enough coverage, while maintaining a cozy character to endure the chillier days.
Boca Terry's Microfiber bathrobe with plush lining blends a plush composition with refinement. It is increasingly becoming a trend among spas and hotels on a global scale. You can use the double belt loops to adjust the belt height. The large pockets allow the bathrobe wearer to comfortably store personal belongings.
For extra coverage, the Hooded bathrobe from Boca Terry is an excellent option to keep warm and dry in just about any setting. Available in terry and velour variations, the bathrobe flaunts multi-needle stitching around the cuffs, front, and pockets. The large hood provides additional warmth.
Silky and Smooth
At Boca Terry, any option you decide to go for will offer an ultra soft feel. You might be organizing an event or even be going to one that will welcome a silky bathrobe. It could be a single's party, wedding, or any other special occasion.
Let the festivities take full effect in Boca Terry's Satin Stripe bathrobe that comes in kimono and shawl collar versions. This robe features French terry knit lining and is available in white and ecru shades. Its 19th century influences make it a declaration of what finesse should look like.
You could also choose the Pink Kimono Satin robe as a shorter and rosier alternative. Made of 100% polyester, this chic piece could add flair and shine to just about any get-together.
Environmentally Sound
Going the eco-friendly route doesn't just have to be done through eating organic produce. You can promote that lifestyle through your choice of bathrobes, too. Bathrobes that are made without the use of pesticides or genetically modified variables can help boost the introduction of a more green approach.
Whether it's a personal preference, or because your establishment's guests appreciate having organic robes as an option, you can choose from Boca Terry's quality arrangement. Our organic bathrobes comes in varied styles:
Organic Basic Kimono
Organic Classic Shawl Collar
Organic Lightweight Waffles

Each robe is made with 100% certified organic cotton, with the Basic Kimono and Classic Shawl Collar versions available in terry and velour options.
A Robe with Personality
Giving a bathrobe its own unique character is eased with the option to customize it. Boca Terry can add custom embroidery to your choice. You can easily get a meticulously stitched emblem, logo, or monogram on your bathrobe selection to give it a long-lasting impression.
Flaunt your brand in an appealing manner or customize the robes in another way that each one of your guests will appreciate. If you have a personal boutique, you can distribute your personalized bathrobes there, too. Custom bathrobes also make for special gifts that can be used all year long.
Contact Boca Terry
Boca Terry has been in the bathrobe manufacturing business for quite some time now. We know what an amazing bathrobe looks like when we see and touch one. Only materials of the highest quality are used to produce our beautifully designed bathrobes and spa products.
Since we take full ownership of our factories, each bathrobe that exits our doors must meet the necessary criteria meant to fit the high standards of the hospitality industry. For more information about our luxurious variety of bathrobes, call Boca Terry today. We'll be happy to help you kick off 2016 with the perfect start.
Share this item with friends