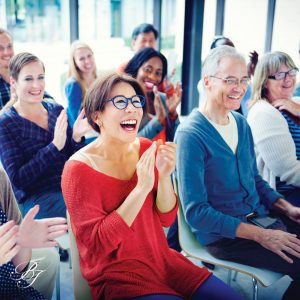 Club managers realize that social engagement is key to driving membership, so they're enhancing their social epicenters and reinvesting in engaging country club amenities.
Bob James, president of the Club Managers Association of America (CMAA), opened the November/December issue of Club Management magazine with a nod to country club amenities and social engagement. Clubs are not merely about connections; you can make dozens of those simply by logging onto Facebook. Rather, what Bob is referring to are social epicenters: "the areas of our clubs where true engagement of multi-generational members occur."
Trending Toward Social
Clubs have always invested in the upkeep of their clubhouse facilities and golf courses. However, in 2018, more clubs are refurbishing their "casual dining rooms, terraces and … fitness centers." The goal of these renovations is to create family-friendly atmospheres where social engagement can occur.
So, what is a "Social Epicenter?"
The social epicenter is the heartbeat of your club. In your home, perhaps your kitchen is the social epicenter; if so, friends might gather around your kitchen island while you whip up hors d'oeuvres. It's where members are reminded why they joined to begin with: to connect, to converse, to create new friendships, and to develop professional relationships.
Wise Investments
When upgrading your country club amenities, be sure to target your social epicenters, including:
Gyms / wellness centers
Pools / aquatic facilities
Spas / salons
Steam / sauna facilities
Outdoor fire pits
Bars / lounges
To drive members to these social epicenters, emphasize design, engagement and top-notch country club amenities. First, surround your fire pits with enticing furniture. Then, rethink the bar menu to satisfy unique palates—"like providing elk or ostrich to members with exotic dining tastes." Finally, elevate your gyms and saunas with resort-style bathrobes and spa accessories.
Join Boca Terry at the CMAA 91st World Conference in San Francisco, and visit us at Booth #1620 to experience engaging, affordably luxurious amenities firsthand.
Source: Club Management, Nov/Dec Issue
Share this item with friends