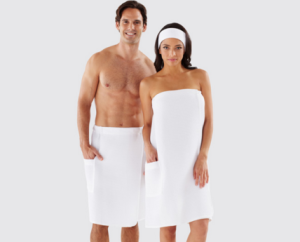 It's not everyday you get a revolutionary thought on how to enhance or transform your hotel's amenities into incentives for your guests to keep coming back for more. If you have a spa, then you know how fierce the competition can get. So, if you've gone by the book (or at least think you have) with how to give guests the relax time of their lives, then what is there left to do?
Well, you might have a missed a few game changers. The pretty obvious fact is, guests are keen on sticking to the places that stand out in truly keeping their comfort in mind. That's why simple additions such as the following, can either kick start your new hotel spa into a royal serenity spot or give your existent spa an extra push for recognition.
Diversify Your Services
Nothing is more appealing to a spa guest than having a wide array of treatments to choose from. Many hotel guests tend to expect a more limited list of spa services to be available at hotels. If your budget and resources permit, give your visitors a pleasant surprise by extending your list of services.
Here are some unique treatments you can add on board your suite (if you don't already have them):
Holistic healing massage
Water massage
Clay body wraps and aroma treatment
Traditional hot stone massage by the pool
Chocolate or wine facials
Mineral Jacuzzi

Whatever conventional or nontraditional services you decide would best fit your hotel's mission may be, they'llmost likely give your spa an added edge. Make sure to do your research to know the proper procedures that must be taken for each service, and be aware of the necessary resources. That will also help you draft a reasonable price for your visitors.
Set up the Ultimate Zen Atmosphere
Every spa needs its fair share of a tranquil environment. Have an ample amount of candles on hand to make for an aromatic atmosphere. You can even match your hotel spa scent(s) to the different seasons throughout the year. For instance, cinnamon and pumpkin spices are tied to the fall season. Such scented candles or air fresheners can make all the difference in inducing a calming state for guests.
Interior design and décor accents including stone water walls and dimmed lighting, along with soothing music, all create a meditation haven. Guests should ultimately feel like your spa defines the word "relaxation."
You should also offer a host of beverages including warm herbal teas or champagne and a damp washcloth for your guests to cleanse their hands upon entering the spa. Boca Terry's towel collections include ultra soft 100% combed cotton terry washcloths that keep with a cleansing aura.
Provide the Attire
While you might be thinking we mean you should offer your guests the proper lounge clothing to attend your spa, we simply mean that you should make the single most important part of a spa wardrobe available: a bathrobe.
Boca Terry is well known for its varied collection of classical to contemporary bathrobes that are sure to fit just about any hotel's criteria. Whether your hotel is an eco-friendly sanctuary or an exuberant modern treasure, Boca Terry has something to offer just about any type of facility. Some of our favorites include:
Checkered bathrobe
Kimono Waffle bathrobe
Microfiber with Plush Lining bathrobe
Mini Stripe bathrobe
Organic Classic Shawl Collar bathrobe
Our organic bathrobes are made with 100% certified organic cotton, to not only influence the safety of the environment, but also that of your guests.  Your guests will have the best companion to take part in your spa's revitalizing massage treatments including a dip in the Jacuzzi or pool.
Guests won't have to worry about losing any of the items they prefer to keep nearby, thanks to the generous pockets boasted on the front of the Boca Terry's bathrobes. The lightweight robes also come with hanger loops for easy storage. You can place them in your guests' hotel rooms or in their spa rooms.
To make sure they always remember your hotel, customize your bathrobes. At Boca Terry, you can create your own personalized print or design and add a luxurious stroke with custom jacquard. Your hotel spa can be a mirror of all of your services.
Accessorize Your Spa
The smallest additions to a guest's spa apparel can make all the difference. Whether it's comfy slippers for making a near commute or a spa wrap to temporarily substitute a towel or bathrobe, these accessories are especially practical. Facial massages feel so much better when a headband is provided to keep hair back as guests get their nourishing treatment.
You can find all of these accessories at Boca Terry. Get closed toe or open toe non-skid slippers and customize them to your preference. With all these available conveniences, guests will surely make an extra effort to come for another visit and perhaps just turn into regulars at your hotel.
Offer a Complimentary Gift
To make sure you're attending to all of your visitors' needs, it is highly recommended to kindly ask guests to complete a survey or ask how they liked their experience before or after they leave. That way, you can learn which areas have room for improvement, or contrarily, which ones made their experience delightful, and address those sectors accordingly.
Then there's the occasional parting gift. After all, who doesn't like freebies, right? Offer your guests a discounted or free treatment for their next visit, or depending on your budget, apply a special promotion for their first visit to your spa. These seemingly minor details are the ones that a visitor remembers most.
Make Your Hotel Spa a Welcoming Retreat
The value of customer satisfaction is an element that should land on high priority on your list when it comes to enhancing your guests' spa experience to see their faces again. Let Boca Terry help you spruce up your cozy refuge into the most sought-after hotel spa around. Contact us today for more information about our distinct selection of luxury bathrobes and spa additions.
Share this item with friends