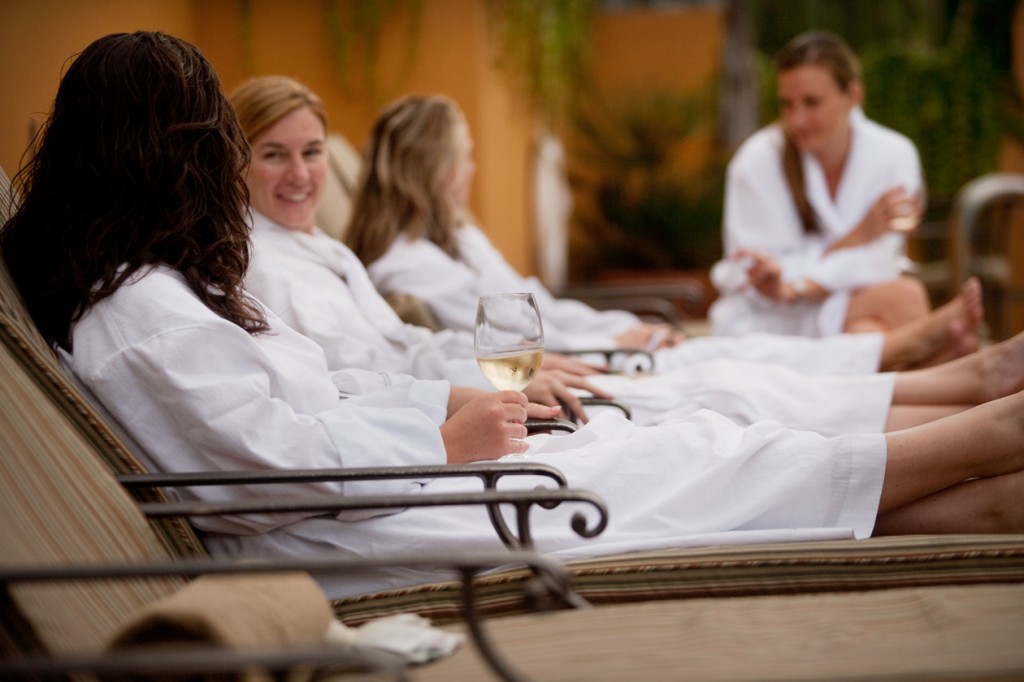 If nothing else, a bridal shower is a great excuse to throw a party for a dear friend who is about to tie the knot. At Boca Terry, we love this idea of a celebration, honoring one of the most important moments in the life of a woman in love.
The History of the Bridal Shower
There's nothing more wonderful than a festivity filled with close female friends, relatives, female wedding guests, and the family of the bride, all of whom gather to commemorate a beautiful event that's on its way.
The bridal shower began long ago when it was customary to provide a woman with a dowry in order to go forth into her new home. Friends and family often gave gifts if the immediate family didn't have the wherewithal to provide a sufficient amount for the transition of the bride from her home to that of her husband. Friends would also provide presents if the family of the bride didn't approve of the union so that the betrothed could start with important practical tools as she began her new life.
In the American west of the 1890's, the bride-to-be was given a party where she received the necessities for starting a household, especially if her family could not afford them. In Europe's Victorian times, bridal gifts were offered inside a parasol, which gave way to the term bridal Shower, still holding firm today as a unique way to describe this special event.
An Exceptional Present
At Boca Terry, we have found that one of the most popular bridal shower gifts is a custom robe. Always welcome, a robe symbolizes many things, including luxury, relaxation, hominess, and sensuality… all of which are what we wish for those we love. Not only do they make an exceptional present for a bride-to-be, but they also make the perfect party favor for all who attend, and not at great expense.
A Variety of Styles
Our robes come in a wide variety of styles. Why not give our sexy Pink Kimono robe to the bride for her honeymoon, along with some other models, such as our hooded terry for after the bath, and a Satin Stripe for lounging about her new home?
The Ideal Party Favor
Boca Terry robes also make perfect party favors. If you are planning the party, you can order robes for each guest. Often bridal showers can be themed, with the bathrobe as the perfect metaphor for letting your hair down. Get creative around this idea and you can plan a party that can be fun, relaxed, and as silly or serious as you want it to be. Some ideas can include confessing one's secrets, styling each other's hair, or playing charades. You can also make funny honeymoon suggestion and advice cards and place them in the pockets of the bride-to-be's custom robe. The point is to get everyone in on the action and to make it memorable. With our robes as the starting point, you can find a million ways to extrapolate on the idea of comfort and intimacy.
Planning the Shower
When planning a bridal shower, the first thing to do is construct the perfect guest list gleaned from the people that the bride-to-be holds dear. Then think about what she likes and select the venue. If you are going to make a robe-themed party, you will want to do it at someone's home. If you plan on giving her the gift of robes, then her favorite restaurant could be a terrific idea.
Creating Your Invites
Create your invitations and send them through paperless post. There are so many great designs you can choose from, or take photos or make a collage that you can then photograph and scan. Either send your invitations through email, or download and print to send out to each attendee.
Making the Day Magic
Other elements important in your planning include the right décor or color scheme in tandem with your theme, along with flowers and other elements that will make the day or evening sparkle. Choose your food and drinks according to what she likes, presenting them in beautiful crockery to make the table magic.
Customizing Your Robes to Create a Memory
Boca Terry specializes in robes for bridal showers. By creating a special embroidered logo or design that can be placed on each bathrobe, the party will take on an even more special meaning, not just for the star of the show, but for everyone involved. Here are a few examples of robes you can order through our online catalogue. Then go ahead and send us your logo idea, whether it is initials or a drawing, and our design specialists will bring it to life:
The Pink Kimono Satin Robe

The Pink Kimono Satin Robe is the perfect robe to send your friend out on her honeymoon. The ultimate in femininity, it is both alluring and comfortable, made of 100% polyester. Measuring 36" long with a 17" sleeve, it is designed to compliment anyone's figure, and is also available in plus sizes.
The Hooded Terry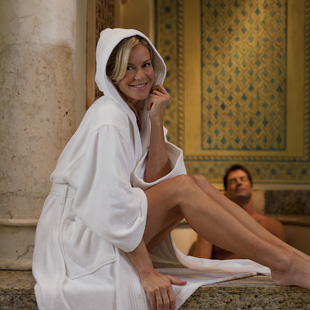 Our hooded Terrycloth robe is a testimony to one of the most classic takes on the bathrobe. Absorbent and cozy, this robe is one of the most versatile, making it perfect for after the Jacuzzi, bath, or shower as well as for glamorous lounging poolside.
The Satin Stripe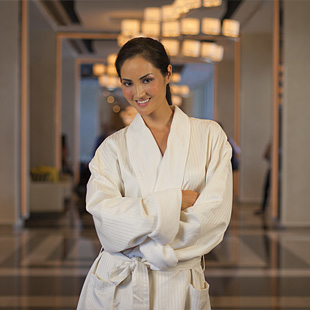 The Satin Stripe Robe lined with French terry knit is a gorgeous robe that fits any occasion, be it in the hotel room, at home, or at the spa. Made with 100% polyester on the outside with an 80% cotton and 20% polyester lining, the robe is styled with deep pockets, a double belt loop for perfect waist adjustment, and a beautiful rollup collar and cuffs.
Contact Us Today
For more information on our custom robes for your bridal shower party, contact us!
Share this item with friends