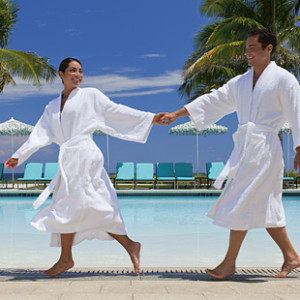 Cruise line managers, owners, and other hospitality representatives, the time to buy more  towels and robes is now! Although summer is a popular season for travelers to take to the  seas, equally as many hold off until the winter months to cruise. Following a long, sunny  summer of voyages, here are the reasons why you need to stock up on towels and robes:
 Why Winter Cruises are Catching On
Winter is a popular time to cruise, as individuals are looking for a way to get out of the cold  weather without waiting for spring to break through. Additionally, the end of hurricane  season motives more individuals to venture into the Caribbean without the fear of a  dangerous storm or a cruise cancellation.
 A Rise in Popularity
More people are cruising now than ever; it is often viewed as a more budget friendly  alternative to the traditional resort, and cruises are enhancing their offerings by renovating  more ships each year.
Because cruises are such a popular vacation destination, that means that towels and robes are being used more frequently, resulting in a greater need for replacement. Although terry cloth is a durable material, cruises see 2,200 passengers weekly, for 52 weeks of the year. Therefore, their amenities are being used at a very high rate. Towels and robes can become worn out from a busy season. Not to mention, the constant sun, salt, and chlorine take their collective toll on terry cloth, especially if they are not a high quality product in the first place.
The truth is, towels and robes are essentials on a cruise ship, but not just any will do: a high quality, long lasting, well-made towel or robe is the best choice for cruise lines.
Where Guests Need Towels
On a cruise ship, the locations where guests will use towels are nearly unlimited; it is a giant boat, after all. To name just a few locations, guests will need towels in their rooms (especially bathrooms), at the pool, at the fitness center, in the spa area, and near hot tubs — which are very popular during the slightly chillier winter months.
Where Guests Need Robes
Whether heading to the gym, leaving the spa, or just enjoying a light breeze on a private balcony, robes are an essential item on cruises. They serve to keep guests happy, cozy, and right at home!
Better Bathrobes and Towels
Towel and robe quality plays an important factor in the life of these products. Why choose Boca Terry? Not only does our manufacturing process help us stand out, but our quality in general does, too.
Our Manufacturing Sets Us Apart
All fabric utilized for Boca Terry bathrobes and spa products are woven at our factories, totally vertical from yarn purchase through weaving. From years of expertise in the manufacturing industry, Boca Terry has refined its manufacturing process down to a science with meticulous fabric research for quality, unique design for innovation, sample making and systematic lab testing.
Towel Options/ Collections
We offer two elegant towel collections to best meet your cruise ship's needs. Choose from the classic Sunny Lane collection or the luxurious Resort Collection.
Both collections all offer washcloths, hand towel, bath mat, and bath towels.
Our Sunny Lane collection also comes available in beach towel size. With so many options, it is easy to stock up before the next voyage!
Number of Robes / Mention Organic Robes
Boca Terry offers over 40 styles of affordable, luxury quality bathrobes to choose from. Not to mention, we even manufacture three 100% certified organic cotton robe options. Whether you are looking for the classic kimono, the elegant shawl collar robe, or a lightweight waffle robe, we have an organic option to meet your needs.
There is a reason that some of the biggest names in hospitality — including cruises, resorts, and hotels — use Boca Terry products. Stock up on your favorite Boca Terry signature items before leaving the port. Bon voyage!
The Best Time to Cruise with Boca Terry is Now
Clearly, Boca Terry is committed to quality and care. In order to help your cruise line to be associated with prestige and quality, your best bet is Boca Terry. To learn more about wholesale pricing, or to place a wholesale order, contact us today!
Share this item with friends