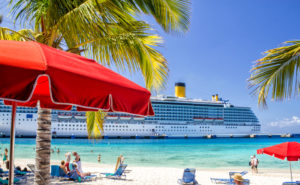 Summer is here — and you know what that means: It's the time of year when vacation is on everyone's mind. The kids are out of school, educators are off work, and the beach is calling. Time to start planning that summer vacation you've been dreaming about. And then, a dilemma. Should you book a cruise or an all-inclusive resort? Here's a closer look at these two awesome vacation options:
Crazy for cruises
A good cruise is made up of a few necessities: sandy ports of call, sun, and lots of fun aboard the ship. This type of vacation comes with a lot of perks.
You get to enjoy chef-quality cuisine. Ships are chock-full with thousands of pounds of amazing food, which is prepared for your daily enjoyment. There's no shortage of fun (hello, water slides!) and games. And there's often no need to pay much more — most of what you see on the ship is often worked into the price of your stay.
You'd better grab a good towel, because you're in for a wet and wild ride aboard an exciting cruise ship!
All about the all-inclusive resort
On the other hand, there are a lot of benefits to foregoing the ocean's motion and booking an all-inclusive resort for your vacation. There's nothing more relaxing than an all-inclusive, whether you decide to spend hours lounging by the pool in a soft, luxurious bathrobe or you pass the hours pampering yourself at the spa.
One of the big draws to an all-inclusive resort is that everything is, well, included: drinks, chef-inspired meals, time by the pool, the piano bar, those fun little beachside floats, and anything else you'll need for an unforgettable vacation.
Which one?
By definition, you will be surrounded by water for most of your cruise. If you love sailing the high seas broken up by visits to exotic ports of call, go for it.
But if water, water, everywhere isn't your thing, an all-inclusive resort can take you to exotic locales — the Caribbean, Alaska, Australia, Greece, Italy, or anywhere else you dream of vacationing — to stay for a bit. You'll have the opportunity to spend a little more time with the local terrain and culture in a way that's harder with a cruise.
No matter what and where you book, don't skimp on quality
Regardless of whether you book an all-inclusive or a cruise, we suggest you don't skimp on quality. You deserve to experience a glamorous, pampered vacation. And the fact is, only the best cruise ships and resorts will offer great amenities like slippers, luxurious bathrobes, and everything else you need to fully enjoy your trip.
Boca Terry partners with some of the biggest and best names in the hospitality industry, resorts and ships alike. We work hard to bring them the finest amenities and they work hard to guarantee that you love your stay during your well-deserved vacation.
Whether you're in the hospitality business or planning a family getaway of your own, a Boca Terry bathrobe is the perfect accessory to for an amazing trip. Contact us today to learn more about our wholesale pricing, or check out our retail options here.
Share this item with friends