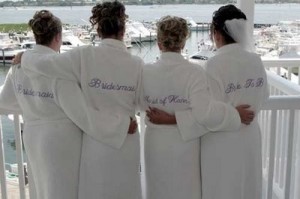 When you are looking for ways to impress your guests, you might find yourself turning in all directions before narrowing down an effective plan. Before you look any  further, have you  considered custom bathrobes and accessories?
Boca Terry knows all of the elements it takes to develop and manufacture well-made, customized bathrobes and accessories. Need some guidance? We will walk you  through the steps  from start to finish. Here are the criteria for everything you should look for when it comes to customizing your bathrobes and other accessories
 1. Make Sure It's Fun
You want a company that knows details about fun designs and impressive details. Not only does Boca Terry create fun and beautiful designs that will elevate your  brand, but we also  understand that these designs can serve to add an element of fun to your resort, hotel, or cruise!
For example, what if you wanted to offer a patterned bathrobe—what designs can you think of? Maybe a collection of pineapples trees, or lovely pine trees? Whatever you believe best represents your establishment, we are ready and willing to help walk you through the design process.
You Want It to Be Instantly Recognizable
Whether you opt for customization or embroidery, you want your designs to be easily recognizable by your target audience: past, present, and future customers. The idea of customization is to provide a unique, easily identifiable product that relates to your brand. That might be a large depiction of your logo or a signature color—whatever it takes for your potential customers to know your brand.
It Should Be Easy to Do
Boca Terry's team of designers will guide you through the process from start to finish. Whether you are choosing a simple monogram, a completely customized pattern, or an embroidered logo, we are here to help you each step of the way. That means that we will send you photos, samples, and anything else you need to ensure the job is done (and that it is done well!). We want you to love your customized product as much as we loved making it for you.
Make It Valuable
You want to make sure that this service is valuable to you as a brand. In doing so, there are several things to look for:
Whether the customized product is high quality
Whether or not you feel it represents your brand's personality
Whether or not it is affordable
Whether you feel that this will lead to enhanced brand visibility and recognition
Customers will recognize your name, which could increase brand awareness. This simple customization step can lead new customers to learn about you. What a small investment for such a big return!
Affordability is Key
Just like everything we offer at Boca Terry, we strive to keep our customization service fees at an affordable minimum. As you've come to expect with all of your favorite products, you already know that you will be receiving high quality items from us at factory-direct prices. No more breaking the bank in an attempt to get your brand noticed!
Customization Options Are Necessary
Some manufacturers offer customizable items, but do they offer two distinct ways to customize? Boca Terry offers both customization and embroidery. Here's a quick way to pick what you are looking to do:
This is great for accenting products and accentuating the brand logo, name, or motto. It's also excellent for displaying a custom monogram.
Our team will work closely with you to determine what you are looking for, and whether or not we have the ability to get you there. The good news is that we do our best to make sure we do, almost every time. (Check out our case studies detailing some recent client adventures we took). Stand apart from the others with truly bold amenities made specifically for your brand.
Product Variety is Crucial
Other brands might offer the option to customize one or two of their products, but Boca Terry can customize almost anything! Whether you'd like us to personalize your bathrobes, mark your towels, or set your spa wraps apart for the rest, there are dozens of items that you can consider customizing thanks to the Boca Terry team! Here are some of our favorites:
Microfiber Bathrobe
Waffles Bathrobe
Resort Collection Towels
Spa Wrap
As you can see, there is nearly no limit to what we can personalize. Review our services page to envision what you can attain with Boca Terry's help.
Boca Terry: Making Customization Easier, Better, and Higher Quality
Why should you trust Boca Terry to get your customized products right? Well, the real question is why shouldn't you? Remember: if the Boca Terry name is on it, you know you can trust it—and you can trust us to do the best job possible with your favorite items. Ready to get started on your customized items? Contact us today to place a wholesale order, or with any questions about pricing.
Share this item with friends