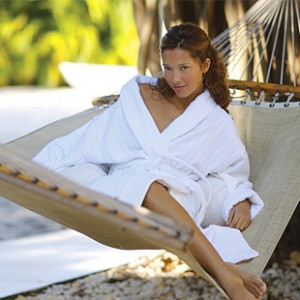 The Art of Embroidery
Embroidery is an art form that has graced the garments of people from the earliest of days. Originally done by hand, utilizing a variety of stitches and done mostly with silk thread, embroidery is an art that has evolved with the times. Today it is possible to do embroidery with a machine to ensure a lasting, detailed, professional impression. The color and design possibilities are endless. And today, because of its illustrious history, when one thinks of embroidery it is automatically associated with quality and refinement.
A Marker of Quality
Today embroidery is utilized not only as a decorative feature on garments, but also as a distinguishing indicator. The respected art of embroidery is utilized by company's the world over to create brand and logo recognition, to showcase attention to detail and respect for quality. One of the most recognized traits of quality is a garment that is personalized with embroidery. This is a perfect way for your hotel to distinguish itself in the field by offering quality items embroidered with your company's recognizable logo or emblem.
A Truly One-of-a-Kind Design
At Boca Terry, there are many options to choose from when it comes to fine luxury bathrobes, including:
•    Basic Kimono
•    Checkered Bathrobe
•    Classic Shawl Collar Bathrobe
•    Fleece Kimono Bathrobe
•    Hooded Bathrobe
•    Kimono Waffles
•    Knit Waffle Bathrobe
•    Micro Chamois Bathrobe
•    Microfiber Bathrobe
•    Microtec Bathrobe
•    Microterry Bathrobe
•    Mini Stripe Bathrobe
•    Pink Kimono Satin Robe
•    Satin Stripe Bathrobe
•    Shawl Waffles Bathrobe
•    Velour Stripe Bathrobe
When designing a bathrobe that is uniquely representative of your hotel, the possibilities are endless. By selecting one of the many available styles, choosing the fabric and then customizing it with logos, emblems, or monograms you can create a bathrobe that is one-of-a-kind, a true distinguishing factor for a your hotel.
An Undeniable Standard
Not only will customized embroidered bathrobes set your hotel apart in the field it will also let your customers and guests visually know that they are staying at of the finest hotels in the world. Because a customized embroidered bathrobe is known to represent a certain standard of quality, it will ensure that your guests feel pampered and special each time they slip into one of your hotel's bathrobes. At Boca Terry, we understand the importance of creating and maintaining an atmosphere of refinement and quality for your guests, and therefore, offer quality, timely service and the highest level of product at the most competitive prices. We offer quality service and products to our clients so that they can offer the same to their clients.
Additional Options
Boca Terry also offers the option to have many other items embroidered with your company's logo. For example, our selections of bath towels and slippers can be customized to match the other customized items that you provide for your customers and guests. Take a moment to peruse our offerings and then feel free to call us with any questions that you may have. Please contact us Toll-free at 1-877-421-6001 or locally at 954-312-4400; our customer service representatives are here to help you find and design the perfect embroidered items for your hotel.
Share this item with friends