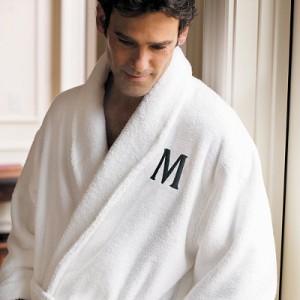 One of the most important marketing tools in the competitive world of hospitality is creating a firm presence with your company logo. At Boca Terry, we cannot emphasize enough how essential it is for guests to identify with your brand so that your establishment stays fresh in their minds, especially once they have returned home.
Creating A Loyal Bond Between Brand and Client
As a premier supplier for luxury spas and country clubs in New York, as well as the rest of the globe, we recognize how powerful a well-made bathrobe is when it comes to leaving an impression. Being such a high-powered city, Manhattan and its boroughs attract people from all walks of life. Vacationers and business people come here from all over the world, expecting the best. When they choose your location, the assumption is that they will be treated with the utmost in graciousness, care, and attention to detail. When you rise to this expectation, you begin to create a loyal bond between your brand and your clients.
Being In with the "In" Crowd
People love to return to the same place over and over again. Psychologically, we believe that if we come a second time, we will be remembered, and hence we will be in the "in" crowd. There is nothing more rewarding than having a concierge remember your face, if not your name.
Making Each Person Feel Special
A person returns to the same spa or country club because he or she gets the best service there, while at the same time feeling like an exclusive member. Joining a specific country club generally requires a commitment and an investment, and usually people take some time to determine if it is worth it to do so. When you create an environment that makes each person feel special, when you offer amenities that are emblematic of luxury, and when you attend to every individual with detailed care, you will get not only their membership and loyalty, but also their word-of-mouth to attract new members.
Attracting Your Clientele Through the Details
A spa functions similarly. There is no greater luxury than returning again and again to a place where you are treated like the special individual you are. Though in this case a guest does not necessarily have to make a long membership commitment, most spas today offer discounts for packages and perks for those who sign up for more than just one treatment day. Here again, the way to attract your clientele is through the details.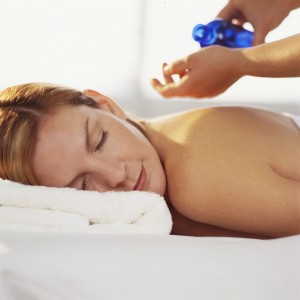 Enhancing Your Brand with a Luxury Robe
In both cases, offering your guests the best in loungewear is key. Our bathrobes are fast becoming the robes of choice in some of the most exclusive hotels, inns, bed and breakfasts, cruise lines, spas, and country clubs around the world. Because we have an indelible reputation for using only the best fabrics, the most seasoned craftspeople, and state-of-the-art techniques for manufacture and production, our clients are well aware that when they order our products, they will be enhancing their own brand.
Made to Last
Our bathrobes are made to last, no matter what style you choose from our ample catalog. With every stitch made to perfection, we have mastered the science of creating highly durable products that stand up to the countless laundering processes they must endure. Our custom embroidery is equally made to last so that your logo looks as fresh after the first wash as it does after the thousandth.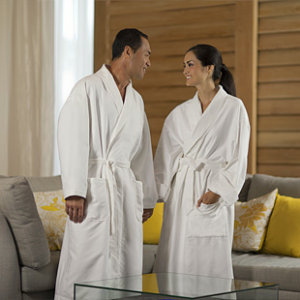 Making the Difference
Over the years we receive more and more accolades from guests who discover the robes they have fallen in love with at a spa, country club, hotel, or inn, are ours. They write to us to tell us how our products made a difference in their vacation experience, and they are always grateful to the establishment that introduced them to us.
Expanding Your Arena
By ordering your custom embroidered bathrobes, you are adding an important extra to an already stylish and sensual robe that is perfect for every situation. Your logo is the way your guests will feel that they are part of something that validates their choice in choosing your spa or country club. If you have an in-house or online boutique, providing customers with one of your exclusive robes is another way to carry your brand into a larger arena that will keep expanding.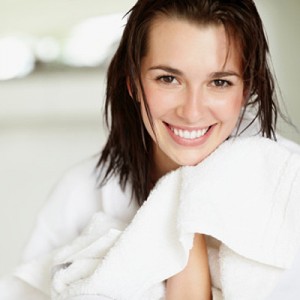 Distinguishing Yourself From the Crowd
Associating your logo or emblem with something that guests value is the ideal way to promote your establishment as you distinguish yourself from the crowd. Boca Terry has been in the hospitality business for many years, and our experience with research and development has taught us that when a spa, country club, or other similar establishment orders a great robe, it only becomes greater when a custom embroidered design is incorporated.
Special Occasion Designs
Our design experts are always available to discuss the best way to showcase your emblem. We also can help you create a design for special occasions, such as birthdays, anniversaries, wedding parties, and honeymoons, adding the monograms of given individuals or a graphic that depicts the event.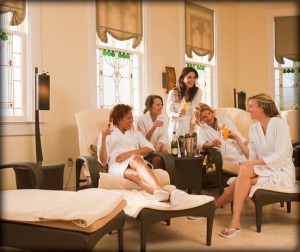 Creating an Exclusive Line
From our basic Kimono styles to our hooded terrys, all of our robes will make a special statement about your spa or country club. With designs that embody your brand's individuality, custom embroidery is a way for you to stake a claim saying, "this is our exclusive line".
Let Us Help You
Please feel free to contact us today to discuss how we can help you create a line of bathrobes that will distinguish and launch your brand. If you already have a logo or wish to update its look and message, we are happy to analyze what your spa or country club represents and how we can incorporate all of the elements you wish to transmit into a single design. Contact Us Our representatives can be easily reached through our online form or, if you prefer, by phone at (877) 421.6001.
Share this item with friends