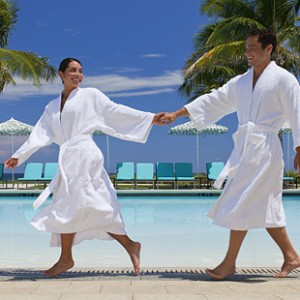 Why Choose a Custom Bathrobe?
Are you looking for something special but not over the top for a birthday or wedding gift? Maybe you'd like to give guests at an event or your hotel a unique, functional souvenir? Deciding on something personal yet widely useful can be challenging, especially when you are trying to add the most value for your guests' enjoyment. Personalization is the name of the game with a custom hotel bathrobe. Whether it is a specific color, trim, monogram, or logo, the options are endless for bathrobe customization. Don't just give guests or recipients any bathrobe; give them one that will make them think of a special time.
Customized Bathrobes for Hotels and Spas
A bathrobe customized with your hotel or spa's logo really sets it apart from any old generic robe. It gives the guest a feel of importance and luxury seeing a beautifully embroidered logo on their robe. They'll want to wear it with pride during their stay, and will always enjoy the wonderful memories evoked when they wrap themselves in the softness at home long after their vacation has ended. A personalized bathrobe at a spa shows that you care enough to provide your own unique product to your customers, which makes them feel even more valued. Add custom slippers for another touch of luxury!
Custom Bathrobes are Great Wedding Gifts
Every couple has a new china or champagne glasses on their registry. These things are great, but are hardly ever used on a daily basis. Why not give the happy couple a gift they can enjoy every day– and that doesn't require entertaining guests to use! Giving the newlyweds his-and-hers monogrammed bathrobes is a unique gift idea with a personal touch. They'll probably even pack them to take on the honeymoon!
Don't forget about the wedding party, though. Customized bathrobes make wonderful, thoughtful gifts for every member of your wedding party. Show each person how much they mean to you with their own bit of luxuriousness, personalized for the occasion. Do you have a specific theme for your wedding? Maybe have a logo or image from your theme embroidered on their bathrobes, or have each person's individual monogram done in your wedding colors. The options are endless!
Custom Bathrobes for Birthdays
A customized bathrobe makes a great birthday present! Order one in the guest of honor's favorite color and have it monogrammed for that perfect personal touch. They'll enjoy having a gift that's just for them and helps evoke feelings of comfort and relaxation.
Custom bathrobes are great for really any occasion, and they definitely don't just belong in elite hotels and spas. Order a custom bathrobe to give as a door prize at your next company function. Give your new graduate a monogrammed bit of comfort as she heads off to college, or to that coworker who finally made it to retirement.
As a gift, few things can be better than a personalized bathrobe. It's affordable, different, great quality and shows that you put more thought into the gift then just grabbing a card and putting some money into it. As a wholesale option, selling these products or giving them to clients who use your services is a great way of building a long-term relationship because it's something they will use and enjoy for years. Sometimes managers and business owners are so focused on getting new sales in they forget to take care of the people who have been with them for years.
If the quality of an item you sell is not up to par, it reflects poorly on you, as well as the manufacturer. Whether it's meant to be a gift, a product you sell in your store or something else, you want to make sure that everything that comes from you is of the finest possible quality, ensuring that your customer will enjoy their experience and recommend you to friends and family. We help businesses all around the United States with wholesale and retail services, ensuring that they receive the best quality robes, towels, spa accessories and more, so that they can provide their clients with these options and know that it will reflect well on them.
Boca Terry brings over 50 years of collective designing experience and one of the largest wholesale distributors of personalized bathrobe and accessory options to you online, for an affordable price. We also offer a wide variety of retail options to ensure that you get what you want, for a fair price and the quality is unmatched. We hope that you will take some time to browse our site where you will find great deals on our selection, dozens of options for robes and much more.
The possibilities are endless, and Boca Terry is here to help you no matter what your needs may be. Visit their website at http://50.97.39.122/~bocaterry or call today to get started! Their direct line is (954)312-4410, or toll-free at (877)421-6001 x210. Fax requests and orders can also be received at (866)530-9743.
Share this item with friends