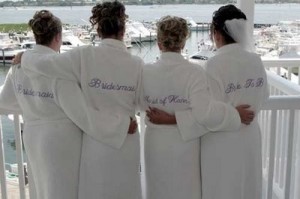 He popped the question and she said yes! Let the planning begin!
There are few more joyful times in a woman's life then when she begins to plan her wedding. Choosing the dress, picking a theme and location, hiring a photographer and taking pictures, designing, writing, and sending invitations, rehearsal dinners, the bachelorette party…
All of those decisions and events! While they are certainly exciting and memorable occasions, they can also become stressful fairly quickly. In the rush of preparation, there may not be many opportunities for the future bride to relax, unwind, and contemplate all the wonderful things the future holds for her.
Planning Can Be Stressful…
If the bride-to-be in your life is feeling frazzled or overwhelmed by the attention to detail planning a wedding requires, what better way to help her take her mind off it for a while and allow her to unwind than to take her to a spa? Soothing massages, relaxing music, aromatherapy, facials, manicures and pedicures… we're sure the bridesmaids wouldn't mind accompanying her!
But what makes a relaxing spa experience truly special? Is it the quiet peace you find there? The glowing feeling engendered by a skillful massage? The sense of rejuvenation and vitality an exfoliation treatment provides? Maybe it's the warm, fuzzy bathrobe that pampers best.
Yet, this is no ordinary spa trip. It is a way to honor the occasion and the bride by helping her relax and enjoy the preparations she is making for her wedding. So how can you personalize the trip? How can the bridal party turn it into a celebration?
Making a Statement…
The answer is with customized robes from Boca Terry. The bridal party can choose a simple theme, where the bride's robe says something simple like, "Mrs.," "Bride" or "Bride To Be" and her maids' robes say "Bachelorette." Simple and classy, a bridal party spending their spa trip in these special robes will surely be the center of attention!
And we've all seen those shirts hopeful girls wear, emblazoned with "Future Mrs. Pitt" or "Mrs. Depp," or "Mrs. Clooney." Now, the bride can wear her future husband's name with blushing pride, thanks to Boca Terry's embroidery customization options. She can also have her wedding date embroidered to make it an extra special keepsake.
Customization Isn't Just For the Bride
However, the bride isn't the only special woman in the party. What about the maid of honor? She can also have a robe personalized to eschew her status as the bride's right hand, a separate entity from the rest of the bridesmaids. If there is a special little girl in the party, she can have her very own robe, pronouncing her as the flower girl. And don't forget mom, whose eyes may very well fill with tears as she dons her plush and comfortable Mother of the Bride robe.
Because each robe is custom made, there are many different ways to lend an air of exclusivity to the spa trip and unify members of the bridal party. With fun and cozy, personalized bathrobes, you can make the spa trip a truly memorable experience and provide every woman and girl that attends with a memento of the occasion that will last for years to come.
Match Her Chosen Theme
Boca Terry's selection of colors for embroidery is sure to have a color that will match the colors the bride has chosen for the theme of her wedding. Whether she's pretty in pink or purple, serene in yellow, or whimsical in mint, consideration of this extra special detail will have her feeling like all of the pieces are falling together as they should, which is no small task when it comes to planning something as large and important as her wedding.
Choose a Cut That Flatters and Comforts
Not only are there phrases and colors to consider, the ladies must also choose the cut and style of the robes. Options range from the soft and absorbent micro terry robe to the classic shawl collar, checkered and hooded robes, to the sensual pink satin kimono, among many others. Each one will wrap her luxury and keep her warm and dry as she takes advantage of all the different services the spa has to offer.
If a traditional bathrobe seems too bulky, or if the bride wants to show off the wedding-dress body that she's worked so hard for, consider buying a spa wrap. Quite like a towel, it offers more security by closing with snaps that will keep it snugly in place as she drifts from treatment to treatment.
Spa Trip Not on the Agenda?
Now if a spa trip with the bridal party is out of the budget or if you are not a part of the bridal party, there is still the wedding gift to consider. A cash gift, a Crock Pot, silverware or dishes… maybe something handmade? Well, you're not crafty, and everything else on their registries has been purchased or is out of your price range. What could be more perfect than a honeymoon package containing two personalized "His" and "Her" robes, two pairs of comfy slippers, their favorite champagne and chocolates, and a note expressing you and your date's best wishes?
Tastefully folded in a basket with a box of chocolates, a bottle of champagne, a mixed CD with their favorite songs, and some other small items that will make their honeymoon extra special, Boca Terry's customized bathrobes are the perfect well-wish gift. While many other people focus on buying practical gifts for their new home, you can show that you were truly thinking about them when you present them with a personalized, honeymoon-themed gift basket.
Contact Us
Are you or someone you know planning a wedding? Are you planning a trip to a spa or looking for the perfect gift idea? If so, contact the experts at Boca Terry. We can outfit the entire bridal party or provide personalized bathrobes for the bride and groom on their honeymoon. Either way, a customized bathrobe is the perfect way to memorialize the memories she and her beloved are making on their nuptial day. For more information, please contact us by calling 877.421.6001 today!
Share this item with friends