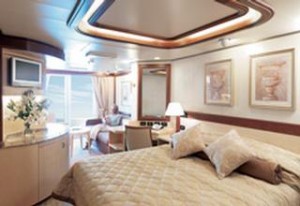 When a passenger boards a luxury cruise liner, life feels good. She unpacks in her cabin and notices the little flourishes that make her room an oasis of serenity and calm, the mints on her pillow, the over-sized bathtub, the balcony overlooking the sea and of course, the softly textured terry cloth robe hanging in her generous closet. These flourishes did not haphazardly materialize in her room. Forethought and planning on the part of the purchasing manager of the ship were key to the culmination of all of these comfort details.
What Your Passenger is Looking For
After a long day of eating, sunbathing and sightseeing in an exotic port, a passenger will usually lounge in her room after a calming and luxurious bath. She will notice, hanging in her closet, ready for her to slip into, a robe embroidered with the ship's emblem. Of course, this imaginary scenario will not become reality if the purchasing manager did not order wonderfully comfortable, custom embroidered terry cloth robes!
Your Choice is Important
As the purchasing manager of a ship, you are entrusted to create an experience of serenity and calm, this is a role that is of upmost importance!  In general, the cruise industry (with a few exceptions) believes that it is the destinations and the amount of alcohol served that determines whether or not a passenger has a good experience on a ship. While those aspects are important, they are not the whole story. The big picture of enjoyment also includes the much-needed alone time many passengers spend in their cabins.
The Details
Details are what make or break a company's image. Budget travelers are keenly aware that there are many different
variations on the idea of vacationing at sea. At one end of the spectrum, you have a floating motel with generic touches and at the other end you have a gently mobile palace with every imaginable amenity and flourish. No matter what cruise line you represent and purchase for, there is no excuse not to include ultra-absorbent terry cloth robes in every closet of every cabin on your ship.
After deciding that comfortable robes are the right investment to increase customer satisfaction for your ocean-liner, the next step is customization. Colors, logos, and materials are just a few of the options that you have when deciding on the most appropriate style and look of bath robe that best fits your company's image and the desires of your passengers. Choose wisely! What is it that you want to say with these robes? Do you want the robes to project a level of cool sophistication? Maybe just comfort with no pretension? The options are always limitless.
There are many companies based in the United States that offer terry cloth robes for cruise ship environments. But there is only one is that is able to provide the level of customization, competitive pricing, customer service and transparency that make it a go-to manufacturer for any purchasing manager at any level of the cruise ship industry. Boca Terry, based in South Florida, is that company.  Check out BocaTerry.com and see for yourself why they are one of the most trusted names in the industry and how they can make the all the difference for your cruise line.
Share this item with friends