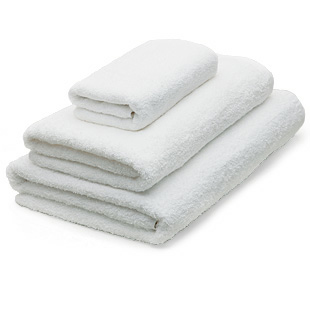 Finding ways to impact the bottom line in a positive way is first and foremost in every hotel's best interest and impacts all levels of employees.  From management to maintenance from recycling to re-using towels, hotels are intensely looking at the myriad of ways to decrease costs.
On a hotel's P&L, towels and robes are a prominent line item, and an item that needs to be replaced on a regular basis.  Hotel guests love the feel of soft, fluffy towels and plush robes–it hearkens to comfort, luxury, feeling enveloped and lush.  For hotels to offer those soft fluffy towels and plush robes to their guests comes at a cost.
The cost factor associated with purchasing, maintaining and re-ordering robes and towels deserves a deeper look to understand how an integral part of the hotel experience can be leveraged and cost-controlled while maintaining the experience that your guests have come to expect.
THE COST FACTOR
In delving deeper into the process of robes, towels and their associated costs, it's not just about the cost of ONE robe, it's the cost of a par, the initial investment in the inventory, it's the cost of laundering, it's the cost of repair, it's the cost of replacement.
Protecting the bottom line and considering all these 'costs'—how can a hotel offer a plush robe and lush towel experience for their guests, yet keep the costs to a minimum?
Savvy hoteliers know it's not just about purchasing the least expensive robes and towels, it's about purchasing smart.  And smart means quality.
QUALITY IS KEY
The wear and tear on towels and robes is brutal:  from guest usage  and wear to continuous laundering, these items take a beating.  It is critical that the fabric and craftsmanship of these items can endure this wear and tear and maintain their integrity and pristine condition, look and feel–and that means quality manufacturing and materials.
This type of quality comes from experience and it begins with a company that understands quality and takes full ownership of the complete cycle, including development, design and manufacturing of each of its products  from bathrobes to towels to related accessories.
Boca Terry is the company that can do this and  boasts 50 years of combined staff experience in the manufacturing and textile industries and we sell to some of the most notable luxury resorts, hotels, and cruise lines in the world so you know we're doing something right.
Boca Terry takes pride in the fact we have direct access to our factories located China, India, Pakistan, Turkey, and Columbia and ensures that there are no middle men involved when it comes to cost. Because of this, we are able to come up with the high quality standards and competitive pricing that is essential in today's volatile economic climate.
All fabric utilized for Boca Terry bathrobes, towels and spa products are woven at our factories, totally vertical with complete control from yarn purchase through weaving. From years of expertise in the manufacturing industry, Boca Terry has refined its manufacturing process down to a science with meticulous fabric research for quality, unique design for innovation, sample making and systematic lab testing to ensure our high standards are maintained.
We take pride in the fact that our longstanding relationships with fabric suppliers enable us to continue to acquire the best quality product and well executed production in the world at competitive pricing.
We at Boca Terry  take pride knowing that our products will stand up to the most intense wear and tear.   Our ability to make these guarantees is a direct result of our company's relationships directly with the factories, something that many of our competitors don't or cannot do.
COST VERSUS PRICE
Cost and quality-two parts of an equation that impacts the bottom line.
When a purchase of robes and towels is made by purchasing the least expensive items, it becomes evident that they lack quality in just a few laundering cycles.  The loose threads, the unraveled robe loops–just a couple of the tell tale signs that it wasn't a quality purchase.
At this point, the perceived minimum investment becomes problematic since the thread-worn items need to be replaced–and this becomes a negative hit on the P&L.
Considering the high cost of investing in robes and towels, doesn't it make good sense to purchase the highest quality product at the most competitive price?
With a Boca Terry initial purchase, the quality is evident:  even after several laundering cycles a Boca Terry product looks as good as it feels.  The replacement factor is kept to a minimum and that means less cost on your hotel P&L.
This is the goal of a quality company like Boca Terry:   delivering quality products to create a positive impact on your bottom line.
WIN/WIN/WIN
Picture your hotel offering your guests the ultimate plush robes and fluffy towels that exemplify your hotel branding–high end luxury. Imagine these items available at the most competitive pricing.  And consider the quality-factor that allows for less-often replacement.
Add to that the fact that hotel guests often ask their hotel managers where to get their robes because of how much they've enjoyed them and you have a winning equation:
High quality with competitive pricing and total guest satisfaction is what Boca Terry delivers.
Contact us today for a quote, we want to envelop you in our quality.
Share this item with friends