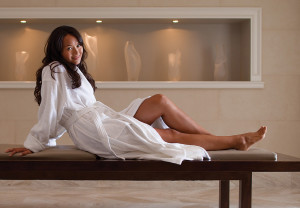 When choosing between a lavish item and a more conventional option, you'll always be weighing the pros and cons of each before settling on one that seems more advantageous. In the world of bathrobes, there's a considerable difference between going in the luxe direction rather than not—one that has long-term effects.
Durability Level
To begin with, luxury bathrobes are usually comprised of a higher quality composition, one that's actually derived from selecting the best fabrics in the industry. The quality of the fabric used in a bathrobe can make or break it—quite literally.
Just as the materials used to manufacture a bathrobe play a major part in affecting its lifespan, so do the manufacturing processes used to turn the fabrics into a bathrobe. More specifically, the way a bathrobe's materials are woven greatly affects how resistant it is to getting damaged.
Luxury bathrobes usually undergo quality control processes both during their production and after, while non-luxury options are less likely to meet the high standards of the hospitality industry (namely in the long run).  Since non-luxury bathrobes are not made using quality fabrics, they're most likely to deteriorate at a faster pace.
Comfort Zone Effects
Bathrobes should be washed often, especially in the hospitality world where they must be laundered several times to meet sanitary regulations. When these bathrobes are continuously exposed to laundry detergent, it can cause the fabric to stiffen and eventually cause the fibers to break down much more quickly. This will ultimately tarnishes the bathrobe's snugness.
That not only affects the strength of a bathrobe, but it also influences the way a bathrobe feels. Bathrobes are generally used to enwrap the wearer in an oasis of comfort, so compromising that is ultimately counterintuitive. When the fabric fibers aren't properly woven, as with most non-luxury models, they're more likely to tear.
It's really easy to feel the difference between a bathrobe made with a quality composition and one that's made of a subpar class, since the former is much smoother to the touch, and essentially, cozier to wear. Luxury bathrobes can provide comfort in various ways such as providing enough absorbency when used in wetter environments, whereas other robes won't offer as much support.
The Appeal Factor
Luxury bathrobes generally come with a plusher appeal. They're soothing to the touch and the look. When you put two bathrobes of varying origins besides one another, sometimes they might look the same, but feel completely different when worn. However, there's no denying that with a luxury bathrobe, you can spot the luxe charm.
Satin options made using superior manufacturing methods are visibly shinier and silkier looking. Luxury cotton terry and velour options also appear to be more inviting and maintain their colors over time. Since non-luxury bathrobes are not made using the best dye or processes, they're more susceptible to fading, which can give the bathrobe a worn and old image.
Seeing as how some bathrobes feature unique patterns, including striped or checkered textures, the use of premium manufacturing practices is crucial for avoiding the encounter of defects. Luxury bathrobes preserve a consistency that makes them suitable for use in various deluxe environments.
Cost Principles
Although non-luxury bathrobes can seemingly boast a lower price tag, the price is in fact only temporarily low. That's because paying less is in this case is beneficial in the short-term. Since non-luxury bathrobes are not as durable as luxury robes, they'll have to be replaced much more quickly, which makes them a more expensive choice.
With luxury bathrobes, on the other hand, you'll be getting more bang for your buck thanks to their longer lasting nature. So even though you may be paying more upfront, you'll be making a more sound investment, since luxury bathrobes will be used many more times before having to be replaced.
Versatility Grade
Luxury bathrobes usually offer much more flexibility than others. In addition to being stitched in a malleable manner to move around easily in, these bathrobes also come with several compartments that facilitate storage and packing.
Luxury bathrobes flaunt a design that originates from a stronger attention to detail. Many even come with the option to customize with an embroidered logo/monogram or a personalized original design. These bathrobes help enhance the luxurious appeal and even help with improving an establishment's brand awareness.
Boca Terry's Take on Luxury
At Boca Terry, you'll find the largest variety of luxury bathrobes at competitive prices. Each unique piece oozes practicality paired with a luxurious appeal. We care about providing our customers with bathrobes that can meet various needs for the utmost comfort.
Here are some of the features you'll find among Boca Terry's different lines:
Large front pockets for storing personal belongings.
A hanger loop for easy storage.
Double belt loops for adjustable belt height.
Varying fabric weights.
Plus size availability for some models.
Numerous fabric types including cotton terry, velour, microfiber and more.
Various styles from shawl collar to kimono alternatives.
Different bathrobe lengths.
Boca Terry has been working in the bathrobe manufacturing industry for over two decades now. Over the years, we've developed long-standing relationships with the best fabric distributors in the industry.
Our experience has allowed us to decipher and use the finest materials in our bathrobes for a quality build made to last. By manufacturing our bathrobes in our own factories, we make sure that each bathrobe meets our high quality standards before exiting factory doors. In addition, the lack of the need for any middlemen has allowed us to price our products reasonably.
Contact Boca Terry for a Taste of Luxury
Luxury bathrobes never looked so supreme. Our one-size fits all robes flatter any silhouette and are easy to maintain with a simple machine wash. Using the latest manufacturing processes in the market, each of our bathrobes boasts an extra smooth build that can be used in numerous locations from the beach to a spa or hotel room.
For more information about why you should cross over to the luxurious side, contact Boca Terry today. One of our knowledgeable team members will be happy to discuss our different options and go over any questions you might have.
Share this item with friends