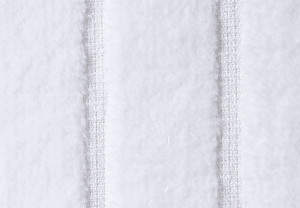 When a bathrobe falls under the category of luxury, there are some requisites it must meet in terms of its overall composition and appeal. At Boca Terry, each and every one of our luxe bathrobe lines fully meets those requirements, making for an original collection that's been welcomed in various tier one establishments and by individuals with an affinity to lavishness.
Boasting a myriad of fabrics, our bathrobes are distinguished by their overall design and build. If you're deciding between choosing cotton and synthetic bathrobe alternatives, you should know the difference between the two types of fabrics. Here are some elements to consider.
Distinctive Origins
To begin with, each type of fabric has a dissimilar origination. Synthetic are man-made fibers that are created by reactions that occur from oil-based products that actually create plastic. Polymer pellets (plastic) are either purchased or created by a synthetic fiber manufacturer and are heated until they are transformed into a liquid form.
The liquid is then pushed through a mechanism with small holes and then hardens into strands once it's cooled. Then, the strands are compiled and cut in the preferred length (in this case, the desired length of the bathrobe that's to be created). The fibers are ultimately used to create fabrics most commonly known as spandex, polyester, and nylon.
Cotton, on the other hand, is a natural fiber that comes from nature, more specifically, from cotton plant seedpods. Farmers cultivate the cotton crop in a commercial manner using pesticides and chemicals, or they use organic processes, which involve using more natural methods of farming and manufacturing.
When cotton is picked, it is deseeded and then cleaned. Its fibers are then aligned and spun into a fabric, also known as cotton. Since cotton fibers are flexible by nature, they can easily be flattened and spun. Cotton is on many terms, a staple crop that's so widely grown in the United States that it actually accounts for the largest revenue generated by a US-cultivated crop.
Disparate Lengths and Forms
In its natural form, cotton is known as a staple crop because it's found in a filament state. Although synthetic fibers are also found in the filament form, they could easily be cut and turned into a staple. Cotton fibers come in different lengths, so their sale price is based on the average length of the longest fibers in a bunch. Cotton fabrics are generally more expensive than synthetic textiles.
While the use of chemicals is not always necessary for producing yarn from cotton, chemical solutions are always necessary for yielding yarn from synthetic fibers. Dust and other particles can be found in cotton, while that's not found in synthetic fabrics, so cotton requires a more intense cleaning process.
In addition, the fiber structure of cotton cannot be altered, whereas, the fiber structure of synthetic fiber can easily be changed. It's also easier to dye cotton fabrics than it is to change the color of synthetic fabrics.
Notable Strength and Absorbency
Both cotton and synthetic fiber bathrobes are strong and durable. Synthetic robes are known to be even stronger than cotton fiber garments because of their natural disposition. So many times, cotton fibers are blended with synthetic ones to enhance their strength. Cotton actually makes for a great mix with synthetic fibers.
At Boca Terry, you'll find several luxe bathrobes with a blended makeup. Since synthetic fibers are stronger than cotton ones, they're sometimes more durable, too. The durability of a bathrobe is largely dependent on its overall weave and finish.
Since we use the highest quality fabrics in the industry and the most efficient manufacturing processes, each Boca Terry bathrobe is made with a long-lasting build in mind. Our quality control processes guarantee that every bathrobe that leaves our factories is created and treated with the utmost care.
Synthetic fibers are more hydrophobic since they're made of oil-based products, so, they are not absorbent. Contrarily, cotton is a highly absorbent fabric, which makes cotton bathrobes ideal for use in areas like the beach and spa. Their absorbent properties make them a practical choice for use after a shower or anywhere the garment will be exposed to water.
Eco-Friendly Attributes
Cotton is known to be much more eco-friendly than synthetic fabrics. For one, because synthetic fibers are made using plastic, they're not biodegradable. As a natural fiber, cotton is biodegradable and more environmentally sound. However, this is somewhat debatable in many instances, since cotton that's manufactured using conventional farming methods can also be harmful to the environment.
Inorganic cotton bathrobes might trigger allergies in some wearers, which is why organic cotton is often a healthier choice. If you or your business's guests are more inclined to go green, you can choose from different luxury organic bathrobes at Boca Terry, each of which is made with 100% certified organic cotton:
Organic Basic Kimono
Organic Classic Shawl Collar
Organic Lightweight Waffles

Unrivaled Comfort
Just as the durability of each bathrobe relies on its overall construct, so does the comfort offered by the bathrobe. While cotton bathrobes are more commonly known to be more comfortable than synthetic bathrobes, it depends on where they'll be used and how they're made.
Both synthetic fiber-based and cotton bathrobes at Boca Terry are made of the highest quality, making them the ultimate manifestation of comfort. All of our bathrobes feature practical compartments like large front pockets to store belongings and a hanger loop offering easy storage.
Boca Terry's one-size-fits-all luxury bathrobes can accommodate just about any silhouette, with some bathrobe models available in plus sizes, too. The double belt loops allow for adjusting the height of each bathrobe's belt to keep snug and fit.
Although some differences between cotton and synthetic fiber bathrobes can be noticed, comfort and the sense of luxury seems to remain the same among all bathrobes from Boca Terry. To learn more about our original lines, each boasting a unique and elegant style, contact us today.
Share this item with friends