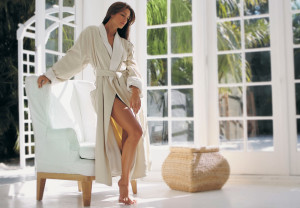 Home is where the heart is. When you think of home, you should get that warm and fuzzy feeling of being in your "happy place." Your home's cozy ambience isn't just influenced by the earth-tone shades of your wall paint and furniture; your state of mind is affected by how comfortable you feel at home.
A bathrobe can make all the difference when it comes to getting to that ultimate level of comfort. Whether you're a busy bee or you're just relaxing and having a good time around your house, you can wear your bathrobe in just about any instance. The following are a few ways to put your bathrobe to use at home. 
Do Your Chores
The term "chore" seldom exudes a positive effect on your comfort, which is why you need reinforcement. You may be taking on a full day of housework or going about your daily routines. Whatever the case, wearing a bathrobe can simply take the edge off cleaning and getting organized.
The flexibility and soft nature of bathrobes can allow you to replace your regular stay-at-home attire. Steer away from the ordinary t-shirt and sweats for extra comfort with a bathrobe like Boca Terry's Basic Kimono. You can use the generous pockets to store your belongings while you're on the move, and avoid misplacing an item you must have easy access to.
Dust, sweep, vacuum, feed your pet(s) and even do the dishes with ease. Bathrobes offer swift maneuverability and can be washed easily, as well. So if you happen to get an unwanted cleaning leftover on your bathrobe, you can just throw it into your laundry load. A bathrobe can help you get to hard-to-reach places without feeling confined by tight sleeves or pants.
Bathrobes offer enough privacy to take care of your outdoor tasks, too. From gardening to washing the car or taking out the trash, you can choose a bathrobe that fits your desired length to stay modest as you're spotted by a neighbor or passerby.
Have a Spa Day
Who said you can only wear your bathrobe at the spa? Be spa-ready right from the comfort of your home. All you need is some candles, a bubble bath, soothing music, and a bathrobe to make your relax time count.
To keep the tranquil aura going and feel like you're at home away from home, just throw on a bathrobe like Boca Terry's Microtec bathrobe. You can either wear it to dry yourself up after a long, warm milk bath or to finish your facial mask without fretting about dirtying your clothes.
Match your bathrobe with a stylish Boca Terry headband to host your spa day in full swing. Why not throw on some slippers and continue lounging in or around your house, too?
Work from Home
One coveted advantage about working from home is the ability to wear whatever you want, whenever you want. If you have a business meeting that doesn't require you to be in front of the camera, or you spend most of your time online or on the phone, wearing a bathrobe is ideal for staying as comfortable as possible.
You will most likely be more efficient with your time, too. If you're sitting at your office desk comfortably, chances are, you'll waste less time getting up and trying to figure out what's bothering you. Bathrobes are comfortable enough to sit in any chair, whether it's your sofa, recliner, or kitchen chair.
Feel like a top-notch executive in Boca Terry's Organic Classic Shawl Collar bathrobe. Whether you choose the terry or velour version, you can roll up the soft cuffs and collar to your liking. If you like to work under a cooler temperature, you can even wear your bathrobe over your pajamas to stay warm.
Entertain Guests at Your Pool Party
Throwing a pool party or just having guests over for a barbeque calls for a bathrobe that can serve as a great cover-up, especially for swimsuits. Wear a bathrobe to stay out of the sun once your skin has taken in enough to prolong your tan. Or, you can just wear one to stay modish and snug.
You might even decide to stay out of the water and barbeque some hotdogs and steak, instead. Wearing a bathrobe like Boca Terry's Classic Shawl Collar model, will keep you from sticking out like a sore thumb when everyone is soaking up the sun and water.
Enjoy a Movie Night 
Your living room couch and bed are calling for some extra plush. Wear your bathrobe to escape the stormy weather with a DVD night in or just sit around and play back-to-back episodes of the TV series that has you hooked.
Hosting a slumber party or a singles' night before your friend gets hitched? Boca Terry's customizable bathrobes will help you make it a memorable experience. You can use embroidered bathrobes as stylish and practical parting gifts, along with making the night extra enjoyable and comfy for your guests.
Get Ready for Going Out and More
Boca Terry's diverse selection of bathrobes and spa accessories can help you stay comfortable no matter what part of the house you're in or what you're doing. Whether you have to take of chores like mowing the lawn or want to prepare for a fun night out, the list of activities you can do while wearing your bathrobe is endless.
With a collection of bathrobes tailored to fit any preference, Boca Terry can help you find the best one to accompany your taste at home. Contact us today to discuss what you're looking for and choose the ideal bathrobe for you.
Share this item with friends