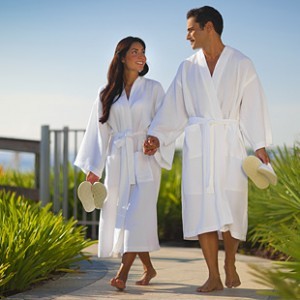 By now it is no secret that we at Boca Terry have some of the finest luxury bathrobes in the marketplace today. It is proven by our exceptional client list, which includes world-class resorts, spas, cruise lines, hotels, promotional product companies, and medical facilities around the world.
Soft, Classic, and Functional One of the top selling robes that we carry are our lightweight Waffle robes for women. Because of their soft and delicious feel along with their classic look, this model is one of the biggest draws for its ability to wick away moisture while keeping the skin as silky as a newborn baby. This is why many spas continue to order the Waffle bathrobe. Perfect for in-between treatments, it is able to hold in all of the beneficial effects of emollients such as oils and lotions while keeping the body from feeling sticky or hot.
Creating Elegant Lines as They Wick Away Moisture
Coming in Shawl collar and cuff, Knit, Kimono, and Organic lightweight styles, our specially designed Waffle robes are made with small squares that function like little washcloths as they absorb excess water. Designed in a one-size-fits-all, these beautiful robes drape exquisitely over any type of body, creating an elegant line and a graceful silhouette.
The Shawl Waffles Bathrobe
Made with either large diamonds or our basic waffle design, this classic robe features a roll up collar and cuffs along with double belt loops for waist height adjustment, generous pockets that are perfect for holding small necessities, and a hanger loop on the back of the neck for easy storage. Our lined model is made of 67% cotton with a 33% polyester shell and an 80% cotton and 20% polyester French terry knit lining, making it feel like a cloud and wear like a dream. At 52" long with a 22" sleeve length, the Shawl robe can be ordered with color piping and can also be customized with your logo or any other type of design.
The Knit Waffle Bathrobe
Made of 45% cotton, 45% modal, and 10% polyester, our Boca Terry Knit Waffle design comes in both a shawl collar and a kimono style. With a soft, rich feel that the modal fibers lend this robe, you will feel like you are surrounded by an irresistible feathery light touch that soothes both the skin and the spirit. Our Shawl collar model measures 52" long while the Kimono measures 48". Here too we have designed the robe with double belt loops, sumptuous pockets, and a hanger loop. For the Shawl style, color piping is placed around the cuffs and front of the robe.
The Kimono Waffle
Based on the quintessentially feminine look of the Japanese kimono, our version comes with large diamonds, seashell waffles, multi waffles, or in a basic waffle 100% cotton style. This one-size-fits-all robe flatters every form.
The Organic Lightweight Waffle
Boca Terry honors the Green ethic with this 100% certified organic cotton robe. Ideal for those who have any type of skin allergy or sensitivity, we recognize that organic cotton is also better for the environment when it comes to cultivation and health safety. Made from the finest fibers, this robe is 48" long with a 17" sleeve, double belt loops, ample pockets, and a hangar loop. Lush and sensuous, the Organic Lightweight Waffle is fast becoming the robe of choice for establishments that boast an eco-friendly outlook.
Luxury at a Low Price
As distributors of Waffle robes for women and so much more, Boca Terry is dedicated to manufacturing luxury products at prices everyone can afford. Besides bathrobes, we supply our clients with towels, slippers, beach chair covers, and spa accessories. From the best terrycloth to the silkiest satin, our robes are perfect for lounging, bathing, spending time by the pool, and everything in between.
Our Innovative Protocols
Along with our innovative protocols for creating exceptionally durable products, our designs are also part of what has given us the reputation we pride ourselves on throughout the many years we have been in the business. Customizing robes is another aspect of our service, with design experts who will work with you to create just the logo or design that will do your brand justice.
Other Robe Styles
Here is a list of other robes you will find in our online inventory, all of which are created with our special Boca Terry touch:
Quick and Efficient Service
With distribution centers in Miami, Los Angeles, and Hong Kong, we are able to manage every order quickly and efficiently, no matter what the location. Our factories are our own, which allows us to have full control over every aspect of production, ensuring that all products are perfectly made, from the first process to the last. And because all of our Boca Terry staff is so highly trained, we can ensure our clients of an attention to detail that is usually only found in small companies.
Reaching For Perfection
Boca Terry has been in business since 1996, created by Bruce and Edward Cohen to offer the hospitality industry the best possible products at extremely competitive prices. Over the years we have continued to grow, seeking out the best resources for our fabrics and always reaching for greater perfection when it comes to quality control and customer service.
Expanding Your Brand
When it comes to expanding your brand, we believe that providing your guests with the most beautiful robes is one of the most powerful ways to make an impression. The feedback we get from our lightweight, lined Waffle robes for women and men is astounding, making us realize just how essential a good product is when it comes to advertising your establishment. When you give your guests quality materials they pay you back in kind with their loyalty and great word of mouth.
Contact Us
For more information on our Waffle robes for women and other products, please contact us today at (877) 421-6001.
Share this item with friends