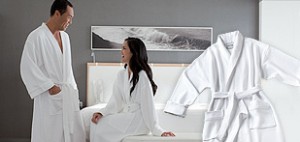 Boca Terry products are known for their luxury feel. With every stitch and seam attended to with loving care, all of our production and manufacturing processes are geared towards providing our clients with the best possible product. A Signature Piece for Your Brand We recognize that a beautiful robe represents a signature piece for your brand. When your establishment is associated with top-of-the-line selections, your reputation as a company that pays attention to the details is duly noted. And of course, this is what guests are looking for when they choose one hotel, spa, or cruise line over another.
The Importance of a Good Robe for Men
As the premier distributor of high end robes for the hospitality industry, we want to talk a little bit about our lightweight lined soft waffle robes for men. With so much attention on women's robes, we want to make sure that our clients are aware of the importance of a good robe for the male population.
The Ultimate in Comfort and Style
Our waffle robes are designed to provide the ultimate in comfort and style. When it comes to wicking away moisture, each small washcloth-type shape is created to absorb the maximum, leaving the body dry and comfortable. At Boca Terry we take design seriously, accounting for practicality, functionality, and aesthetics and believing that all three elements are equally important.
A Movie Star Look that Defines an Attitude
As is true for women, men want to look and feel great in a robe. What greater pleasure is there than to drape a well made robe around the body instead of putting on one's clothes? This is the definition of luxury… ordering room service, lounging by the pool, having a drink at the wet bar wearing a snazzy, impeccably made robe. It's a kind of movie star look, that defines an attitude that is casual and easy. This is what your guests are looking for when they come to your establishment: a sense that all is right with the world. And our waffle robes are created with just this in mind.
The Benefit of a Protective Weave
For spas, the waffle robe is exactly what is needed to keep emollients working on the skin after a massage or other similar treatment. Emollients keep the skin supple and young, and what man isn't interested in looking his best? With the waffle robe, a treatment's effects will last a lot longer as the oil or crème has a better possibility of penetrating the skin than with a poorly made robe that lacks a protective weave.Exceptional Styling Our non-bulky waffle robes come in one-size-fits-all, but can also be ordered in plus sizes to accommodate a larger man. All of our styles come with a double belt loop, allowing for waist height adjustment, as well as a hangar loop on the inside of collar and deep, sumptuous pockets for keeping sundries such as keys and a cell phone safe.
Standing Up to the Test
At Boca Terry our idea of a great robe is that it is durable enough to withstand the many launderings that are standard with client turnover. Regardless of washing and drying, our robes stand up to the test, looking as good as they did the day your order first arrived. Several Designs to Choose The beauty of buying a Boca Terry Waffle Robe is that we have several wonderful designs to choose from. Order a signature style that speaks of your aesthetic, or several styles that can be appropriate in different settings, from guestroom to pool to spa. The Kimono Waffle Here we have an inimitably Asian styled robe that features either large diamonds or a seashell design. With optional color piping, you can order the Kimono in 100% cotton or 67% cotton and 33% polyester.
The Knit Waffle
Order in the Kimono style or with a gorgeous shawl collar, this model is made with beautifully placed piping around the roll-up cuffs and front. You can also order our roll up collar to keep the neck area warm. Our Knit Waffle is made of 45% modal fibers, 45% cotton, and 10% polyester.
The Organic Lightweight Waffle
As one of our most popular styles, this model is composed of 100% certified organic cotton, which means we are using a product that is free of genetically modified seeds, herbicides, pesticides, or fungicides. An ideal for guests who are proponents of the growing Green ethic, it is also an essential for those prone to allergies, asthma, or skin irritations. If you are promoting eco-friendly practices and Green standards, then the Organic Lightweight Waffle is the one for you.
Knowledge and Practice
Our 50 years of combined staff experience creating luxury products for the hospitality industry has given us the knowledge and practice to ensure the best robes in the marketplace today. With clients ranging from hospitals to cruise lines, bed & breakfasts, inns, and hotels, and promotional companies focused on giveaways, we are ranked as one of the top companies in the business.
Exceptional Customization
In the service of helping you define and publicize your brand, Boca Terry is also known for our exceptional customization practices. We will happily work with you to create or duplicate your logo for placement on the robes you order, creating a stunning embroidered design that makes the wearer feel like he is part of your special club.
The Importance of Retail
If you have an online or in-house boutique, our waffle robes for men can be one of your best sellers, as everyone wants to take home something that has made them feel good. Boca Terry's retail division is a top seller, and yours can be too when you feature a beautifully constructed robe that makes every man feel like a million dollars.
Contact Us Today
Feel free to contact us at any time to discuss your order, as well as any customization you may desire. Our consultants are here to help and advise you! Just call (877) 421-6001 or use our online form.
Share this item with friends