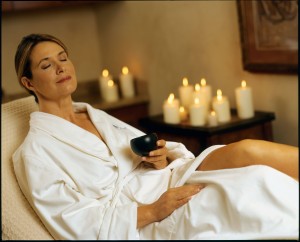 One of the fundamental components of a good bathrobe is cotton. Cotton has always been considered a comfort fabric, implying something soft and absorbent that is easy for anyone to wear.
A Sustainable Endeavor… 50 Years Ago
Up to about 50 years ago, growing cotton was a sustainable endeavor that did not deplete resources or present any kind of health hazard. Sadly, today it is a completely different story.
Today's Unsustainable Practices
The current production of conventional cotton now uses an excessive amount of pesticides and other dangerous chemicals. It is a known fact that approximately one quarter of all the agrochemicals used throughout the world are for cotton crops. This places a tremendous burden on the welfare of our environment as it impacts our air, our water, and the potential of maintaining and encouraging the biodiversity we need for a balanced ecosystem.
Some Disturbing Facts
In a 2000 USDA study, it was found that 84 million pounds of pesticides was sprayed on cotton in the United States, making cotton the second most toxic product next to corn. This was a study done thirteen years ago, so you can imagine what that number is by now. Some of these pesticides contain the extremely harmful defoliant Paraquat, along with insecticides like Parathion, which is 60 times more toxic than DDT. The Environmental Protection Agency has stated that seven of the top 15 pesticides used on cotton are likely or known carcinogens, which make cotton manufacture a pretty deadly endeavor.
Imbalances that Proliferate
Most of these chemicals are absorbed directly into the plant, water, soil, and eventually our bodies. Because they are sprayed on the plants from the air, they also waft over to adjacent areas, which often are other farms, where they poison these surroundings, creating imbalances that continue to proliferate.
A Danger to Wildlife and More
The longer specific toxins are used on cotton plants, the more resistant the insects they are meant to kill become. When they no longer are affected, new and stronger toxins are created, and so the cycle repeats itself. A danger to wildlife, the EPA has estimated that over two million birds are killed annually by Carbofuran, which is just one of the many insecticides used on cotton.
Scary Chemicals and Genetically Modified Seeds
Chlorine bleach, heavy metal dyes, and formaldehyde resins are other components used to keep cotton from destruction by insects. And then there are genetically modified seeds, which now make up 75% of conventionally grown cotton. With their chemical infusion, the data is not yet in on the long-term effects of this new protocol.
Holistic Processes
At Boca Terry, we are listening to our buyers and paying heed to the statistics. Most of what we hear is that the public in general is becoming more mindful of holistic, eco-friendly processes, and we are all for it.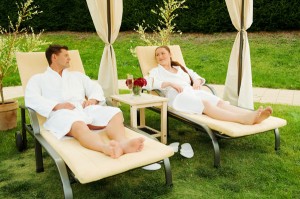 The Way of the Future
By using natural fibers that have not been made with genetically modified seeds or grown with pesticides, herbicides, fungicides, or other toxins, we are supporting a time-honored way of growing cotton. Using the fundamentals of crop rotation and other biological cycles that are healthy for both the environment and cotton workers, we believe that cotton grown without agrichemicals is the way of the future, in the same way it was always the way of the past.
Everybody Benefits
When cotton farming is done organically, the farmers benefit by enjoying more balanced practices, a lower carbon footprint, and better health. Retailers carrying organic cotton products become a part of an increasingly dynamic market, which is good for their image as they are seen to contribute to ecological sustainability. Consumers buying organic cotton products can rest assured that less energy has been used, meaning a lower emission of greenhouse gasses. They also get a much safer product to put against their bodies.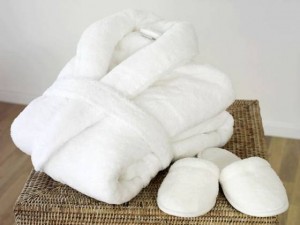 Fulfilling the Requirements
Many products in the marketplace are listed as organic, but unless they have fulfilled the requirements demanded by the National Organic Program and the U.S. Department of Agriculture that include strict testing, they most likely are not. With rain and wind carrying toxins far and wide, special conditions are needed to guarantee the organic seal, which we at Boca Terry are proud to have obtained.
A More Responsible Ethic
By supporting organic cotton growth we help to create better soil conditions, meaning thicker topsoil that causes less erosion. By abiding by sustainable practices that require no toxic pollutants, we avoid any contaminating elements that may cause irritation such as allergies, asthma, rashes, and other reactions when a non-organic material interacts with the skin. In buying Boca Terry's organic cotton robes, you help to support a more responsible ethic.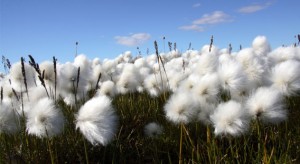 Choosing Healthful Options
At Boca Terry, we believe in being on the safe side when it comes to your guests. By adding organic cotton bathrobes to your spa, you give people a choice. Because many more people today are aware of more healthful options, finding a beautifully crafted organic robe at their disposal will certainly show that you are paying attention to the current eco-friendly trend.
Guilt-Free, Toxin-Free
As the hospitality industry becomes more aware of the beauty and functionality of organic cotton bathrobes, we are rising to the call for better health protocols in general. By supplying you with guilt-free, toxin free robes, Boca Terry is doing its part in promoting a more sustainable approach to luxury wear.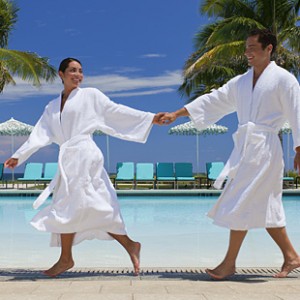 The Luxurious Feel of a Natural Robe
Organic cotton bathrobes are deliciously cozy and comforting, able to absorb perspiration, wick away excess moisture, and help the skin drink in important emollients used in spa treatments. The luxurious feel of a completely natural robe that is made with the highest quality cotton is what makes Boca Terry robes so in demand with our top tier clients. Our attention to style and craftsmanship is seen in all aspects of our manufacturing and production processes, with no detail left unturned. With a salute to durability, our products stand up to wash after wash, with no hint of wear when the proper laundering protocols are in place.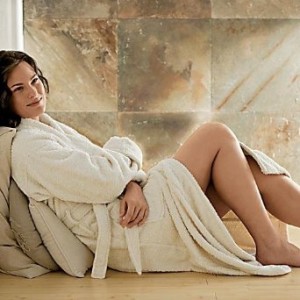 The Organic Lightweight Waffle
Take a look at our Organic Lightweight Waffle robe, made with 100% certified organic cotton squares that function like mini washcloths. Spas love this model for its lightweight sensuality that provides a perfect cover-up in between treatments.
The Organic Basic Kimono
The Organic Basic Kimono made of organic terry and velour is a classic when it comes to its streamline silhouette and beautiful drape. With double belt loops for waist height adjustability, this robe gives everyone a sleek look and a sense of enduring comfort.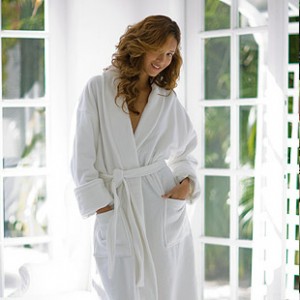 The Organic Classic Shawl Collar
Our Organic Classic Shawl Collar is made with multi needle stitching around the pockets and cuffs. With its deep pockets, the look is classic and the feel is exceptional.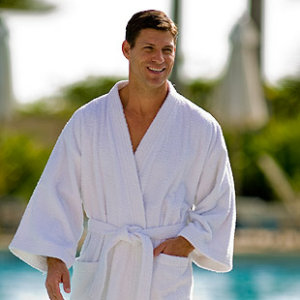 The Hooded Terry
The Hooded Terry is one of our most popular styles, as it gives you something to sink into like the perfect embrace. Put the hood up and you'll feel cozy and warm, wear it down and you'll look like a million dollars.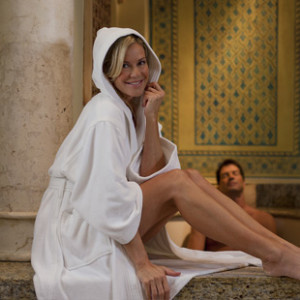 Contact Us Today
Made in one-size-fits-all for both men and women, our bathrobes can also be special ordered in plus sizes, as well as with your custom embroidered logo. For more information on our organic cotton robes that your guests can wear with pride, please contact us using our convenient online form or by phone at (877) 421-6001.
Share this item with friends