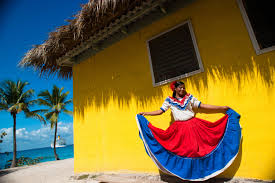 In light of our upcoming appearance at the Latin American Hospitality & Gourmet Expo, entering its first year on August 21st & 22nd, 2014 in Santo Domingo, Dominican Republic, at the Sans Souci Convention Center, travel experts have concluded that the Dominican Republic is the most visited Caribbean destination. Enjoying a 5.8% increase in tourism in March and April 2014, many people are making it a point to visit this tropical island.

To understand this recent surge, reports indicate that government efforts to promote tourism on this island are becoming noticeable. It's becoming so popular that everyone can find something to do on this island.
Whether you're a beach lover, an exercise junkie or a history buff, the Dominican Republic has something for everybody. Taking the spot for some of the Caribbean's must see attractions, the Dominican Republic contains the region's highest mountain peak, Pico Duarte, and its largest lake and lowest elevation, Lake Enriquillo.
And if you're going to be in Santo Domingo like us, you'll want to visit its historical Colonial Zone. Thanks to a recent large scale renovation, many are yearning to experience all that the city has to offer. If the city life isn't your thing, not to worry! There are a variety of smaller towns and cities across the island that also deserve your attention. Check out the North Coast to enjoy a more relaxed vibe, coupled with kite boarding and other watersport activities, as well as the mountain retreats of Jarabacoa and Constanza for horseback riding and canoeing.
Along with experiencing some breathtaking views, travelers can bask in the splendor of luxury for a low cost. Nowadays, it's almost a piece of cake to acquire an unbeatable deal for a luxury Caribbean holiday with the advent of the Caribique Villa Specials search, which helps people find the hottest deals.
If you're making a trip the Dominican Republic this summer, then be sure to visit the Boca Terry team at the Latin American Hospitality and Gourmet Expo at Booth #42 in the Exhibition Hall from 1:30-7:30 p.m. Visit LAHGE.com. We'd love to see you there!
Share this item with friends