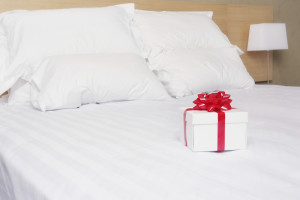 Do you want to make your hotel and spa guests' visits unforgettable this holiday season? With the following gift ideas, they'll be remembering your version of the holiday cheer all year long.
Personalized Bathrobes and Slippers
What may seem like a very small gesture can actually make a huge difference in showing how much you appreciate your customers' loyalty. Show the regulars at your hotel and/or spa extra special treatment by offering a customized parting gift, like a bathrobe and matching slippers with your guest's initials embroidered on them. For new clients, you can use your brand's monogram as the embroidery.
Spa Gift Baskets
While a bathrobe and slippers set make for a great gift set, here are a few other gift basket ideas your guests would love:
 Spa accessories combo: headband, spa wrap, and slippers
 Soothing blend: massage oils, candles, and incense sticks with holder
 Bath assortment: facial masks/creams, body lotions, bath soaps and loofas
 Towel set: washcloth, hand towel, bath mat, and bath towel
If you're feeling extra generous, mix and match or combine the above for an ultra deluxe gift basket.  You can also use the amenities from your hotel/spa's signature boutique if you have one.
Themed Towels and Amenities
Guests can feel the holiday spirit with customized towels that feature different holiday shades and/or emblems. Regardless of the size of the towel or how many towels, your budget permits you to give out, a custom design will add flair to any gift.
Don't be shy to go the extra mile with creativity. Complementing a gift basket with holiday candy or a box of chocolate, and even offering popular holiday beverages like eggnog and hot cocoa at your hotel lobby or spa waiting room will make for the perfect finishing touch to a memorable visit.
Share this item with friends