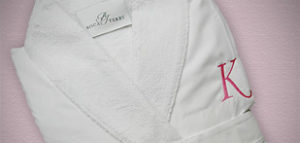 The days spent preparing for a wedding make for the most precious moments that remain embedded in the memory of both the bride and groom for a lifetime. Some choose to get a head start on planning the festivities a year in advance, while others start to coordinate a few months before the chosen date.
No matter what category an engaged couple falls under, they share the sense of responsibility and urgency to have everything ready on time for the big day. When the time to tie the knot nears (and even before that), the bride and her bridesmaids will be ready to unwind in the ultimate definition of comfort: a luxe bathrobe.
A True Comfort Essential
After searching for creative ideas and choosing everything from the number of guests to the right floral arrangements to match the wedding's décor theme, it can take a toll on any bride's level of comfort. Having an embroidered bathrobe on hand can flush out the stress, while reenergizing a bride as she proudly displays her initials.
The best part about the versatility of bathrobes is that they can immerse anyone into an oasis of relaxation in any location. If you're getting married and would like to give your bridesmaids something distinct to remember your wedding day by, a plush bathrobe makes for the ideal gift, as well.
Or vice versa, if you're a bridesmaid or the maid of honor and are looking for a way to surprise the bride-to-be, you can never go wrong with a customized robe. The luxurious bathrobes at Boca Terry are all made of premium quality materials offering extra durable build with a lavish appeal.
A Relaxing Retreat
All of Boca Terry's bathrobes and spa products can be personalized with custom embroidery for a unique touch. Here are some settings and events our bathrobes can accompany a bride and her loved ones at:
Whether it's a mother-daughter affair or a group rendezvous, going to the spa before a wedding is a great way to get a healthy dose of rest. Boca Terry's bathrobes, slippers and spa accessories can enhance any spa experience, whether they're used during a massage or facial treatment, or after a trip to the sauna and steam room.
Create an original bachelorette party or bridal shower with customized bathrobes for all attendees. The satin alternatives from Boca Terry will blend into any home, hotel or destination setting with ease. Choose the design of your choice along with individual logos to let the celebrating begin.
When it comes time for slipping into that extraordinary wedding dress, getting hair and makeup done will be a breeze with a smooth bathrobe alternative. Bridesmaids can join in on the fun with matching bathrobes and group together with the bride-to-be for fun and unforgettable pre-wedding photos.
A Bridal Worthy Assortment
Leave the pampering to Boca Terry's varied selection. The following are some of our best bathrobe styles for all brides with different characters and preferences:
Boca Terry's Classic Shawl Collar bathrobe comes in 100% cotton terry and velour variations. This timeless classic features a definitive design with traditional seams that date back to the Victorian era. Every bride and her bridesmaids can effortlessly feel like royalty.
The Pink Kimono Satin robe from Boca Terry has femininity written all over it.  Made of 100% polyester, this chic number exudes a distinctive shine with a shorter appeal. It can easily be paired with any attire as a lightweight cover-up with a long lasting and easy-to-launder composition.
Boca Terry's Satin Stripe bathrobe features French terry knit lining for a sophisticated look. This sleek bathrobe is made up of a satiny-smooth fabric that boasts a glamorous linear design with just enough gleam. This 19th-century inspired bathrobe makes the case for a refined option suitable for pre and post wedding festivities.
For the bride and party that's opting for an island wedding or planning on going for a beach escape, the Microterry bathrobe from Boca Terry features the right amount of absorbency to maintain all-encompassing comfort. Keep the spa feel no matter where you go. Brides and bridesmaids could be immersed in the smoothness of this fluffy and wrinkle-resistant robe.
For the optimal touch of style, the Microfiber with Plush Lining bathrobe features an 85% polyester and 15% satin shell with 100% polyester microterry lining. Who said this robe could only be used in high-end resorts? You can take comfort to a whole new level with this wedding-ready piece of luxury.
An Indulgent Treat
All of Boca Terry's bathrobes can cater to the taste of any bride or bridesmaid. The large front pockets allow for storing personal belongings, while the double belt loops simplify adjusting the belt height to accommodate any silhouette. Many of our bathrobe collections also come in plus sizes.
In addition, you'll conveniently find a hanger loop on all bathrobes to allow for easy storage. These garments can even be worn on the honeymoon. Newlyweds can easily wear matching bathrobes for a classy "his and hers" guise, which makes for an excellent gift option whether offered by the bride to the groom or by the bridesmaids and groomsmen to the couple.
Contact Boca Terry Today for the Definitive Bridal Accessory
Boca Terry has been in the bathrobe manufacturing industry for over two decades. Our experience has allowed to us to gain expertise in choosing the best fabrics for our products and form long-standing relationships with the best suppliers.
Since we don't need to collaborate with any middlemen, all of our bathrobes are offered at competitive prices, too. To learn more about our bathrobe selection and quality products that can help make any wedding even more joyful, contact Boca Terry today. It would be our pleasure to partner with you and make this special life event a truly memorable one.
Share this item with friends