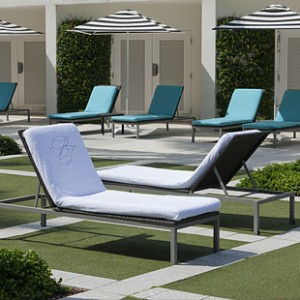 When people visit a hotel, they expect a certain level of elegance. If they didn't, they could just as easily stay over at a relative's or make a day trip of it. It's critical that hotel management meets their guests' expectations.
Building True Luxury
Of course, it's not enough to do a superficial decorating job. Instead, hotel staff has to be willing to build an entire environment from the ground up.
Every detail must be taken into account, and once it has been considered in depth, changes must be enacted down to the smallest level. The things you leave out may just be the items that preclude your guests from ever returning.
Boca Terry experts understand the importance of true luxury. Their successful line of fine interior decor items speaks to their years of experience supplying day spas, hotels and even the occasional discriminating private consumer. When it comes to luxurious flairs like embroidered lounge chair covers, Boca Terry is supreme.
The Importance of Image
Boca Terry's expertise isn't simply a result of natural skill. It derives from a deeply-ingrained philosophy that permeates their designs. The idea is that image trumps everything else in interior design.
Yes, comfort is critical, but without the right image, it's hard to get comfortable in a space. In order to transport your guests to another world, you have to create a uniform image that impresses them at every turn. In the case of hotels, tiny embellishments like fancy raised embroidery on lounge chairs evokes a sense of elegance that people just aren't accustomed to.
From Surprise to Delight
Once people have gotten over the shock of an ornate environment, they're immediately ready to immerse themselves within. Perhaps this is a reflection of the human exploratory spirit, but in its most basic form, these desires to experience luxury are just natural instincts.
Catering to people's inner wishes is hard if you don't give them a space to bring those wishes out. Luxury furniture allows guests to step outside of their traditional, reserved social roles. It permits them an opportunity to act out their fantasies in a space that's obviously made for lounging and relaxing.
The Mental Aspects of Setting
Psychology plays a big role in design. People associate emotions with the way a place looks. It's hard to evoke good feelings from design that misses the middle ground or skips details. Even accessories like lounge chair covers benefit from attention to detail.
If things are too utilitarian, people feel unwelcome. If they're overly ornate, they feel stifled and out of place because they don't want to mess anything up. Finding the right middle ground is about setting some basic minimum standards and then working to make them stand out tastefully.
Boca Terry experts use their love of design psychology to toe the line carefully. Their embroidered lounge chair covers for hotels allow you to express your corporate culture in a fashion appropriate to the level of luxury you'd like to evoke.
For more information on Boca Terry's great offerings, call 954.312.4410 today, or use their toll free line at 877.421.6001 x210. If you'd like to fax your request, you can do so at 866.530.974. Of course, if you're like most people who can't wait to check out our great items, just visit us online!
Share this item with friends