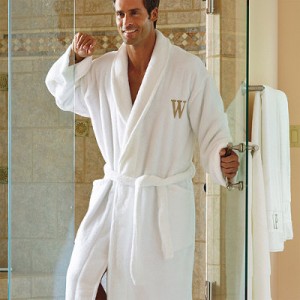 One of the greatest gifts we can give ourselves is taking time to relax and enjoy ourselves, regardless of how busy our lives happen to be. We all need to do this, but most of us feel that it is an indulgence best placed on a back burner until some indefinite date in the future.
Taking Advantage of Luxury
As self-confessed sensualists, we at Boca Terry believe that postponement is another way of saying never. We feel that one should never say never to feeling good, and in this regard we believe in taking advantage of the luxuries afforded in a day or a weekend devoted to relaxation and health.
Everyone Has the Right to Comfort and Ease
Devotees of comfort, we have made a profession out of supplying the world with those things that represent what we believe in, which is that everyone has the right to be comfortable and feel at ease. As exemplified by our luxury towels and bathrobes, we seem to be spreading the word quite well, as we continue to keep our new clients and loyal customers fully supplied.
Contributing to the Pleasure Principle
Providing embroidered spa towels and personalized robes is one of the ways that we contribute to the pleasure principle, which we believe everyone has a right to. The world can be a harsh place, with its many demands and challenges. At Boca Terry, our mission is to soften what is harsh by adding luxury wherever possible. By adding beauty and comfort through our exquisitely styled and crafted products, we feel we are doing our part to help people get through the day a little bit better.
Maintaining Your Luxury Standards
Our embroidered spa towels and personalized robes are made with luxury in mind to help you maintain your luxury standards. With handpicked craftspeople weaving quality materials under our watchful eye, we are making exquisite products that show their perfection in the details. Whether it is by way of a defining print, special design, logo, emblem, or monogram modeled to your specifications, customized towels and robes go a long way in creating a sense of exclusivity.
Awareness for Your Brand
In today's world, exclusivity has never been more important as it takes the form of branding. By constantly emphasizing your brand, you create an awareness that is far more powerful than quotidian advertising. When your brand becomes the sine qua non for the best in hospitality, you know you have arrived, and it is our job at Boca Terry to help you do so.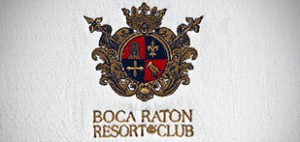 Getting Products Into Mass Consciousness
Brand awareness requires forethought. Today we think of brand rather than trademark as the key to getting products into mass consciousness. In this way, your brand encompasses everything to do with your establishment, down to the finest detail.
Demonstrating Your Brand's Unique Assets
According to Scott Goodson, founder of the advertising agency, StrawberryFrog, in an article published in Forbes, "brands convey a uniform quality, credibility, and experience." If you think about it, in today's world your brand is composed of more than just the material aspects of your business and extends to your employees and your level of customer service. How you are perceived is the bulwark upon which you will achieve success or not. And in today's online world, with new markets proliferating and with complete global visibility, there has never been a more important time to pay attention to how you continue to demonstrate your brand's unique assets.
Differentiating Yourself from the Competition
Boca Terry has experience with this, as we have spent many years building our brand and are reaping the benefits from our own attention to detail. As people from all over the world get to know your brand, they will seek you out. Your branding is what differentiates you from the competition.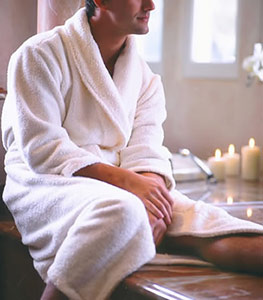 Sourcing Fabrics of the Highest Caliber
By now most of you know that our towels and bathrobes are made of some of the finest materials available. We spend time sourcing fabrics of the highest caliber, and apply the latest techniques in weaving, looping, and sewing to ensure that every piece we deliver is made to last, regardless of how many launderings they must endure.
Robes Made with the Ultimate in Style in Mind
With a range of choices, we offer beautifully styled robes that are perfect for both women and men, in both standard and plus sizes. All of our robes drape beautifully over the body, with most of them made with a convenient double belting design that allows for waist height adjustment. Hooded, shawl collared, or with a svelte Asian kimono design, our robes are created not just for the confines of a room, but to be viewed poolside, within a spa atmosphere, and even around the wet bar. As much as we believe in comfort, we also believe in aesthetics, and every robe is made with the ultimate in style in mind.
Perfecting the Art of Making Sumptuous Towels
As for our towels, we pride ourselves on their weight, dense looping, and extraordinary moisture wicking properties. With tight loops that imply the utmost in durability and absorbency along with beautiful stitching, we have perfected the art of making sumptuous towels that last.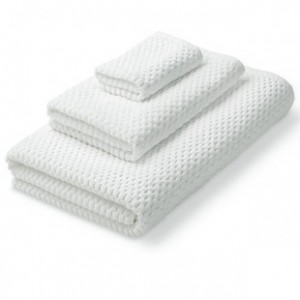 Creating Exclusivity
Though there is nothing generic about a Boca Terry towel or robe, by adding embroidery and other personalized elements, you create an exclusivity that says they are one-of-a-kind. Perfect for brand promotion, your embroidered spa towels and personalized robes will make excellent sales items for your location or online boutique.
Helping You Create the Right Logo or Design
Our design professionals are always on board to help you create designs that perfectly match your logo or design. Most of our clients have already established their look, and we are fully prepared to take what you have and duplicate it to perfection on the pieces you order. If you want to recreate a design, we can help you find the right look to correspond to your image.
Contact Us Today
For more information on our customized product line, please contact us today using our convenient online form or by calling (877) 421-6001.
Share this item with friends