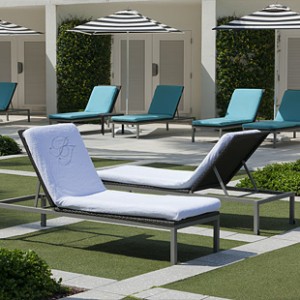 You arrive at the spa that caught your eye months ago. You are excited; you have been longing to visit, and your long work days have started to stress you out. As you approach the beautifully crafted building, you begin to feel calm and soothed before you even meet the staff.
Enhance Relaxation
Set up outdoors beside a rushing river, your worries are carried away with the waves and rolls of the water as you wait patiently for the massage therapist. You walk a smooth, stone path through a colorful, flourishing garden and there it is: the cushioned, soft lounge chair.
Delighted or Disgusted
Spa managers should take note. This scenario could go one of two ways: Perhaps, the guest will be completely happy, comfortable, and relaxed from their visit at the spa (just as you might expect). However, what if they leave this spa more stressed out than before? How might this happen? Well, their lounge chair was filthy, stained, and smelled like the last customer's B.O. While it might be difficult to clean the chair's entire surface between customers, it is very simple to quickly change a chair cover and wash the previously used one!
Rave Reviews
If the above scenario sounds ridiculous, heed this warning: it's not. Do a quick internet search for "dirty pool chairs" or "dirty lounge chairs" and you will find an abundance of horrible ratings and reviews for companies because of the chairs. Remember, guests are paying you to help them relax and calm down. Therefore, it is your job to provide them with the best service, cleanliness, and relaxation that you can!
Your Company Depends on Ratings
Guests are always looking, searching, and analyzing. Internet ratings can make or break your company. Many guests will not even give you a chance if your reviews are below a 4 star rating, overall. In this competitive market, you must do everything you can to get an edge. If you offer customers clean chairs and a great atmosphere; you will see your reviews skyrocket.
Sanitary and Long Lasting
Lounge chair covers are cleaned often, and are much more sanitary than bare chairs. While cleanliness is important in the business, so is product life. At your outdoor spa, your chairs are likely outside at all times. If you do this without protecting your chairs, you will notice damage and weathering. In order to help prevent weathering from storms and aging from the sun, invest in lounge chair covers, which will protect your seats and prolong their life.
Create the Zen Experience
Every spa wants to create a relaxing environment for guests. In creating the ultimate relaxation experience, it is your responsibility to prevent guests from needing to continuously fix the towel they have laid on their seat. When customers use towels to cover their chairs, the towels constantly slip, stressing the guest and ruining the point of their visit. By utilizing lounge chair covers, guests can sit and become soothed, in peace.
Towel Terror
Using chair covers will not only keep guests from constantly adjusting obnoxious towels, but it will ensure that other guests will have easy, completely undisturbed access to clean towels. Fresh towels are a hot commodity in hotels and spas. Many a war has unfolded between two soccer moms in need of the last towel. Avoid this battle and enhance the peaceful atmosphere you have crafted by protecting chairs with covers!
Attention to Detail
By paying attention to the small details, guests will understand they are highly valued. Show them you care; cover their chair! Let's take a look at what sets our lounge chair covers apart from other brands.
Versatility
Our lounge chair covers offer clients and customers many options. First of all, our customers have the choice of a fitted hood or an elastic hood. A fitted hood will provide the closest and best fit for standard lounge chairs. However, if business is booming and you don't have time to measure your chairs, there is no need to worry about calculating and detailing; we have done the hard part for you! Our elastic hood will wrap easily around the top of your lounge chair. This ensures that our cover will fit most lounge chairs, which is something you will be hard pressed to find among our competitors.
You Have Options
We care about your taste and about the functionality of our product; that is why we offer our lounge chair covers in two different fabrics:
Try the Terry
Perfect for a poolside chair, or a chair next to a soothing hot tub, our terry cloth cover meets all of your needs. The terry cloth cover is very soft and absorbent, so your customers will be comfortable and dry!
Vow to Velour
Do you want to relax guests to no end, ensuring their comfort is put first? Then choose the velour chair cover. As soft as a teddy bear, this cover is plush, cozy, and soothing. A plush lounge chair cover makes your poolside relaxation so much more enjoyable.
Be Unforgettable
Your lounge chair covers will look even more beautiful with your company's logo or slogan on them! You have the ability to customize your brand new lounge chair covers, thanks to our embroidery specialists!
Quality: It's No Secret
As you know, we take care of our customers by providing an excellent product at all times. We pay incredible attention to detail. We have close relationships with our manufacturers, meaning that we are able to get high quality items at a great price! We offer value and quality; you will not easily find that among any other distributers.
Boca Terry; Best Terry and Velour Around
Boca Terry has been trusted with providing outstanding quality for years. Working with some of the biggest names in the industry, our client base speaks for our attention and care. Are you ready to invest in the best? Contact us with any questions regarding wholesale pricing, today!
Share this item with friends