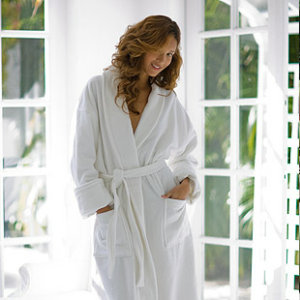 While not every spa can claim to be an organic or natural spa to the fullest extent, any spa can introduce and offer organic cotton bathrobes. There are several reasons why offering organic cotton bathrobes will enhance your guests' spa experience.
Why Go Organic?
By today's standards, many consider organic foods—fruit, vegetables, grains, and more—to be a better or healthier choice. With this understanding comes the law of supply and demand; organic products such as shampoo, body wash, and makeup, are also rising in popularity.
What Makes Food Organic?
Food that is considered certified organic is produced without the chemicals, fertilizers, growth hormones, and pesticides associated with today's industrial, conventional farming; also, organic produce and grains are regulated and may not be comprised of genetically modified organisms (GMOs). Products made from these items are considered organic, if composed of 95% or more organic ingredients.
Certified Organic Cotton
So, what does any of this have to do with cotton, you may ask? Well, many cotton farmers utilize chemicals, pesticides, and fertilizers when growing conventional cotton. The problem with this, however, is that these chemicals have hazardous effects to our environment, along with the farmers and everyday consumers who purchase these items.
Why Your Guests Will Love Organic Cotton
According to the Huffington Post, "If you are an animal lover, care about what goes on your body or are concerned with the welfare of others, take note: wearing organic fabrics has a major positive impact on your health and the health of our planet" (Dietz).
By offering organic bathrobes, your guests will know that they are supporting the earth as well as great health. Often, consumers associate organic products to be higher quality. Your guests will feel pampered, cared for, and extra special when they learn that you are providing them with the use of certified organic cotton robes!
Environmental Benefits
Because certified organic cotton is grown without chemicals and pesticides, it has a less drastic effect on our natural environment. The Huffington Post continues, "A big effort in the organic movement is to use growing systems that replenish and maintain soil fertility and build biologically diverse agriculture. Organic cotton uses far less water too" (Dietz). As producers and consumers begin to realize that we can all do more to have a positive effect on the environment, we should all consider and adhere to the steps to improve our habits.
Great for Sensitive Skin
Dermatologists recommend the use of organic textiles for those who suffer from skin sensitivities, allergies, eczema, and psoriasis. However, organic cotton is not only a good move for those who suffer with sensitive skin; it is highly beneficial for a number of your clients.
A More Calming Experience
Dietz goes on to unveil, "We even feel the harmful effects of non-organic cottons and fabrics in our daily lives. Irritated skin, rashes and even headaches and dizziness can be caused by the chemical residue trapped in the threads" (Dietz). Conventional cotton can often cause drastic difficulties among users.
While the effect may vary depending on the brand and producer of the cotton, more spas are playing it safe and resorting to certified organic cotton bathrobes—for the good of their clients' comfort. What is soothing about spending a day at the spa and experiencing a headache produced by the chemical fumes trapped in the fibers of the robe they provided? By avoiding this altogether, spas will have the ability to provide a more calming, soothing experience for their guests. 
What Else Makes Our Organic Robes Special?
Maintaining the certification of organic is not the only impressive attribute our organic cotton bathrobes offer. Not only are our robes specially designed and well crafted, but they are customizable, as well. Do you dream of seeing your logo and brand name on the front of a high quality, certified naturally produced bathrobe? Your dreams are on the verge of coming true—we have made them available and the rest is up to you!
Check our Boca Terry's choices for organic cotton bathrobes, and decide for yourself if they deserve a coveted space in your establishment (though, we think you will like what you see):
Organic Basic Kimono Bathrobe
Although this robe has "basic" in its description, it is anything but basic by most robe standards. This 48" robe is just right—not too short and not too long. It features double belt loops, to ensure that the wearer can wrap the belt at a comfortable height, generous pockets to keep items nearby, and it is easily stored with the hanger loop found inside. Available in both absorbent terry and extremely soft velour, this robe has options that your spa guests crave.
Organic Classic Shawl Collar
This robe, very similar to the aforementioned one, is the perfect choice for everyone. This 52" inch robe is a great option for guests of all heights. It features cozy rollup sleeves and collar, ensuring serious comfort for each user. Also available in trusted terry and vivacious velour, spa owners drawn to this robe should order without waiting; your guests deserve the comfort.
Organic Lightweight Waffles
Spas choose the lightweight waffle kimonos for their outstanding blend of comfort and performance. The robe's crisp, minimalist lines are ideal for moving around as well as relaxing. Keeping to the sleek, chic feel of your spa, the fabric of this robe does not wrinkle, ensuring that your guests always emulate the quality of your establishment. These features make this robe an ideal choice for any spa owner. 
Boca Terry: Unmatchable Organic Cotton Robes
Our faithful customers already understand the quality associated with our brand. If you want to experience it for yourself, contact our helpful staff—for wholesale pricing, to inquire about particular products, and to order wholesale, contact us today!
Share this item with friends