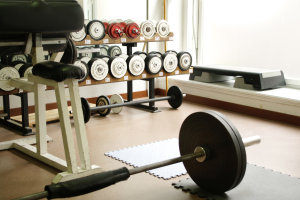 Guests, customers, and clients care about one thing above everything else: their experience at your gym or spa. Whether the guest experience is crafted through customer service, excellent amenities, a number of impressive offerings, or a great product, consumers want to know that they matter to a brand.
So, what can gym and spa owners do to go the extra mile? How can they show guests that they each matter? Well, there are several ways to show them. One of the easiest ways is by making sure you have certain amenities and necessities in stock. Do you currently own or manage a gym or massage center, or do you hope to in the future? You won't want to miss out on these essential items:
Gym Must-Haves
Gym members expect very specific amenities when they arrive at your establishment. Here is what you want to keep in stock:
A robe is the perfect cover-up after a long workout at the gym. Many of our bathrobes are made from 100% combed cotton terry, an incredibly absorbent material. Try our elegant Checkered Bathrobe, or the Hooded Bathrobe, which is excellent for drying hair after showering!
We also offer polyester blend robes. Still feeling a bit warm after that last workout? Polyester is excellent post exercise, as the material is moisture wicking, leaving wearers comfortably dry. Opt for the Satin Stripe Bathrobe, which is crafted with a moisture-wicking polyester shell, and an absorbent cotton and polyester, soft lining!
Robes are an enjoyable luxury in themselves—offering a luxury robe is even a step higher. Don't settle for less when you can offer your guests Boca Terry bathrobes, to enhance their post-exercise experience.
Items for Your Massage Center & Spa
Spa clients are there for a relaxing experience. Make sure they don't stress out when they walk in the door, by providing the following soothing accessories:
Just what your guests want: to sit down and relax on a smooth, leather lounge chair, preparing for a warm, soothing, and gentle cleansing facial. When the mood is set with soothing music, low lights, and pleasant incense, nothing can ruin their experience—or can it?
Guests want to feel relieved at the spa, not stressed! How can they relax when their stray hairs are continuously falling in front of their eyes and in their nose, while getting stuck in their mask?
By offering guests a freshly washed spa headband, they will be able to relax with ease! No more need to worry about the stresses of yesterday, tomorrow, and today. Guests can comfortable doze off in a peaceful slumber without worrying about ruining their hair!
No guests want to rest on a chilly massage table! Covering your tables in a light, smooth, and freshly washed waffle blanket will not only comfort your clients, but it will also give them peace of mind. The soft waffle pattern will feel great against their skin, while the freshly bleached, clean smell will help them rest, knowing that you care about the sanitary responsibilities associated with owning a spa.
Don't give your clients cold feet about returning! Make sure they are comfortable, warm, relaxed, and ready to return again by offering a pair of slippers for them to enjoy each visit!
You Will Need These in Both!
Spa and gyms will both need to stock up on these essentials:
The spa wrap is a relatively flexible item that can be utilized in several scenarios. Many gym members are frustrated by towels that never stay in place. Your more modest members might now want to show off in the locker room—offer them spa wraps to comfortably cover up as they freshen up and get ready to tackle the rest of their day!
Towels are a must have in every gym. Although spa wraps serve well in a spa and gym setting, you never know what customers prefer. While many clients will love the ease of a spa wrap, others will prefer the classic towel cover-up! Therefore, it's a safe idea to have a few spare, luxury quality towels available for when someone special arrives.
There is nothing worse than heading to an outdoor spa or a gym's pool, only to find dirty, smelly, damaged lounge chairs.
Give clients the peace of mind in knowing that they are sitting on a freshly washed lounge chair cover, while protecting your investment! Give your spa or pool's gym an elegant look by lining up lounge chairs, covered in crisp, clean covers!
Elevate the Guest Experience with Boca Terry
Now that you know what your guests, members, and clients truly want, there is no reason to not provide it! Keep your guests happy, healthy, and ready to return by offering the best amenities in town! Interested in elevating the guest experience? For wholesale pricing, or to place an order, contact us today!
Our textile experts want to help you bring your gym & massage center to the next level! If you need any tips, we are here to help. We look forward to hearing from you! Interested in elevating the guest experience? For wholesale pricing, or to place an order, contact us today!
Share this item with friends