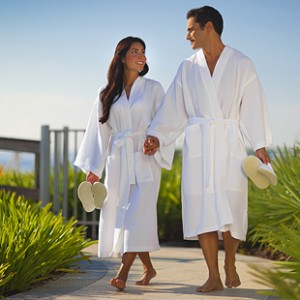 After a long day of work following a busy week, nothing in the world is quite as soothing as a nice, warm bathrobe, suited to your preferences. As the chilly night air rolls in, get ready to embrace warmth and comfort of a sweet evening spent at home in the perfect robe.
What Women Want in Their Wardrobe
What does the woman in your life crave? She wants a robe that is just as beautiful and delicate as she is. Help her feel cozier than ever after a long workday, by gifting her with a sleek, feminine bathrobe. Don't forget to customize her robe with a beautiful floral print or a bold stripe!
Fleece Kimono
Nighttime can get chilly, no matter what season it is. Warm up in this fluffy, yet elegant Fleece Kimono. Made from 100% polyester, she will love the feeling of this unexplainably plush kimono draped across her shoulders. Available in traditional Kimono style, as well as with a Shawl Collar, you are bound to find a style that suits her desires. She will feel better than ever when snuggling by the fireplace in this blanket-like gem.
Satin Stripe Robe
A silky, yet practical robe, the Satin Stripe Robe is a great choice for any woman in your life. This is not just any satin robe—lined with cotton and poly soft French terry knit, this gown is comfortable and absorbent! Perfect for hugging her feminine curves, she clearly needs this silky garment.
Pink Satin Robe
Perhaps the most feminine of the bunch, this soft, sleek, silky robe is perfectly suited for the woman in your life. After a trying day of work or parenting, she will be happy to slip into this silky robe. Experience the comfort of the soft material sliding across your shoulders, and cinch this beauty around your waist. Perfect for any special night—even a wedding night—she will love this robe.
Manly, Masculine, and Meticulously Made
Rough and tough, tall and limber, men want a robe that is strong enough to be long-lasting, while cozy enough for when relaxing. When choosing the perfect evening bathrobe, men want something to soothe them after a long day of work. Find something loose, airy, and just the right length. Let's take a look at some of the best, carefully crafted choices for him. Don't forget to customize his robe with his the name and number of his favorite football player or his company's logo!
Knit Waffle Bathrobe
There is a common dilemma faced in households: although nights can get chilly, the man of the home likely hates getting overheated. For any man that wants to relax in a robe without getting too warm, there is an option—the Knit Waffle Bathrobe is a great choice for the man in your life. This lightweight robe is made from absorbent cotton, moisture-wicking polyester and feather-soft modal. Plush, yet breezy; the choice is easy! He will feel more comfortable than ever before in this option.
Checkered Bathrobe
Made from 100% combed cotton, this robe is light, yet incredibly soft on the skin. Pair this robe with a subtle, sweet glass of wine and a warm fireplace to complete a simple evening at home. This item is 52 inches long, and available up to size 4XL, so even the largest, strongest men can enjoy this treasure.
Limitless Options
Of course, our robes are unisex and are typically enjoyed by anyone and everyone, regardless of gender. Here are some of the fan favorites that are perfect for both men and women!
Microfiber
Feel luxurious, like royalty in our Microfiber Bathrobe! You will need to buy one for each of you so you don't spend all evening battling over this bathrobe. Pick one in your favorite hue: pink, gray, navy, eggshell, and more! You will look worthy enough to grace the cover of fashion magazines in this outstanding garment.
Velour Stripe Bathrobe
No one can resist the feeling of wrapping up in our Velour Stripe Bathrobe. Made from high-quality, 100% combed cotton, this item is bound to be long-lasting and perfect for all picky robe enthusiasts. The cozy roll-up collar and cuffs are as plush and comforting, and the subtle stripe pattern helps this robe stand out from many ordinary garments. It is classy, classic, and a fun pattern for men and women alike. Silky, soft, and warm, velvety fabric embraces and traces your skin as you relax for a perfect night in.
Protecting Our Soil, Our Seas, and Our Skin
Those looking for items that are environmentally friendly as well as hypoallergenic will love our organic bathrobes. Made from 100% certified organic cotton, these items are free from chemicals and pesticides. Stock up on the Organic Basic Kimono, the Organic Shawl Collar and the Organic Lightweight Waffles! We truly offer a robe for everyone and every business.
Boca Terry: Robes Everyone Can Enjoy
Regardless of who you are, you will love a high quality, plush, yet sleek Boca Terry bathrobe to flatter your figure. Whether you are buying for yourself or your company, no one will be able to resist these plush robes. Find out why people of all ages, gendersand backgrounds love our products. If you have questions about wholesale pricing, or you need to order some of your favorites, contact us today!
Share this item with friends