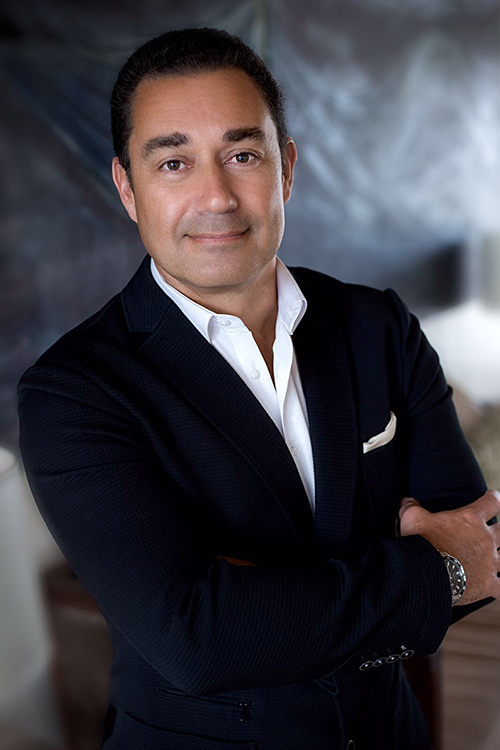 When it comes to household names in the hospitality industry, Chris Sariego is one of the top leaders. He has made his mark in the world of lifestyle, hospitality company development, and managing and operating global award-winning venues.
His most recent position was as the VP and General Manager for SBE, a lifestyle hospitality company that develops, maintains and operates hotels, residences, restaurants and nightclubs such as Delano, SLS, and Mondrian to name a few. Before that, he was the Senior VP and General Manager for the world-renowned Atlantis Resort in the Bahamas. He has also led several other luxury resorts and hotels for international brands such as The Ritz-Carlton, Marriott International and the Intercontinental hotels and resorts.
Sariego's 20 plus years of experience in business strategies have earned him a reputation in the industry and a myriad of indisputable successes across the United States, the Caribbean, South America, and Europe. His latest assignment, as the Chief Operating Officer for Brightline/Virgin Trains USA, is catapulting him even higher into the international market. Let's hear from Chris Sariego himself what keeps him busy and innovative.
Interview:
BT: You throw some serious industry punches regardless if it's in hospitality, service or business in general. What's your secret sauce?
Chris: In the art of business, there's never a straightforward formula that work's for everything. However, the simplicity of a deal always wins, and when it becomes complicated, that's when the objectives become unreachable. In other words, keep it simple and honest, just like a straight train track.
BT: You have worn several hats in the hospitality business and rubbed shoulders amongst some of the most influential names in the hotel and resort industry. What message would you like to relay to those who wish to fill your shoes?
Chris: Get ready to buy the biggest shoes available. The deal is never what it seems. You have to become the business artist with responsibilities in numerous tasks and decisions such as choosing the right towels & robes for your guests, and ones relating to the well-oiled machine: knowing which way the wind blows in hourly basis before making any decisions. Any highly respected position requires you to surround yourself with an A-team and the willingness to explore well beyond your comfort zone and become a trendsetter.
BT: From a consumer point-of-view. What sells hotel and resort services?
Chris: There are two types of customers: The ones who are after the lowest prices and the ones who come for the experience. The latter is the backbone of my business foundation. Hospitality and consumer experience are always the highest priority. Hospitality profits are an illusion on short-term goals, but as a result of excellent service and a well-constructed business plan, it prevails in the long-term. In the end, if you offer an experience that goes well beyond what you paid for, only then will you have earned the right to your customer's trust and confidence for life.
BT: How essential are the little and often overlooked elements such as hotel bath towels, robes and slippers?
Chris: The most affordable slippers can become the most critical missing item. It's quite simple actually. The experience is in the small details that can surprise and satisfy even the most demanding clientele. The quality of towels, robes and slippers are essential components of keeping guests happy and coming back for round two. The slippers are theirs to keep. It's the perfect gift and memory of an ideal experience. The most prominent mistakes hotels and businesses make are that they overlook the smallest details in what makes their customers happy. You cannot have an experience that travels far and beyond expectations, if you don't take the time to care for the little features and foundations that matter the most.
BT: This might be an impossible question to answer, but is there a resort or hotel that's your personal favorite?
Chris: No such thing! I love them all, but from a different perspective than the consumers. I get to see what's going on behind the scenes which can be different from one another. You would probably not believe that I've never swum in some of the most beautiful pools of the resorts that I've managed. I float behind the scenes wearing a suit for the right reasons.
BT: Tell us about your Brightline/Virgin adventure?
Chris: High-end and high-speed train travel which delivers an unseen experience while getting you comfortably from point A to point B. I like to believe this is what the United States has been missing.
Let's make it simple:
Option 1, drive your car on the long and tedious road from Miami to Orlando while dealing with the traffic and stress.
Option 2, travel from Miami to Orlando in-style while being cared for by the Brightline/Virgin Train staff. Have an attendant at your service the entire trip, sit and relax in a comfortable oversized leather seat with plenty of leg room to stretch, while enjoying the food and beverage services, high-speed wi-fi and more.
Arriving fresh and stress-free at your destination beats even airports. It does not matter if it's stationary or on wheels, it's an experience that you will not forget. Success always goes hand-to-hand with a positive and memorable experience.
BT: How would you describe the Virgin partnership and Sir Richard Branson?
Chris: A win/win partnership with an entrepreneur-marketing genius and a great example of humbleness and creativity beyond the norm.
BT: Thanks for taking time off and sharing some of your thoughts. And one last thing. What's the address again where we can send you a set of Boca Terry slippers?
Share this item with friends