Less than a mile from the Rio Grande and the U.S.-Mexican border, General Manager Aaron Rodriguez is supervising the finishing touches on Stanton House: "El Paso's hip new boutique hotel offering sophisticated elegance and state-of-the-art amenities."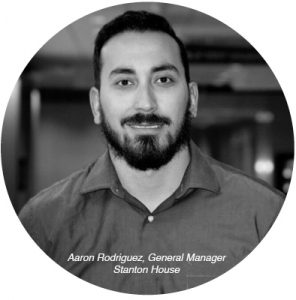 A 42-room luxury hotel situated in downtown El Paso, Stanton House draws much of its design inspiration from Mexico City, though the interiors are rather eclectic: a café specializing in South American coffee, floating "flower" lights inspired by a Netherlands design firm, and more than 100 art pieces on view from Europe, Mexico, and local artists. Aaron also hopes to entice guests with a full-service spa—complete with a Vichy shower and flotation tank—a speakeasy for VIPs, a rooftop patio, and spa-quality bathrobes in every suite.
Before Stanton House opens to the general public, we had a chance to chat with Aaron about the goals for his new hotel, his spin on modern luxury, and how Amazon's Alexa is bringing a new level of customer service to the hospitality industry.
Hi Aaron! Stanton House is a long-time coming (7 years?), poised to bring a very contemporary, artistic aesthetic into a century-old building. How will you welcome guests to your new hotel?
Yes, it has been a long time coming. We're ready to open our doors and show the world our hard work.
Making our guests feel welcome is something, I believe, we will execute flawlessly. The moment you step foot on the sidewalk, you'll be greeted by our valet team. From there you will experience memorable service from our front desk, concierge, butlers, and various outlets on the hotel grounds. Through our app, you'll be able to converse with our concierge team from anywhere (as long as you have an internet connection). This opens the door for a whole suite of opportunities to enhance the guest's experience.
As a brand-new hotel, you'll no doubt be looking to your inaugural visitors for feedback about what is and isn't working. Do you have a system in place for that?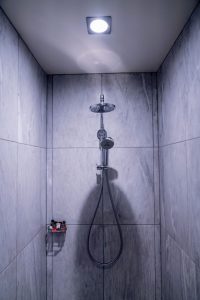 We're using our own knowledge and instincts to enhance each guest's experience while still maintaining an organic feel. The discovery phase—where we learn about opportunities to improve—is what makes us unique. We believe that creating a connection with our guests and engaging them in conversation during their stay will assist in this discovery process and ultimately yield better results than inundating them with questionnaires regarding "likes" and "dislikes."
We understand that Amazon's "Alexa" will make an appearance at Stanton House. In your mind, how can hotels best use technology to deliver outstanding customer service?
Yes, every room will be outfitted with an Echo Show, which will only add to the quality of service our guests receive. You'll be able to converse directly with Alexa, and she'll inform you about award-winning restaurant menus, events around town, and must-see art pieces in our in-house gallery. Having an "e-concierge" in your suite, able to offer immediate support in a variety of situations, allows our staff to make engaging connections with our guests in the common areas.
It seems that today's hotel guests care about "destination" more than ever before. How are you addressing this trend at Stanton House?
This is one of the central ideas of the hotel: We're offering what we call "Curated Experiences." We've partnered with various local outlets to customize getaway experiences that suit anyone's palette. If you're an outdoor person, for instance, we have partnerships in place to craft custom excursions to the Franklin Mountains via hikes, mountain bikes, and tours of the old mines.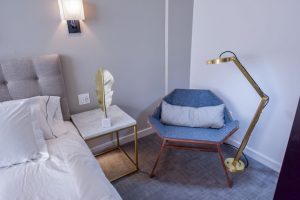 You've described Stanton House as a "luxury boutique hotel." Can you tell us what "luxury" means to you?
The definition of "luxury" is evolving, and we'll be putting our own spin on it at Stanton House. Imagine conversing with our concierge, making requests, and placing orders at any time, both on and off the property. This level of connectivity is a luxury that is unparalleled in our region; now it's all at your fingertips with our mobile app. And when you're on the property, it will all be powered by our complimentary and remarkably fast Wi-Fi—up to 1GB of speed—to make sure that every action is instantaneous.
And apparently you can be fully connected in your suite while you soak up some luxury in your Boca Terry bathrobe.
Yes! Boca Terry bathrobes are a perfect complement to Stanton House. We want our guests to get cozy in their Boca Terry robes, kick their feet up, and let us do the heavy lifting for them.
Sounds like we need to pay a visit ourselves! Many thanks and a happy grand opening to Aaron Rodriguez, General Manager at Stanton House, which is expected to debut later this season.
Source: El Paso Inc.
Share this item with friends