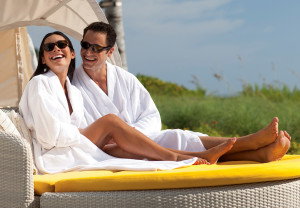 Whether you're shopping for yourself, a loved one, or your guests, finding the right bathrobe can make all the difference. In fact, narrowing down your options and finding the right one can be a large determiner of your guests' comfort and overall experience.
Here are some things you'll want to look for when buying your next set of bathrobes:
1. Quality of Materials
This important factor will affect both the guests' perception of your establishment and how long your bathrobes will last. Better materials and manufacturing lead to greater durability and more uses out of your bathrobes.
2. Personalization
When looking for the right bathrobe, remember that customization is an important feature. You'll want to add your company logo or a monogram so that all of your clientele will be able to represent your establishment while they stay with you.
3. Organic Options
If you are looking for a greener bathrobe, then organic cotton bathrobes are just the right choice for you. Organic cotton is better for the environment and, for a lot of people, better for skin allergies and sensitivities. Your guests will appreciate this attention to detail.
No matter which bathrobe you are looking for, you are likely to find it with Boca Terry! Don't see one you're looking for? Have some ideas or suggestions? Don't be afraid to let us know which bathrobes you'd like to see next!
Share this item with friends