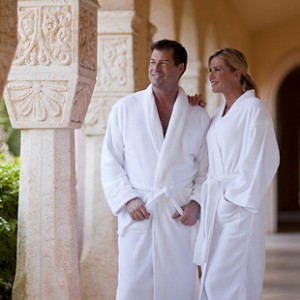 It's no secret that the priority of most hotels is to make a good impression on its guests, which is typically achieved through the products and amenities offered. After all, they are the driving force of the hotel market, particularly when it comes to five-star and boutique hotels. According to a recent report from Laundry and Cleaning News International, "Higher quality towels and robes are in demand," many textile supply and textile rental entities are addressing the higher demand for heavier weight towels and high quality robes.
So how are hotel linen companies dealing with this change? In contracts with major wholesale suppliers, hotels are placing quality as the driving factor of purchase where 500 grams per square meter (gsm) towels is now the standard, and 600gsm is preferred. Others are meeting the change by amplifying the aesthetics of their products, addressing the need to consistently produce soft, white, fluffy towels at a competitive price. This proves to be troublesome considering that towels make up 40% of the laundry done in hotels.
Boutique hotels are particularly keen on offering towels with heavier weights and unique designs, which results in the demand for a customized service that assists laundries. Since heavier towels mean more loads, laundry and textile rental suppliers are forced to deal with increasing costs.
As the most important products featured in the hotel and hospitality market, directors of hotel linen companies attribute the rise in demand to events and conferences, as well as the fitness and health markets. Such entities also feel compelled to offer high quality linen products in order to differentiate themselves from competition. As a result, more textile supply and textile rental entities are producing microfiber polyester robes and adding details such as piping and slip pockets.
Conversely, the spa market is expressing a desire for the traditional Hammam towels, originally seen in Turkish bathhouses. Although this rendition features a flat surface rather than a looped one, it is still 100% cotton, soft to touch and highly absorbent. Spas are also starting to seek colored towels in order to mask the oils used in treatment. Unfortunately, this becomes troublesome for commercial laundries, as there is a risk for color loss if products are not treated in accordance with a manufacturer's instructions.
Overall, hotels and spas alike are looking for products that reflect the goal of the end user where towels and robes will maintain their consistency in terms of look, feel, and ability to retain its qualities in commercial laundry environments. One of the biggest things to look out for within textile and textile service entities is their ability to adapt to the impact of the cotton crisis and retain clients. For those who need a refresher, prices raised significantly during 2010 and 2011 due to the crisis, placing a strain on such companies' to avoid significant supply interruption. Only time will tell as to how these companies adapt to the preferences of the hotel and hospitality market.
Share this item with friends